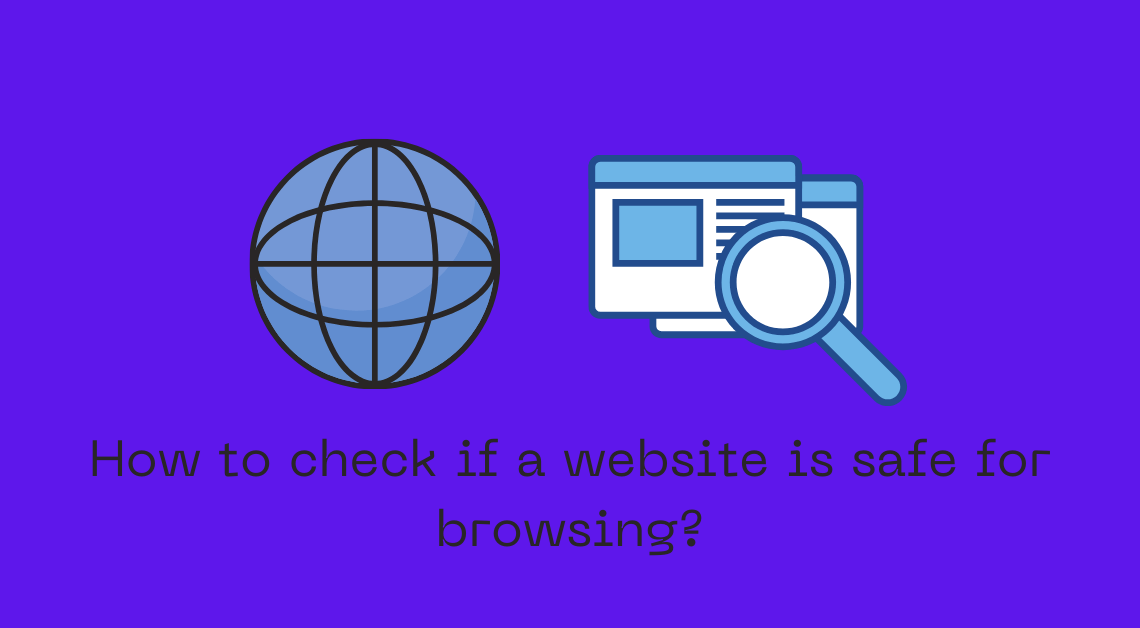 On average, internet users spend up to 6 hours and 56 minutes online every day. In this span of time, these users browse through multiple sites in order to gain information, for mindless scrolling, to make transactions, and various other activities. These sites, knowingly and unknowingly, get access to our personal information. This is why it is important to ensure that the sites we are browsing are indeed safe. This article shall shed some light upon the ways through which we can check if a website is safe for browsing.
Check for the SSL certificate of a Website to ensure that it is Safe for Browsing
---
When you visit a website, you must make sure that the website implements "https". HTTP (Hypertext Transfer Protocol) is a protocol that facilitates the transfer of data between websites and the web browser through which you browse multiple sites every day. HTTPS is a more secure version of HTTP and ensures that the data transferred between the browser and website's server is encrypted. 
What does this mean? Say, for instance, you are visiting an e-commerce website this festive season to do loads of shopping.
Now, you will be required to enter personal details like your name, address, phone number, passwords, and even debit or credit card details. Cybercriminals are on the prowl to collect these data from sites that are not encrypted. SSL-certified websites prevent these crimes from happening.
Therefore, it is crucial to ensure that the sites that we are using to purchase items from are SSL certified through HTTPS.
How to recognize if the website uses HTTPS?
Observe the lock-like icon to the left of the URL in the address bar. When you click or tap on this icon, a message saying that the connection is secure should come up. That is how you know that the website uses HTTPS as one of the measures towards being safe for browsing.
Check the URL of the Website to Know if it is Safe for Browsing
---
Sometimes there might not be obvious signs that the URL of a website is not the one we intend to visit. For example, gOogle.com, amaz0n.com. Did you notice that the alphabet 'o' has been replaced with '0'?
Well, we must pay attention to these minor changes. Wrong spellings, additional characters, grammatical errors in URL could be huge red flags.
Moreover, before clicking on an external link, always hover over the link first. As you hover over the link, the URL shall be displayed on the bottom left. If you can identify the URL as safe, you can go ahead and click on it.
Use browser's Safety Tools to Ensure that a Website is Safe for Browsing
---
Your web browser settings must be customized in such a way that upon browsing certain websites that could be considered malicious, you are immediately notified.
Your browser's safety tools can help regulate which websites can allow access to webcam and microphone, which websites can track your location, and much more. So, you can optimize your browser's security settings accordingly.
Google Chrome
Tap on the three horizontal dots on the top right of the browser.

Go to Settings.
Go to Privacy and Security from the list on the left.
Under the Privacy and Security tab, go to Security.

In order to ensure strict security measures, you must select

Enhanced protection

under Safe Browsing and

Always use secure connections

under Advanced.
Mozilla Firefox
Tap on the three horizontal bars on the top right.

Go to Settings.
Go to Privacy and Security from the list on the left.
Under the Privacy and Security tab, scroll down until you find Security.
Go to Security.

Checkmark all the options under

Deceptive Content and Dangerous Software Protection

and

Certificates

.

Select

Enable HTTPS-Only Mode in all windows

under

HTTPS-Only Mode

.
On a related note, here are a few tricks you can use to keep your Windows PC safe.
Use a Website Safety Checker to be Sure that the Site is Safe for Browsing
---
If you haven't invested in a quality antivirus yet, go do it now! Most antivirus software notifies you as soon as you browse a website that is not secure.
Apart from antivirus software, you can also use free tools like Google Safe Browsing and Virustotal that look into their databases to check if a particular website is malicious.
All you have to do is enter the URL of the website in the search bar of either Google Safe Browsing or Virustotal. These tools will then deploy their scanners to check for viruses and other security threats that the website may pose.
Use Whois to find out Who Owns the Domain
---
Every website is registered under the name of a particular individual, business, or organization. In order to know whether a website is safe for browsing, you must know whether the individual, business, or organization that owns the domain is legitimate or not.
Using whois, you can find out who the owner of the domain is, their contact details, and other details regarding the registration of the site. ICANN Lookup is a tool that facilitates whois to search for owners of a particular domain.
Look for Contact Details and Reach Out to Them
---
One of the signs of the illegitimacy of a website is that it doesn't have contact details, a physical address, and social media handles of the individual or business it represents.
But, beware, just the presence of these details doesn't necessarily mean that the website is safe for browsing. It is recommended to call the number or drop a mail to the email id mentioned in order to verify that the details are not fake. 
Know the Signs of Unsafe and Suspicious Websites
---
Some sites are such in nature that a single glance at them can tell you whether they are safe to browse or not. A few signs that you can look out for are as follows.
Pop-ups – We have often frequented sites that show a ton of pop-up advertisements and banners ( for example, NSFW ads and get-rich-quick schemes). It is advised to not click on these ads and links as they might introduce malware or virus to your system.
Search engine warnings – When you search for certain links on a browser, the search engine itself shows an apt warning in case the link is unsafe to visit. Some of these warnings look like, "This site may harm your computer." and "Deceptive site ahead."
Malicious redirects – Sometimes you might get redirected to a website that is different from the intended one. More than often, the site that you are redirected to is malicious in nature. This could mean that the site you wanted to visit got hacked or is fake.
Conclusion
Following the above rules to check if a website is safe for browsing shall make you a responsible internet user. Are there any other practices that you are aware of?
Do let us know in the comments and do not forget to share this article with your friends.