You know Twitter well. And must be knowing how to Twitter search? But maybe you don't know the Twitter advanced search tricks.
The Twitter Bots/Archives gives you the advanced search experience but it's not actually advanced. Every time you search Twitter, just type in the name and find someone on it.
For example, Intelbuddies, it will simply bring out our blog's page and some popular tweets.
Difference Between Search and Advanced Search
Like I said above, searching for pages and peoples, you just put in the keywords for that. Talking basic searching on Twitter is what you use the bar on the top.

But the advanced search you haven't paid attention to. Twitter gives you an advanced search option. Now, if you need more accurate, specific results, however, they'll panic you in your head.
What you need to look for the use of Advanced searching using operators you might be using for smilies. 🙂
To open the advanced search option, simply search for any query. From the left corner, see the "Search filters" options, expand "Show", and tap "Advanced Search".
How To Twitter Search – The Best Search Tricks
---
Use the following operator tricks to search Twitter like a pro easily. Here is the link to the Twitter developer site where they have listed all the operators and how to use them.
So, now you can search Twitter like a pro and keep yourself updated with what's going in the world?
You can also use the advanced feature of Twitter. To find accurate results, use options like "This Exact Phrase", "These HashTags", "Written In", "From These Accounts" etc.
The tricks we have used above using the operators, you can also use this feature to avoid the problem of misunderstanding. In case you are not able to understand any of these tricks.
Using TweetDeck For Advanced Twitter Search
---
You can easily find the most popular tweets and hashtags using Tweetdeck to remove the noise from search results. The trick is that you can only use this inside Tweetdeck only but not outside it. And even not available on apps.
What I have written here, you can get all those from here and also the tutorial on how to use them as "Searching Tips".
Or you can get more of the advanced operator searching tips here.
Well, the truth is that Twitter doesn't want us to know about this operator searching tricks. And why not, they also have to run their business, and why not using Tweetdeck? You can actually filter tweets by engaging on the Twitter level easily.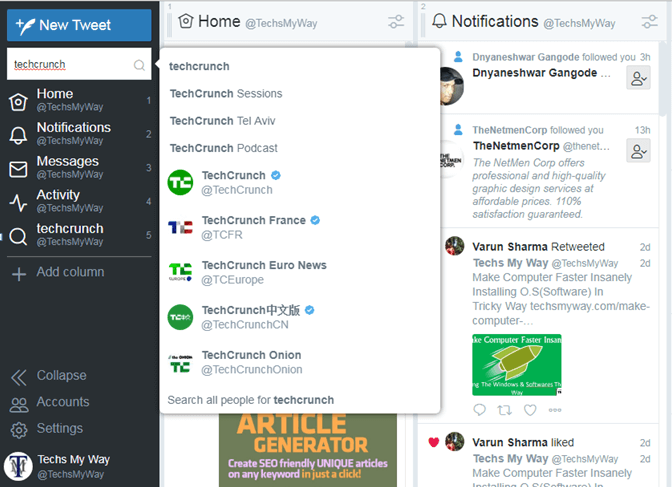 Hell wow!
Now you know the trick and must use to outlast the party with your knowledge of Twitter Hacks.
Remember to share it with your friends!