Are you YouTubeaholic? Do you download lots of YouTube videos daily? Do you need FREE YouTube Downloader and YouTube Converter?
Yes, then let's go!
YouTube is the second largest search engine where there are billions of active users (after the use of Facebook). Facebook has over 2 billion active users every month. And in comparison, YouTube is not so behind.
There are millions of daily upload of YouTube videos. So, you might be having problems in downloading YouTube videos. I have already written about the ways and how to download YouTube videos in every way possible.
And here, In this tutorial, I am gonna show you how you can easily use YouTube Downloader PRO as a FREE YouTube Converter.
Don't worry about the PRO version, I'll tell you where to find and how to download YouTube Download PRO free without spending a penny.
How To Download YouTube Downloader?
---
There are lots of Software for Windows and Mac for converting YouTube videos to MP3 and other supported formats. But there are many limitations to using those applications. It can be for purchasing a license key for the pro version or any other restriction.
Or alternatively, you can use torrent to download it for testing purposes only.
Now, I guess there must be no problem installing the software once downloaded.
So, here we go. We now have the latest version of the YouTube Downloader PRO. From here, I can tell you how to use it as YouTube Converter Software. It's very easy, let's take a step forward and check how can we use it.
How To YouTube Downloader As Free YouTube Converter
---
The downloaded file should have come with two versions, Portable and Installer. Just for the sake of the tutorial I am using the YouTube Downloader Portable. They both are the same, I just don't want to install it on my PC so using it. You can install or use the portable version, it's your choice and matter of use.
So, here's the deal:
Open YouTube Downloader and click on the "Convert" tab.
Here, you have to do two works. First, select the file you have downloaded from YouTube to convert. And others choose the video converter quality and format in which you wanna convert it.
But first, you have to download the video from YouTube. Either you can read my previous article for downloading YouTube videos or use this YouTube Downloader. I have mentioned it above.
Simply paste the URL in the space given and choose the quality and save location & hit the "Download" button.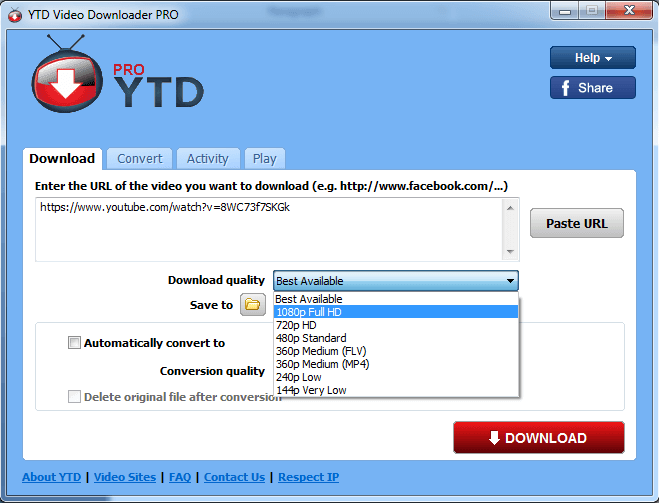 Now, you have the video. There is also one great feature which it offers is that you can directly convert YouTube videos while downloading. To do, just check the box of "Automatically convert to" and download & convert your YouTube video. It is one of the best features of this YouTube Converter for me sometimes whenever I use it.
Get back to the "Convert" tab. Select the video file to convert, set the "conversion quality", and choose the format. For example, Convert YouTube To MP3. So, I will select the MP3 format to convert YouTube video to MP3 format. If you want to cut some parts of the video, you can use the "Cut video" option and also change the conversion volume effects.
Now, once converted, go to the folder which you have specified for save location. There you'll find your converted video.
This YouTube Video Downloader contains many premium features that other Softwares and applications not give. By using this YouTube Converter method you can easily convert your YouTube videos. Either directly or after downloading the video from YouTube.
NOTE: Make sure to read the article "How To Download YouTube Videos OR Ways To Download YouTube Videos ".
I hope this method is helpful to you for converting your YouTube videos to your required format(say MP3).
That's it for YouTube Converter. More is coming, so stay tuned for more blasting content. Subscribe to our blog to read the latest Tech tips, tricks beforehand right into your inbox.
Don't forget to share it! 🙂