UPDATE: Few trusted YouTube to MP3 websites are listed below.
YouTube is one of the best sources of millions of videos uploaded every single day.
You can get any type of video, it may be related to studies, entertainment, technology & thousands of other things.
An online streaming website as well as a quick way to make money online without investment.
You just create a YouTube channel & get started uploading videos.
But there are times when it comes to download YouTube videos or convert YouTube to MP3 files.
Well, downloading YouTube videos is easy nowadays as there are many ways.
But, many of my friends ask how to convert YouTube videos to mp3 directly? Is there any way to do it online?
Or we have to use the media file converters?
So, how to convert YouTube to MP3? Well, here are the best ways to convert videos into mp3 songs.
Convert YouTube to MP3
Now, there are three ways you can convert YouTube videos:
Using online YouTube to MP3 converter (YouTube converter sites).
Add-on & extensions on your web browsers.
Using software & tools downloaded on your computers, smartphones.
Extracting audio from videos.
Watching YouTube videos may seem interesting as visuals are more experienced than other forms.
You just need your music players & play the songs rather than finding songs online. So, it's a good idea to convert to mp3.
Let's take some deep introduction to all these methods I told above, now you can really press convert & you have your files quickly.
Using YouTube to MP3 Converter Online
---
I think this is the best method for converting YouTube videos quickly because you don't want to have to download videos first & then convert them.
Just take the link to the video which you wanna convert and paste it into the online converter & download only the mp3 file.
Follow these step to make it done in a flash:
You can find these online converter sites by either searching on Google as "YouTube to MP3 converter sites". Or you use this recommended site from here.
Note: When you search on Google, there are many conversion sites that will come to you. But how to know which one is safe? You can check it using this URL: "https://google.com/safebrowsing/diagnostic?site=". Here, Google shows you the transparency report of a website on the Internet.

Now you see that there is no unsafe content found on the website. You can start the conversion.
Go to YouTube & search for the video which you want to convert into mp3 and copy the link.

Now, paste the video URL into the online conversion website & press convert. Make sure the conversion format is MP3.

It will start processing and convert your YouTube video into mp3 & tap the download button to download.
This method can be used on desktops as well as on smartphone devices like Android & iOS. The best thing is you are converting it online & just getting the mp3 file.
Now, you know about this method, let's take our second method.
Other Website: YTMP3
Convert Using Browser Add-On & Extensions
---
The same way you searched above, search for add-ons and extensions as you must be on different web browsers. For Chrome users, you can use this tool from here.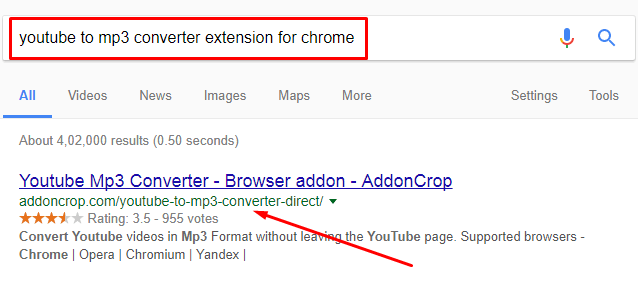 If you found some extension it's good but if not, you can download & install as shown in the image above.
Or you can use the Chrome app, this is the best app which I found useful. Download it from here.
To install the Chrome extension, extract the file and drag-n-drop it to extension options in Chrome.

Note: Tap three vertical dots from the upper-right corner and select More tools>Extensions.
Now go to YouTube and play the video. As soon as the video is played, this YouTube to MP3 converter will show you a notification as the mp3 file is ready to download.
Click to download and your file will start downloading.
These two methods are like "Convert and Download" where all the process is done online. Now, the next method works online as well but locally on your computers or mobile phones.
Other Tools:
Using Converter Software & Tools
---
There are some best & free music downloaders available online as well as for download. I have already written an article showing the tutorial on YouTube converter where you can use YouTube downloader as free YouTube converter.
As we gonna talk about the software and tools for converting YouTube videos to MP3, so the YouTube download comes first.
Yes, YouTube downloader is not just a simple software for downloading YouTube videos but it can actually convert videos at the same time. Or you can make conversions with already downloaded videos.
Check the article to learn how to use it to convert YouTube to MP3.
There is some MP3 converter software you can download, here is the list:
Note: I haven't shown the process of converting YouTube to MP3 using the software as I have already shown in my previous tutorial. The interface may change but the process remains the same. So, check the previous tutorial.
Extract Audio from Video
---
To extract audio from video, you can use the VLC media player. VLC is not just a media player but software in itself. I have shown how to insert audio to video using VLC and some of the best VLC hidden tips & tricks to get you started with VLC.
In the same way, you can extract audio from video or use online tools. So, here are the steps to follow:
Go to this website from here.
Once you are there, open any file as shown or place the URL.
The file will start uploading, you can upload up to 2GB of the file here.
Now there are some customizations you can consider tweaking.
Choose the format to MP3 and the quality and hit convert.
The next window will give you the option to download the file.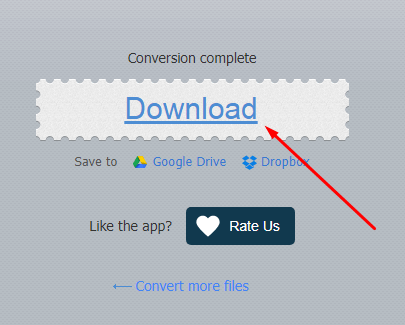 Convert YouTube to MP3 on Android & iPhone
---
Converting is easy on computers as well as on mobile phones. You can convert video files into audio files on Android & iPhone using apps available on Play Store & App Store respectively.
But the limiting thing is that you can only convert local files stored in your device storage.
Download & install the apps from App stores.
Select the files and choose the MP3 format and bit rates.
Tap Convert & your file will be saved to the folder location shown.
Conclusion
---
All the methods shown to you are the best and fastest way to convert YouTube to MP3.
Not even MP3, you can also convert YouTube to MP4 and other formats. Some act as a video converter and some as an MP3 converter. But all do their job very efficiently.
The best part is that all tools and software are free to use. Either Android or iPhone, convert for all.
So, do you have any suggestions to convert YouTube to MP3? Any other free YouTube converter? If any, make sure you mention it in the comment section below.
Also, do share it if seems interesting and helpful to you.