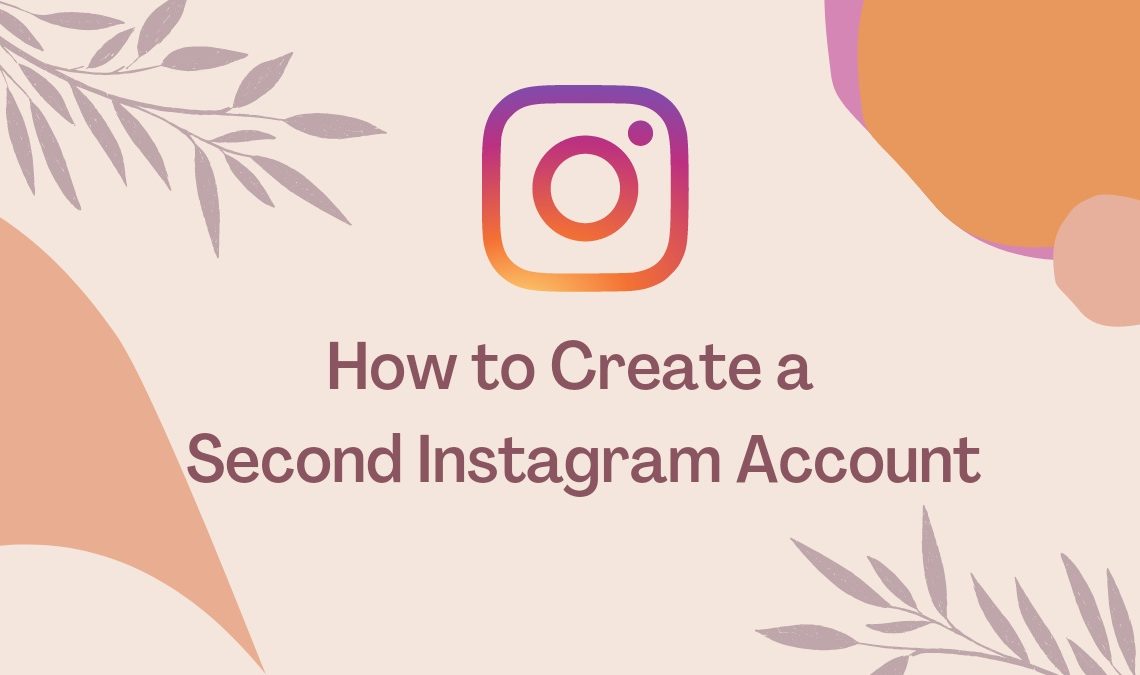 With the surging addiction to platforms like Instagram, sometimes having one profile is not enough for users. Some people often create a second Instagram account for other purposes, like managing a feed for their job, a reserved account for showcasing their hobbies, or a business account.
Thanks to the new interface, managing multiple Instagram accounts together has become easier than ever. Remember how a couple of years ago, we had to manually log out of an account to access another profile, but today you can switch back and forth between various accounts with just a tap. Here's everything about how to create a second Instagram account on the same app.
How to Create a Second Instagram Account
---
Wanting to create a second Instagram account, deduces that you already have a functioning account logged in to the app. Hence to create a second one, follow these procedures:
Go to your Instagram account, and select your profile picture in the lower corner of the screen. 
Tap on the hamburger icon to go to the app's menu. 
Then select Settings.
Scroll downwards to find an option to Add account. Click on that.
Here, you will find two different options, and since, in this method, you are creating a new second account, you can select on "create an account" option. 
Enter the username for the new Instagram account, and continue by clicking next. 
Then enter your password, and link the account to a new email address. 
Instagram will send a confirmation code to the mentioned email address to link the ID to your new Instagram account.
Enter that code here.
You can set up a new profile image or skip it for later. 
And voila, your brand new Instagram account is up and running. You can further link the account to a new Facebook account if you want. Find the option in settings.
Just keep in mind whatever information (email ID, FB account, phone no.) you choose to link when you create a second Instagram account must be unused or unlinked from another Instagram account. Or else the app will give you an error stating those details are already in use on a different account. 
How to Add a Second Instagram Account
---
Now, if you already have a pre-existing Instagram account that you created elsewhere but would like to link it to your main account on the same Instagram app, there is a way to achieve that. The advantage of this step is that it enables you to switch back and forth between the different Instagram accounts in use.
Open your Instagram.
Press the profile icon and go to the menu option.
Then go to settings and scroll to find the Add account option.
Now here, click log in to an existing account. 
Add the credentials of your pre-existing Instagram account and log in.
Your new Instagram account will be added to the same Instagram app along with your main account. Now you can switch back and forth between the two, and here is how :
Go to the profile of any account you are operating.
Tap on the username above.
And select the username of the account you'd like to switch to.
That's it; now you can don't have to log off from your account to log in to another one. Furthermore, since you want to create a second Instagram account in one app, you will receive subsequent notifications from both. You can manually silence the notifications from one account if you'd want by going to settings>notification> and toggling on the pause all push notifications button. One account's notifications will pause for a maximum of 8 hours at a time. 
Remove the Secondary Instagram Account From the App
---
If you eventually get tired of juggling multiple accounts on your device, here is a simple way to remove a secondary Instagram account from the app in mere seconds:
Open your Instagram and switch to the account you want to remove. 
Then go to its settings and scroll down to find login options. 
Here, you will find an option to log out of your current account. You can choose to forget all its login details, and consequently, the account will be removed from your Instagram app. And you will automatically switch to your original Instagram account. 
Note: These steps will only remove the unwanted Instagram account from your app and will not disable or delete the account from the platform.
How many Instagram Accounts can you have?
---
According to the Help Center of Instagram, a user is allowed to add up to five accounts in their Instagram app. You can switch in between accounts without logging out from one of them.
However, if you hold more than five accounts, you will ultimately have to log out of some of the added ones to access additional profiles using the app.
Furthermore, only Android and iPhone devices with the 7.15 update (available in the Google play store and iOS store) are enabled to operate this function of Instagram. So users who lack the update for Instagram on their device will have to stick with the old login log-out technique, unfortunately.
Conclusion
In this new era of social media fam, many internet personalities and influencers are bound to manage multiple accounts on apps like Instagram to keep their personal and professional lives separate. Similarly, you can also create a second Instagram account, which will juggle the two parts of your personality online with ease. We hope this guide answered all your second Instagram account-related queries, and if not, please leave a comment below.