Many people frequently get the "Your Device Ran Into a Problem and needs to restart" blue screen error message. Fortunately, there are a number of solutions for this error message that address numerous frequent issues that might cause a system breakdown.
In this blog, we'll outline alternatives that you may attempt one at a time to fix the unexpected system crash. Please be aware that the cases listed below can be used in a variety of cases. You can go right to the appropriate section of the solution you're interested in, depending on your particular situation.
First Case: You Can Boot Windows
---
Fix 1: Start in Safe Mode and then Restart your Computer
---
You might try starting your computer in Safe Mode first.
You can locate and address issues relating to the system using this diagnostic mode.
It helps clear troublesome files, get rid of viruses, and more by uninstalling incompatible applications and drivers.
By regaining access to the storage system, Safe Mode can help fix some system faults even if you don't make any modifications.
Fix 2: Use CHKDSK to Examine and Fix Disk Faults
---
Disk issues, such as faulty sectors and file system faults, can be fixed by using the CHKDSK command.
If you see the error message "your device ran into a problem and needs to restart" coupled with the phrase "INACCESSIBLE_BOOT_DEVICE," it can be due to file system issues on your hard drive. It is essential to inspect the disk for faults as a result.
Fix 3: Provide the System Drive with Adequate Space
---
For effective operation, the Windows operating system and installed apps need enough free space. Consider increasing the system partition if your system disk, usually the C drive, is almost full and you need additional room for the OS.
Fix 4: Examine the Event Viewer's System Logs.
---
In Windows 10/11, looking through the system log-in Event Viewer can assist in locating the source of the "You Device Ran Into a Problem" issue. This is very helpful for identifying malfunctioning hardware or drivers.
Case 2: Windows You Can't Boot
---
Fix 1: Run a System Restore
---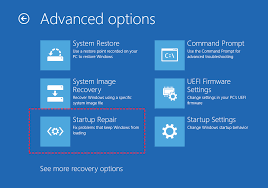 If you have a restore point available, you can try doing a system restore if your PC automatically hits the "Your PC did not start correctly" screen. You may restore your machine to its prior operational state with this tool.
Fix 2: Perform System Image Recovery when your Device Ran Into a Problem
---
As an alternative, you can execute a system image recovery to return your system to a previous state if you produced a system image before running into the fault.
Fix 3: Use CMD to Restore the Registry Configuration
---
You may restore the registry using the Command Prompt option if you don't have a restore point or system image.
The registry stores the configuration information of the Windows operating system and the majority of apps. Any modifications that could have resulted in the problem can be undone by restoring the registry.
Case 3: Caught in the "Your Device Ran Into a Problem" Loop
---
If your computer keeps restarting and giving you the error message, you may either recover your data from the corrupted OS. Plus, use a Windows installation CD, DVD, or other Windows installation media to repair the issue.
The solutions offered above are for Windows 11, but they also work with other versions, including Windows 10 2004, the October Update (20H2), Windows 10 1909/1903/1809/1803/1709, and more.
Conclusion
Seeing the error notice "your device ran into a problem and needs to restart" might be annoying. But there are several ways to fix it. There are measures you may take to discover and resolve the underlying issue, whether or not you can boot into Windows.
The above methods, which include Safe Mode booting, checking for disk issues, making space on the system drive, and looking at system logs, can assist you in identifying and fixing the problem.
Options like doing a system restore, utilizing a system image recovery, or restoring the registry using the Command Prompt might be useful. This is when you are unable to boot into Windows. Using a Windows installation CD, DVD, or installation media might help users who are seeing the error message loop.
To prevent any potential loss, always use caution while implementing these solutions and make sure to back up your crucial data. Seeking expert help might be a smart move if you're unclear on how to resolve the issue. Plus how you are unable to do it on your own.