Unless you have been living under a rock for the past couple of months, the news of Instagram Threads must have flashed across your screen at least once. Wherever you reside, word about the Threads app is spreading like wildfire. As an outcome of good word of mouth, it became the first app ever to gain 100 million new users within its first week.
Coming to the next point, what exactly is this Instagram Threads that everyone is raging about? and how exactly does it hold against our usual social media apps like Twitter and Instagram? All this will be answered in this post, so once you are through, you'll be in the perfect mindset to start threading yourself.
What is Instagram Threads? 
---
Instagram Threads can be described as a text-based social media app that launched on July 5th, 2023. If you think the "Threads" name sounds familiar, then let us help remind you of a time when Instagram launched a product called Threads in 2019, which was built as a camera-first messaging app. 
However, this 2023 version is an entirely different platform with only the same name.
Here are some of its wildest features:
It is a platform presenting a feed of text-based posts, stimulating its users to catch up with world news and start their conversations in threads.
When you first make your account on Instagram Threads, your feed will feature the posts made by the accounts you follow on top, along with some of the suggested content based on what you may like.
Each thread allows 500 characters with a feature to attach photos, videos, and links. Ultimately, putting forth a terrific marker for you to communicate with your audience.
Since it is an Instagram app, it is mandatory to have an Instagram account before creating an account on Threads. It is also required to link the two accounts, even if you don't maintain the same details on both profiles.
If you are already verified on Instagram and wish to create a linked Threads account, then you'll automatically get a verified blue checkmark on your new Threads account as well.
Meta is actively trying to make it super easy for users to share content between Threads and Instagram. This way you can easily add your posts or threads to your Insta story. Just click on the paper airplane icon at the bottom of your post and select Add to the story. From there Instagram will launch, wherein you can edit and share it directly with your followers.
Currently, the threads app has no Ads or Monetization feature. Although it is subject to change shortly, however, till then you can freely scroll through the content without interruption.
How Do Instagram Threads Compare to Twitter?
---
As you may have heard, many users are witnessing a resemblance between Instagram Threads and its traditional opponent Twitter. Although Twitter is a much older and iconic app, the recent traction of Threads users has led to the discussion of how different the two apps are and if one can replace the other. At first glance, both apps have a lot in common in features, uses, interactions, etc. Both are short text-based post applications that authorize their users to share or start a discussion on any news with their followers. But what are the differences that set them apart?
Posts word limit: Twitter has a 280-character limit for its non-subscribed users, whereas Threads has almost twice in comparison, 500 characters.
Uploaded Videos time limit: Twitter presents a 2m 20-sec time limit for its unsubscribed users, while Threads has a 5-minute limit.
Verification: Blue checkmark is only available on Twitter for users who subscribe to the premium benefits. On the other hand, using Instagram Threads one can only be verified based on their Insta account.
Direct Messaging: This feature is available on Twitter but not on Instagram Threads. You can only DM someone you found on Threads by going to their linked Instagram profile.  
Edit Posts: Not allowed on Threads and for unsubscribed users on Twitter.
Trending Stories: Present on Twitter but not on Threads.
Limit on how many posts users can read per day: There is no such limitation on Instagram Threads but on Twitter's unsubscribed version.
Make an Account on Instagram Threads
---
With that out of the way, signing up on Instagram Threads is the next step. Getting started on it is relatively easy if you already have an account on other Meta social media apps, such as Instagram and Facebook. This will make the transition more seamless for you and it will provide a preformed audience based on your followers.
Download the App
---
This is a fairly straightforward process. Go to your app store and search for Threads, an Instagram app. Hit on install.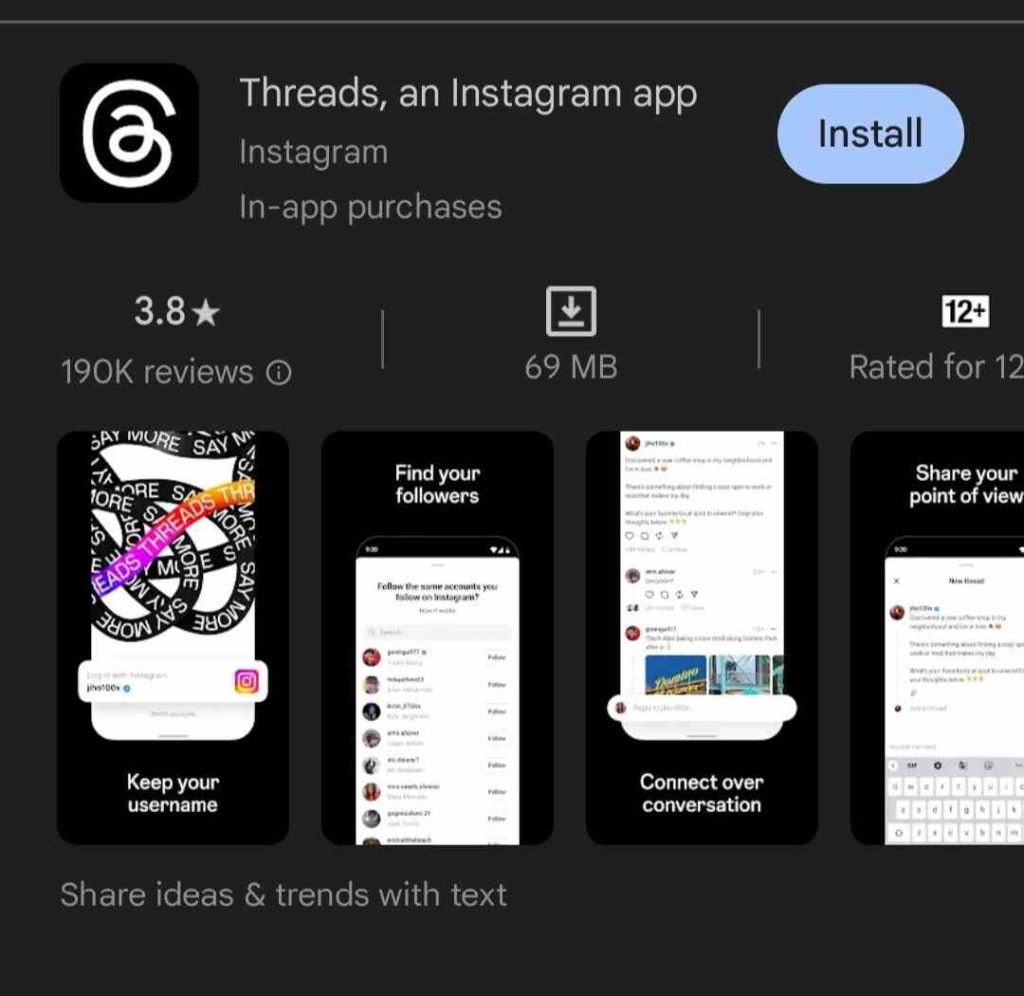 Create your Account on Threads
---
If you have an existing Instagram Account then your new Threads account will be linked directly to that. This way you won't have to sign up from square one. You just have to click on your username at the bottom of the welcome screen.
Furthermore, if you operate multiple Instagram accounts. For instance, one for your personal life and one for your business-related posts, you can subsequently link them to separate Threads accounts as well. For that, you need to click on Switch Accounts at the bottom of the screen on Threads.
Fill Your Profile Details
---
On your profile screen, you have the option to fill in new details or keep the existing details from your Instagram Bio.
Choose Your Privacy Settings
---
You'll have two privacy options to choose from:
Public profile: In this setting anyone with or without an account on Instagram Threads can see, share, or interact with your content on it.
Private profile: In this, only your confirmed followers can view and interact with your posts.
Import the Accounts on Threads That You Follow on Instagram
---
As we know by the name Threads is very closely intertwined with the interface of Instagram. Subsequently, a lot of the time you'll have the option to auto-follow the same accounts as you do Instagram.
Here you can select individual users from your follow list or click on Follow All to import all the accounts on threads that you follow on Instagram.
Read and Agree to Terms of Use
---
Lastly, the only thing remaining is to accept the terms of use that will be presented to you in three folds.
Threads are powered by Instagram, meaning information collected from both apps will be used to give you personalized ads.
Threads will work with the Fediverse in the future, more updates on this will be added soon.
By joining Threads, you are agreeing to the Meta Terms and Policies. To review and process these policies, click on each of their links before joining.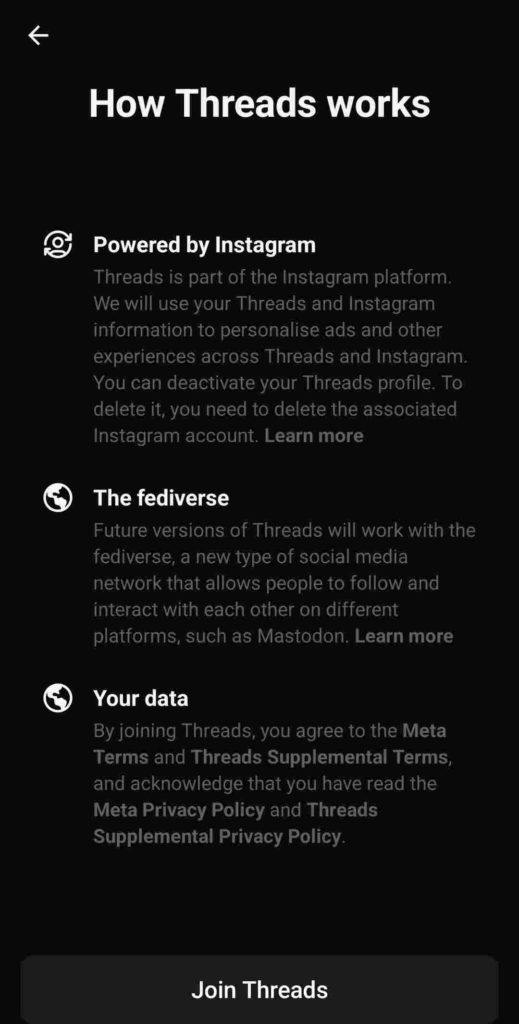 And that is it. You're free to start building your network on Instagram Threads. Since the platform has already accumulated over 120 million users, most of your audience is likely already on the app. So now you can simply start creating posts and engaging with others' content.
Read More
Conclusion
Well, that was all the latest updates on the Instagram Threads that we have so far. Hopefully, it quenches your curiosity over the latest internet sensation that has taken everyone by storm. Needless to say, a new app like this offers a terrific opportunity for influencers and small business owners to gain attraction on the app from its initial days. So don't miss out on it and start as soon as possible.