---
Text editors are indispensable tools for anyone who works with text, be it writing code, drafting a research paper, or taking notes. The sheer number of options available can be overwhelming, however, making it difficult to choose the right text editors for your needs. In this essay, we will examine the top five text editors available in 2023.
These editors offer powerful tools that allow users to customize their workflows and boost productivity. We will explore the strengths and weaknesses of each editor, discussing their unique features, functionality, and performance.
Notepad ++
---
Notepad++ is a free, open-source text editor for Windows acclaimed for its simplicity, versatility, and robust features. It is popular among developers because it supports a wide range of programming languages ​​and offers features such as syntax highlighting, autocompletion, and macro recording. Notepad++ also includes many productivity tools such as the ability to split windows and compare two files side by side. The user-friendly interface and intuitive controls make it easy for both novice and experienced users.
Overall, Notepad++ is a powerful and reliable text editor that provides important features for working with text, code, and other data, so for those looking for a powerful and versatile text editor for Windows, Notepad++ may be the best choice. However, on the downside, it is only available on windows though.
Visual Studio Code: One of the Most Popular Text Editors for Developers
---
Visual Studio Code is primarily used as a source code editor. It's very minimal and even has a "Zen Mode" option that instantly hides all menus and windows and maximizes the program to fill the screen. The familiar tabbed browsing interface from other text editors is also supported here, making it very easy to work with multiple documents at the same time.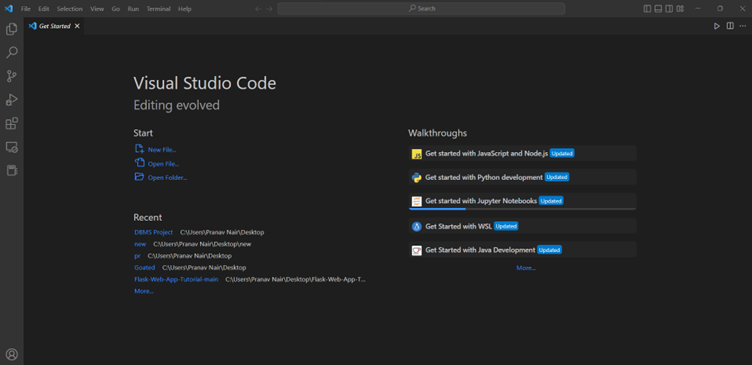 You can also open an entire folder of files at once while working on a project, or save the project for easy retrieval later. However, this text editor is probably not ideal unless you plan to use it for programming purposes. There are entire sections devoted to debugging code, viewing command output, managing source control providers, and even using the built-in command prompt. Visual Studio Code works on Windows 11, 10, and 8. macOS 10.11 or later; and Linux computers.
Brackets
---
Brackets is a highly resourceful text editors. Although the text editor is primarily useful for developers, it can be of great use to anyone. The interface is clean and modern and, despite all the advanced settings, very easy to use. Almost all options are hidden from the plain site, making it easy for anyone to use and also providing a very open interface for editing.
Moreover, you can quickly change the type of file you're working with to change the syntax highlighting rules on the fly and change the encoding of the file if necessary. The program comes with dark and light themes that you can change at any time, but there are many more themes you can install through the extension manager.
Sublime Text Editor
---
Sublime Text is a powerful and highly customizable text editor that is a favorite among developers, writers, and anyone who works with text. It provides various features such as syntax highlighting, code folding, auto-completion, etc. Sublime Text allows users to customize its appearance and functionality via different themes and plugins. Moreover, its speed and performance make it ideal for working with large files and projects.
Overall, Sublime Text is a popular choice for those looking for a fast, powerful, and customizable text editor that can help them streamline their workflow and increase their productivity.
Vim: Text Editors
---
Vim connects with a wide range of tools thanks to its support for Windows, Linux, and Mac. It is built for command-line usage and use in GUI. Vim was originally invented in 1991. Vim has one of the oldest editing suites, and it's notable that coders worldwide still use it.
Key Features:
Undo tree with several levels.
Comprehensive plugin system.
Supports various programming languages and file types.
The only downside to using Vim is that it is hard for newer users to get accustomed to its features. It is not as intuitive or easy to use as some of the other editors mentioned above. But, there is no doubt that Vim is one of the fastest and most powerful text editors. Vim might take you time to master, however the effort will surely be worth it. Vim can boost your output rate exponentially if used well.
Read Similar: 5 Best Free Word Processor Software
Conclusion
---
Choosing the right text editor is important for anyone working with text, whether you're a programmer, writer, or student. The five text editors discussed in this essay—Sublime Text, Visual Studio Code, Brackets, Notepad++, and Vim. Each of the above mentioned text editors offer an array of unique features.
For example, Sublime Text offers a highly customizable and versatile environment. On the other hand, Visual Studio Code offers great debugging tools and integration with other development tools.
Notepad++ is popular for its powerful features and ease of use, and Vim offers highly configurable and powerful keyboard shortcuts. Brackets provides a modern and intuitive web development interface.
No matter which editor you choose, you can benefit from the increased productivity, precision, and flexibility these powerful tools offer.