---
Spotify is the most popular music streaming service in the world. Spotify has amazing audio quality combined with the largest streaming library in the world, It has a library of over 100 million songs and over 5 million podcasts. Usually, we need the internet to access songs and play them but there are many ways to download songs from Spotify.
There are a variety of reasons to want to download songs from Spotify. We may not have access to the internet all the time, or our network may have banned Spotify. Therefore, it is important to have a way to download songs from Spotify. We shall discuss a few here.
Download Songs from Spotify Using Spotify Premium
---
Spotify premium is the easiest way to download songs from Spotify. The download feature is useful if you want to store songs or podcasts so that you can listen to them even in areas where they can't be streamed over the internet, or if you have a poor internet connection or don't want to use your data all over again. The same goes for streaming the same song or podcast online.
Spotify Premium account users can download all kinds of songs and podcasts up to 10,000 songs/podcasts on 5 devices.
How to download Songs from Spotify on Mobile Using Premium
---
Open the Spotify app on your device and make sure you have a stable internet connection.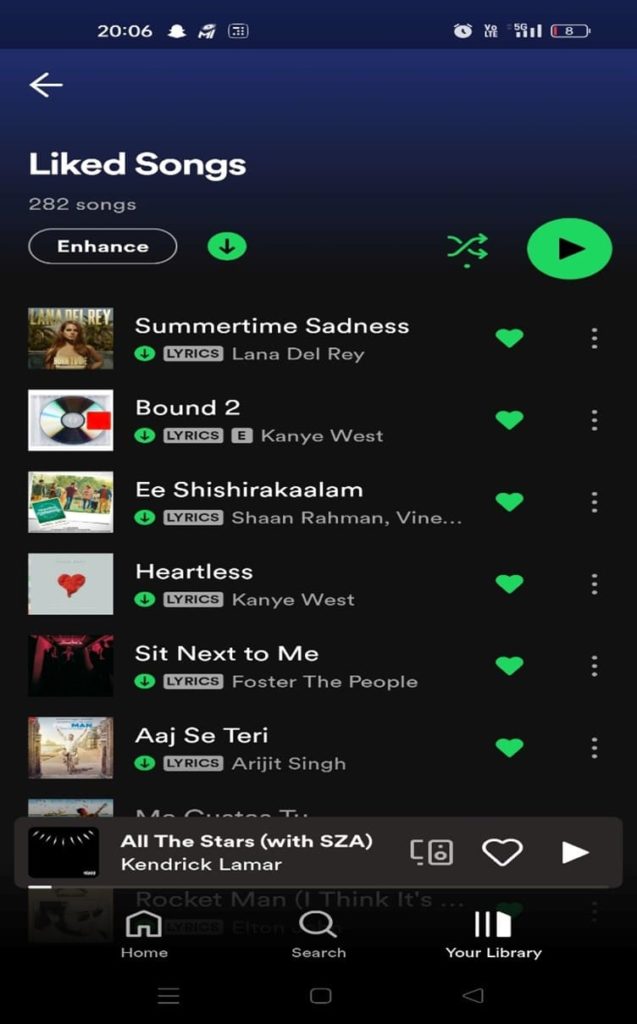 Navigate to the album, playlist, or podcast you want to download to your device. You are not allowed to download a single song, so you can create a playlist of the songs you want to download and save it to your device.
Click the arrow icon below the album or playlist to start the download. When the arrow turns green, it means the download was successful.
Go to your Library to view the downloads you created. You can find your library by clicking the icon in the bottom right corner of the Spotify home screen.
By default, Spotify does not let you download songs on cellular data. You need to change the settings to be able to download songs from Spotify on cellular data. Follow the steps given below:
Click on "Home".
Go to "Settings".
Go to "Audio Quality" under "Settings".
Under Audio Quality, you will find the "Downloads" tab.
Switch to the "Download using cellular" option.
How to download Songs from Spotify on Laptop/PC Using Spotify Premium
---
Open the Spotify app and navigate to the album or playlist you want to download.
Select the arrow icon below the album cover next to the heart icon.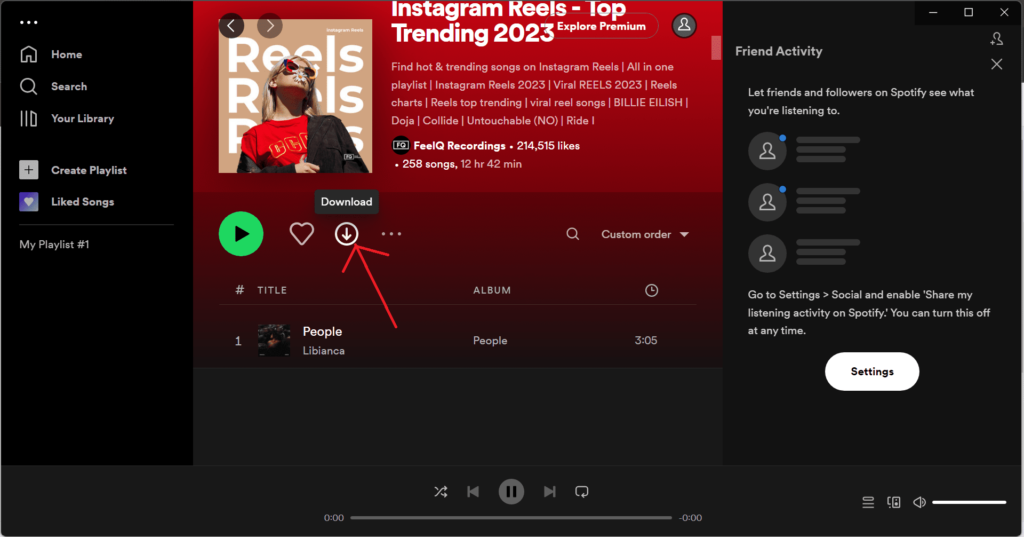 When the arrow turns green, it means the song has been successfully downloaded.
To check your downloads, go to your library and you'll find it in your navigation bar on the left side of the Spotify screen.
Please note that you cannot download songs from Spotify on their website, you need to download the desktop app.
Enable Offline Mode
---
If you want to access only the songs which you have downloaded and do not want Spotify to connect to the internet, you can use offline mode.
Here's how to use offline mode:
On a mobile/tablet: Click on Home > Go to Settings > Go to the Playback > Choose to turn on "Offline mode".
Offline Mode on Mac: Navigate to the Spotify app > Open Apple Menu > Spotify > Choose the "Offline mode" option
Turning on Offline Mode on Windows: Navigate to Spotify >Open File > Choose the "Offline mode" option.
Do remember to go online every thirty days to ensure that your song doesn't get wiped off your offline library.
This method was only for people who use Spotify Premium, a paid service. You can download songs from Spotify for free too by following the methods given below.
Musify Music Downloader
---
Musify is an application that allows you to convert Spotify playlists, music, and albums to various formats for offline playback. Supports over 1000 streaming websites such as SoundCloud, Bandcamp, MixCloud, and more. Do remember that this application is available for Mac and Windows operating systems.
Use the steps given below to download songs from Spotify using Musify:
First, download and launch the Musify application on your PC.
Once done, open the Musify app and paste the URL.
Once the app finds the song, it will display the song. Click on "Download" in order to download the song.
Wait for a while as the song is downloaded onto your PC. Once done, you can play it on your PC
Free Music Download from Spotify on Mobile Phones
---
The app mentioned above is for PC only. Most apps that download songs from Spotify onto your local device are PC based.
Therefore, the simplest way to download these songs on your phone is to transfer them from your PC.
Methods to transfer files from PC to mobile:
USB cable: Drag from the PC and drop on your phone.
Upload songs to Google Drive/Dropbox: Upload the songs on the account you have logged in to on your PC and log in to the same on your Phone.
Wirelessly Transfer Songs: Transfer via Bluetooth or other such methods.
Disclaimer:
Check the terms and conditions of the hosting site when downloading audio. We do not promote or condone copyright infringement. Hence, we recommend that you only download videos that are in the public domain, belong to you, or have permission from the hosting site or copyright owner.
Conclusion
---
Downloading songs from Spotify is a great way to enjoy your favorite music offline, without the need for an internet connection. Today, we have discussed various methods to download songs from Spotify, including using the built-in download feature, third-party software, and transferring files. As we come to the end of this article, we hope you are now able to download your favorite music from Spotify.