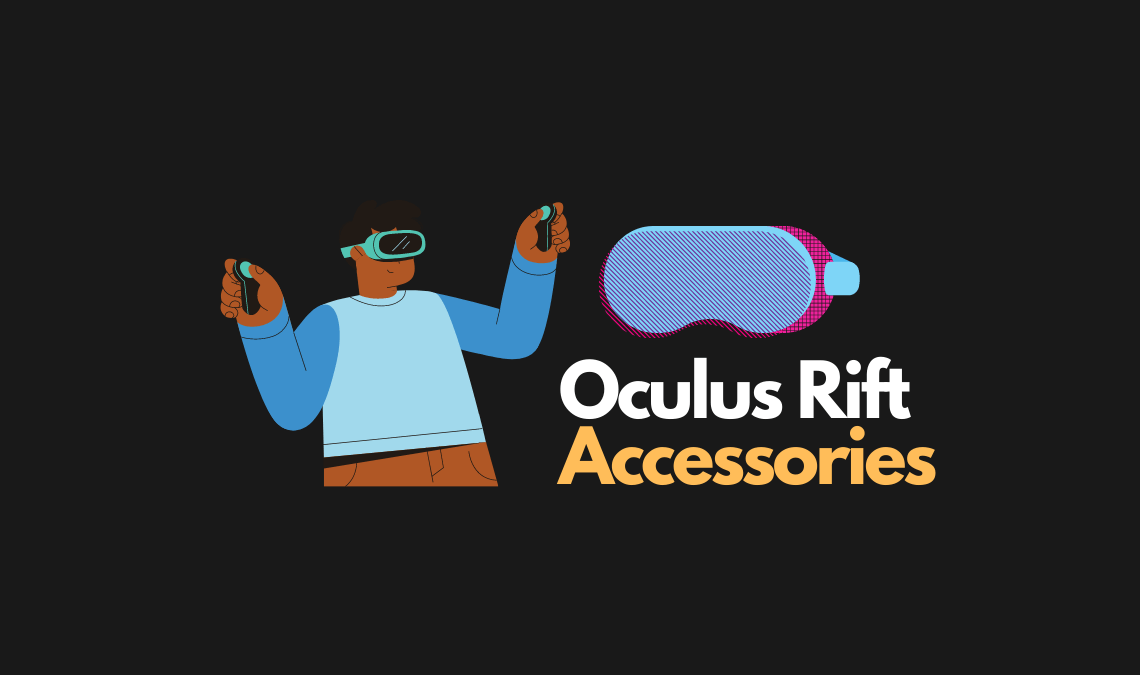 You've been excited about virtual reality headsets and the Oculus Rift is one of the biggest names in technology, providing a great experience for the audience. The main target recipient of the gadget going forward will be the gamers, but that doesn't really mean others cannot use the device. In fact, the hardware has got endless potential. Oculus Rift changes the cinematic experience of moviegoers. Consumers of this VR headset not just have access to first-class virtual reality settings, but also enjoy the capabilities of the decent 3D screen as well.
It is an exciting time for Oculus Rift users as the technology will only vastly improve the experience of 3D watching altogether. Every feature associated with the gadget hints at setting new standards. With an approach to making 3D viewing a bit more personal, you can design an elaborate environment by choosing these absolutely coolest accessories for your extreme VR performer.
Oculus Touch
---
The topmost accessory for your Rift gear is the Oculus Touch to navigate and control your VR experience. The model was originally shipped with the Xbox One, but now you can have the advanced controller to play games in a new way.
The lightweight controllers have a nice, comfortable grip, and track your gameplay well. The technology is so immersive that you can literally enjoy a unique play experience by actually being able to interact within the VR settings. Many games being released these days use the potential model to raise your gaming experience to greater heights.
Oculus Sensor
---
To be able to let VR reward you with the complete experience of being in the environment, have two Oculus Sensors placed in the front and another one at the rear of a room-scale setup. Track your actions no matter where you turn. Room-scale Oculus Sensor gifts users with interactivity that you feel worth it to maximize your play. It requires a little setup and then you're good to go!
The three Oculus Sensors need to surround you for them to work. A setup of this kind ensures that you obtain the most complete experience of any gameplay with no chances at all for your controllers to disappear during movement.
Monoprice six-foot HDMI extension
---
For a full-room and a scalable setup of the Rift, the six-foot HDMI extension from Monoprice is an essential accessory. Think that the head-mounted display's built-in cable is lengthy enough? Movements during your gameplay could cause you to run out of cable length easily.
To prevent your PC hardware from getting subjected to constant pulls or your headset coming off constantly, this version of the HDMI extension can let you play freely without having to worry about anything coming your way at all.
The Select Series six-foot USB-A 3.0 extension allows you to add a fourth sensor at the back of your room. Using this accessory you can easily wall mount your Rift's sensors if you want to.
Leap motion controller
---
Track precise movements using this awesome product that lets you see your hands in VR. The real-time sensors on the device pick up your hand movements. Once you've seen your hand movements in VR, you'll miss not seeing them being picked up.
Hyperkin polygon VR protector bag
---
The VR protector bag from Hyperkin is the best carrying case for your Rift that makes it securely portable. The Polygon has quality padding and contains several compartments so that you can safely pack your headset, touch controllers, and cables in a neat way.
The bag is securely fastened in front with clips and side Velcro strips, so you don't have to be careful about losing any accessory out of the bag.
Oculus Rift headset
---
The great Oculus headset design is one of the most immersive gears that makes viewing VR so realistic. The design; however, allows some outside noise to enter inside, which ensures an even environment and the user can quickly transition back and forth between the real world and the VR. This is nice as not everyone prefers to be cut off from reality.
These Oculus headphones that come in the range of Rift accessories are also easy to install. Just unscrew the existing headphones and place the headset. Even when playing a game for hours that involves highly jerky movements, you won't find any shift in place for these ideal Oculus headphones.
No need to manage cables as it's fit is top-down. If you prefer earbuds as an accessory to experience built-in sound while playing VR games, then this is a product you can't possibly miss.
Bose QC35 (Series II) headphones
---
Replace the Oculus built-in headphone with the ultimate sound system QC35 from the legendary Bose. In fact, the wireless headphone helps you avoid being wired and get subjected to unnecessary limitations.
The top-quality noise canceling can be adjusted right from the built-in headphones. Also, easily access your digital help – Siri or Google Assistant. In the wireless mode, battery life lasts up to 20 hours, which is quite impressive.
The product quality is highly comfortable for longer use. Gamers using the headphone hardly felt they were wearing them over the ear.
Recommended: What Song is This? Identify Songs Online
Oculus Rift Cover
---
The foam padding around the Rift's display can get all sweaty after an extended gameplay session. That's why the VR cover is one of the must-have Oculus accessories. The Oculus VR cover is made from 100% cotton and it securely fits over your Rift's foam padding. External dirt and oil from intense use cannot enter the cover. The product is washable so you can easily maintain its performance.
Do not lose sight of your field view and it remains the least impacted by this high-performing and durable excellent Rift cover.
Subpac M2X
---
Want to experience a full-body VR during your gaming sessions? Get the power of a strapped subwoofer to your back. So, while listening to music, you should get the feeling of being a part of a live show. Just wearing the Subpac M2X gives you a superior sensation of being present in the VR environment.
Feel every cinematic beat, explosion, and gunshot as you play your favorite games or when watching a film. The product is also stylish and gives you a really cool appearance when you strap the gaming accessory on your back.
There are even more accessories that fit wonderfully well with the Oculus Rift. With time, many more such amazing products will make it to the range of Oculus Rift's must-have accessories.