We usually provide our phone numbers on a website every time we sign up. Most websites do not save these mobile numbers in a cyber secure database. Data leaks have been on the rise recently. On top of that, signing up to these services might cause a lot of spam calls. Some websites offer temporary, disposable email addresses that can be automatically generated for hassle-free use. For user verification using OTPs, SMS' are generally used. Sharing your phone number to a random website on the internet could be hazardous. Your phone number could be used to access your personal information. Therefore, most users want a method to receive SMS without using phone number. If you are among them and want to simply use a website without putting your own data at risk you can use the methods mentioned below to receive SMS without a phone.
1) Sellaite SMS RECEIVER: Best App to Receive SMS Without Using Phone Number
---
Sellaite SMS RECEIVER has been around for several years and uses Estonian phone numbers (country code +372) which makes it different from most other services. They seem to be very quick at removing offline numbers and replacing them with real numbers, which should help with reliability.
Most numbers worked fine and received messages within about 10 seconds. A great feature here is the voice message option that allows you to receive and play messages from voice-based phone authentication. The play and stop buttons appear in the voice message title bar. Please note that the Send SMS button on the main page links to a paid service.
The interface is clean and easy to use while being very smooth. This makes it perfect to receive SMS without using phone number.
2) Twilio
---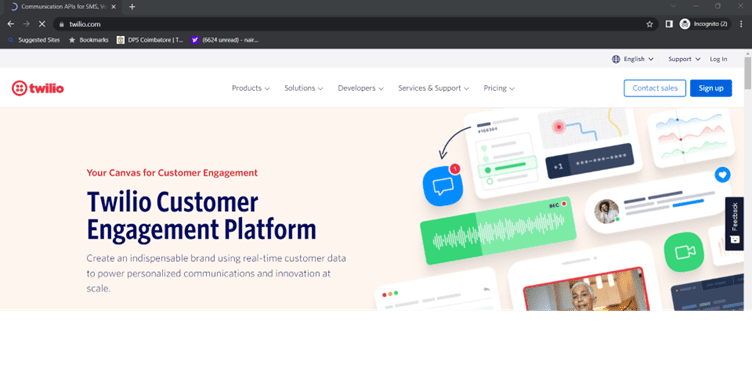 Twilio gives you a free private number to receive messages. You can receive SMS online using any of the above websites, which will help you create a test account. You can see messages received on your number in your account dashboard. If you're using a trial account, you can't send messages, but you can receive messages from any number.
Twilio isn't for everyone, and you don't need it if you plan to use it only a couple of times, it will be too much hassle. You'll need to sign up for a trial account, which ironically requires you to provide your phone number for verification. One of the other services listed here may receive the SMS, but most of the numbers are already in use. Otherwise, you'll need to decide if it's worth giving Twilio your actual phone number.
A big advantage of Twilio over other services is that, you can view the messages only after entering your credentials. So, it's much safer if you want to receive personal or private messages making it a pretty good service to receive SMS without using phone number.
3) TextNow: Reliable App to Receive SMS Without Using Phone Number
---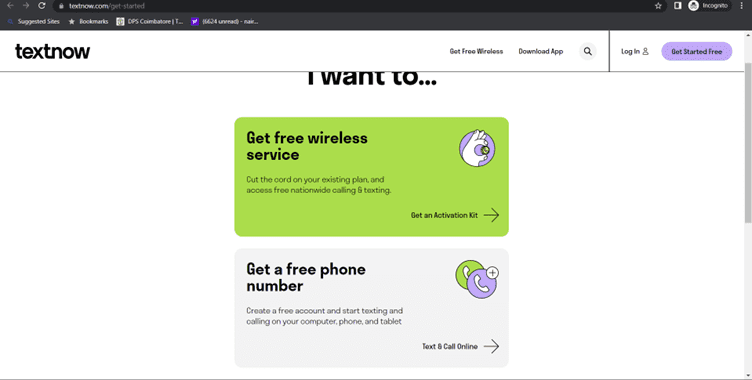 If you are looking for a reliable and free private phone number to receive SMS online that you alone have access to, you can try TextNow. On sign up for their free account, you will automatically get a free unique phone number and this is one of the major advantages.
Another significant advantage of TextNow is its user-friendly interface, which makes it easy for even non-technical users to navigate. The app allows users to customize their messaging experience by changing the background and text colors, as well as setting unique notification tones for specific contacts.
However, one of the biggest criticisms of TextNow is that it is not always reliable, especially when it comes to making calls or sending messages to traditional phone numbers. The app may also experience occasional glitches and bugs, which can be frustrating for users.
Overall, TextNow is an excellent option for people who want to stay connected without incurring high costs. Its free services, user-friendly interface, and unique features make it a compelling choice for users across the globe.
4) MyTrashMobile: Secure Way to Receive SMS Without Using Phone Number
---
Mytrashmobile only has 3 active numbers, one each from the US, Canada and the UK. In some ways this is a good thing, because there are fewer to try, maintain, and keep online. Click the dropdown menus to select your country and number, then press Receive.
All the numbers are working most of the time. The US number causes the least number of issues. Overall, it is a pretty good service that doesn't crash much. Android and iOS apps are available, with links to other relevant text, email, WhatsApp, and phone spoofing websites.
5) SMS-Online
---
SMS-Online is the next service that you can use to receive SMS without using phone number, it provides 8 phone numbers, 1 each from USA, Puerto Rico, France, Malaysia, Indonesia and Sweden. The UK has two numbers. Simply click the Open button for any country to view the news list. There is usually a VPN indicator at the top of the message list, so you may have to look below to see your SMS messages.
The only number that seems to have a problem is one of two from the UK. The rest seemed to work fine. Moreover, if you subscribe to emails, you will get notifications when a new number is added. The service is multilingual and supports special characters such as Chinese and Cyrillic. The SMS service also supports emojis. Overall, it is a pretty good service and perfect for casual users who do not want to commit long term to any other service.
Conclusion
---
In conclusion, using the services mentioned in the article you can receive SMS without using phone number easily. There may be some issues that might pop up but they are usually resolved by switching to a different phone number. So, with that in mind, you don't have to worry about your phone number getting leaked anymore.