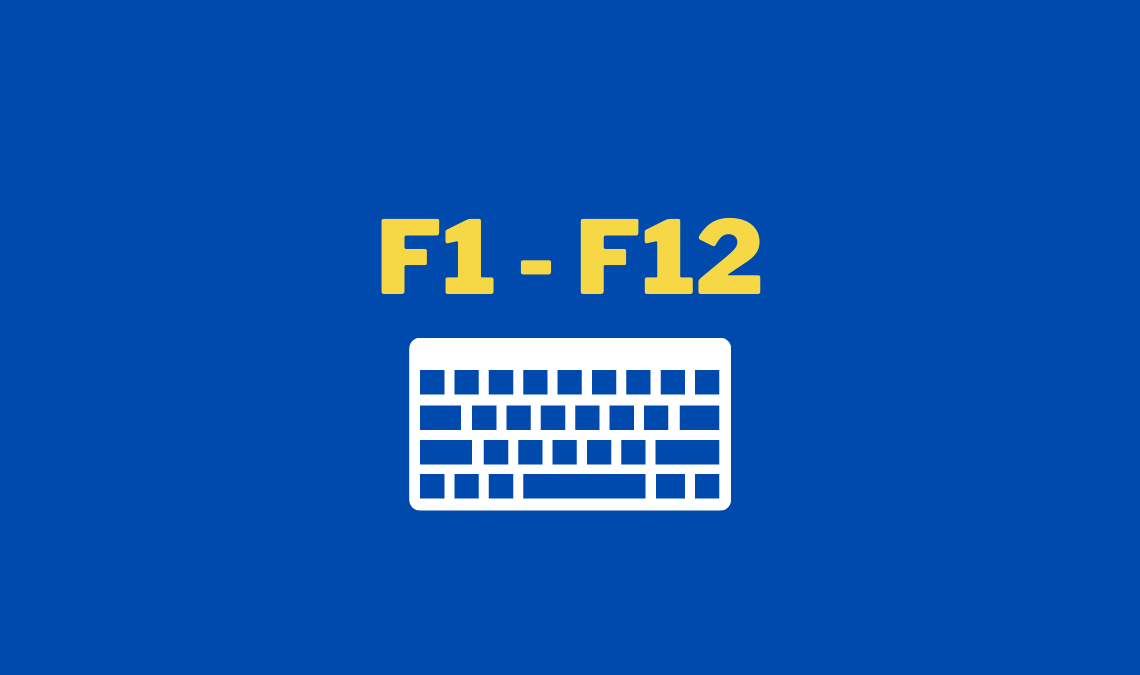 On the Computer keyboard at the top F1-F12 keys are called function keys. These are the Keys that do not type the letters. In fact, through these keyboard computers or its operating system has been specifically designed to give the direction. Here we are told that the Keys of how you can use these function keys.
Useful Function Keys Are From F1 to F12
A function key is a key on a computer or terminal keyboard which can be programmed so as to cause an operating system command interpreter or application program to perform certain actions, a form of a soft key. On some keyboards/computers, function keys may have default actions, accessible on power-on.
A 104-key PC US English keyboard layout with the function keys in orange.
Function keys on a terminal may either generate short fixed sequences of characters, often beginning with the escape character (ASCII 27), or the characters they generate may be configured by sending special character sequences to the terminal.
On a standard computer keyboard, the function keys may generate a fixed, single byte code, outside the normal ASCII range, which is translated into some other configurable sequence by the keyboard device driver or interpreted directly by the application program.
Function keys may have (abbreviations of) default actions printed on/beside them, or they may have the more common "F-number" designations.
F1
---
If the computer will turn on when you press the Key will open the computer's setup. Change the computer's settings and can be seen.
If you are working in the Internet Explorer browser and the browser's Help page will open when you press the Key. Chrome, also it will open a help page.
Recommended: How To Open Closed Tabs In Google Chrome
F2
---
Windows in a file, click on the folder after you press F2 to rename it can be immediate.
Print View page in Microsoft Word by pressing ctrl + F2 will open, which shows that the document will look when printed.
F3
---
Windows in the search box F3 opens. Its use is to search for files and folders.
Microsoft Word to press Shift + F3 on the English Text can be changed in the lower and upper case.
Microsoft DOS or Command Prompt window, press F3 on the first typed command is typed again.
F4
---
Windows Explorer (My computer, computer) to press it on the address bar opens.
The address bar in Internet Explorer is opened. Microsoft Word to press F4 to repeat the same thing you just did. Then again, if a word is typed will be typed.
Tables and tables will be created and if no one is bold text will then be bold. Alt + F4 will close the software open to the press.
F5
---
It is refreshing to use it as a key. After copying a folder in Windows, if not see, then press it will appear.
Internet browser refreshes and reloads the web page is to use it.
The PowerPoint slide show is launched to press the F5.
Microsoft Word and Microsoft Excel, press Shift + F5 to open the Find and Replace feature becomes.
Pressing it in Photoshop are exposed to various kinds of brushes. You can choose which brush of your choice.
F6
---
To open look press the contents of folders in Windows.
If several documents are open in Microsoft Word, then to see them one by one can use the Control + Shift + F6.
F7
---
After typing in Microsoft Word will press the F7 will begin his spell-check.
Internet Explorer Web page at the press of a text can be selected.
F8
---
Microsoft Word macro is ready to press Alt + F8. These time-to-time tasks can be recorded in direction.
F8 to select text in Microsoft Word is the use.
F9
---
Microsoft Outlook to send and receive emails to let it use.
Quark Express to press it opens the measurement toolbar.
Some laptops can control the brightness of the screen and press.
F10
---
Working in a software menu bar opens to the press.
Shift + F10 works with a mouse click.
Control + F10 use of the window in Microsoft Word is used to minimize and Maximize.
F11
---
Internet Explorer, Chrome browser as you can use it to full screen.
F12
---
Word to press it opens the Save As box.
Shift + F12 in Microsoft Word document is saved.
Control + Shift + F12 to open a Microsoft Word document is saved.