Clear Browser Cache: Google Chrome is not just a web browser and it has built itself a lot.
Chrome may be used as the best web browser but its software as a whole.
The RAM usage of Chrome is more (up to 400MB per tab) and may slow down your computer system.
When you visit a website, it takes time to load. But, when you revisit that site, it loads faster than before. The reason behind this is that it stores the webpage in the browser cache memory.
And today, I am gonna show you how quickly you can clear browser cache in Google Chrome.
Cache memory is the fastest memory in the memory hierarchy and stores frequently used results. All web browsers use cache memory and stores web pages you visit in that memory. It gives the user a better browsing experience and the websites loads faster.
The browser cache stores files like web pages, images, audio, video, and other raw data. Now, it is important to know why you should clear browser cache, and is it good or bad for you?
So, here are quick things you should know before clearing browser cache:
It is advisable to clear cache once a week because the files are stored locally and your storage may be full.
Also, it may slow down your computer (any device). Check how to make computer faster.
Some websites may not load fully because of cache errors and you'll be unable to access that website.
As browser cache helps you to get a better browsing experience, only clear cache once a week. It will help you access websites faster on slow connections.
You can lose any personal credentials like save passwords or online media licenses. So, make sure you have everything important to you.
Now you know the effects (good or bad) of clearing browser cache, let's see how you can quickly delete Google Chrome cache.
Steps to Clear Cache in Google Chrome
Before clearing the cache, I recommend you to update Google Chrome. You can update Google Chrome by tapping three vertical dots (or horizontal lines) from the upper-right corner and select Help>About Google Chrome. Here, click Check for Updates.
Note: It is not necessary to update to clear browser cache in Google Chrome. But, it is recommended to keep it updated. And another reason is that the steps shown here are shown with the latest update of Chrome.
Click on the three vertical dots (or horizontal lines) and open the History tab. Or press Ctrl+H to open directly.
Note: On previous versions of Google Chrome, go to Tools>Clear browsing data. Or press Ctrl+Shift+Del to open directly.
Quick Tip: Use these Chrome URLs to go directly:

chrome://history/ for history tab.
chrome://settings/clearBrowserData for clear browser data tab.
Now, you will see the Clear Browser Data option, open it by clicking on the icon.
Here, select all (or Browsing History, Cached data, Cookies, and other site data). There are two tabs (on the updated version) as Basic and Advanced. You can also choose the time range to clear data.
Once you are done with these options, click Clear Browser Data.
You are done.
Clear Browser Data on Android
As you know that Google Chrome is also available for Android devices as well. So, you can clear cache on Android devices also. The steps and options are totally the same, here is the quick step-by-step process:
Tap the three vertical dots from the upper-right corner & open the History tab.
Here, select the CLEAR BROWSING DATA option.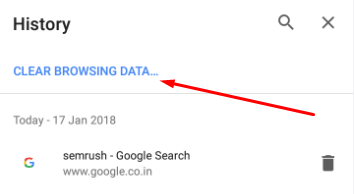 Now, you'll see the same tabs (Basic & Advanced) with the same options.
And, you are done.
So, this way you can clear browser cache in Google Chrome quickly on PC and Android.
If you like the article, do share it with your friends on social media.