All you need to know about downloading instagram reels
Instagram reels was launched by Instagram when Tik Tok was banned in several countries. The feature became a hit soon after it was released. The Instagram algorithm recommends reels according to the user's choices and hence they often hitch users to them. Reels can range from being memes to just general trending short videos. Some of them might be interesting and you may want to save them to your device. Well, if you want to download reels for free, we can help! Let's check out the best ways to download Instagram reels with audio
Download Instagram Reels with Audio on Your PC
---
If you browse Instagram through your laptop or desktop, you might want to download Instagram reels on your PC. Well, this is pretty easy to do!
1. EaseUS Video Downloader for Windows/Mac Devices
---
EaseUS is one of the most easy to use software that helps you install Instagram reels to your device. Not only does the software allow you to install videos from Instagram but also Twitter, YouTube, Facebook, Vimeo, Dailymotion and MySpace. The software installs reels with audio and not just the visual. If you wish to install only the audio from an Instagram reel, EaseUS has a distinct feature for it. The software is highly feature rich and has an intuitive user interface. Few of the best features of the software include
Video grabber: Helps grab videos from popular platforms such as YouTube, Vimeo, Dailymotion and Instagram
Audio downloader: Let's you download audio files from websites such as SoundCloud, Myspace, BandCamp
Audio ripper: Audio ripper is a powerful tool that helps you strip audio from videos from YouTube, Instagram and Facebook.
Video to Mp3 converters: As the name suggests, this tool helps convert videos to mp3 format.
Bulk media downloader: another cool feature of the software, bulk media downloader allows you to download up to 50 media files at once.
Wondering how you can download a video from instagram to your pc using EaseUS? Here's a step by step guide you can follow to download an Instagram reel.
Launch the application on your device. On the home screen dashboard you will see social media websites you can download from. You will also see an "+Add URLs" button. Click on it
Next you need to copy paste the link to all the Instagram reels you wish to download. You can paste at most 50 links at once.
Once you paste all the links and click on next, the software will go through all the links and download them one by one.
Wait while all your videos are being downloaded. Once they're downloaded, you can find the videos in your library. Click on open to view the videos.
2. Offline Instagram Reel Downloader
---
If you don't want to install a software to download Instagram reels, we've got you covered! Instafinsta.com/reels is an exclusive website that lets you download reels to your computer. You can definitely give this super cool website a try! Wondering how to download a reel using this website? Take a look at this tutorial:
Open the website on a browser in your computer. The website works well with both windows and Mac.
Copy the link of the reel which you wish to download and paste it onto the search bar in the website.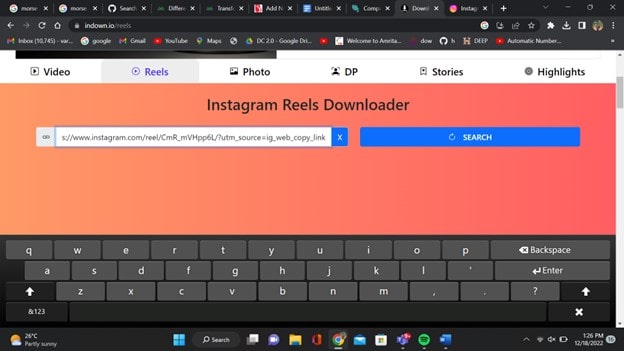 Once you've pasted the link, click on "download". Doing so will download the reel onto your systems. Head to the folder location where the reel is saved and you should be able to play it!
How to Download Instagram Reels on Your Phone
---
If you wish to download Instagram reels to share with your friends via WhatsApp or other social media platforms, downloading the reels on your phone must be more convenient.
Instagram Reels Downloader App
---
Just like there's EaseUS on PC, we've apps for mobile devices that help you download Instagram reels to your phone.
If you've an android device, you can install the "reels downloader for Instagram" application. This application enables you to download reels to your phone in high definition. Here's a guide that will help you use the app and download your favourite reels!
Head to the play store and install reels downloader for Instagram.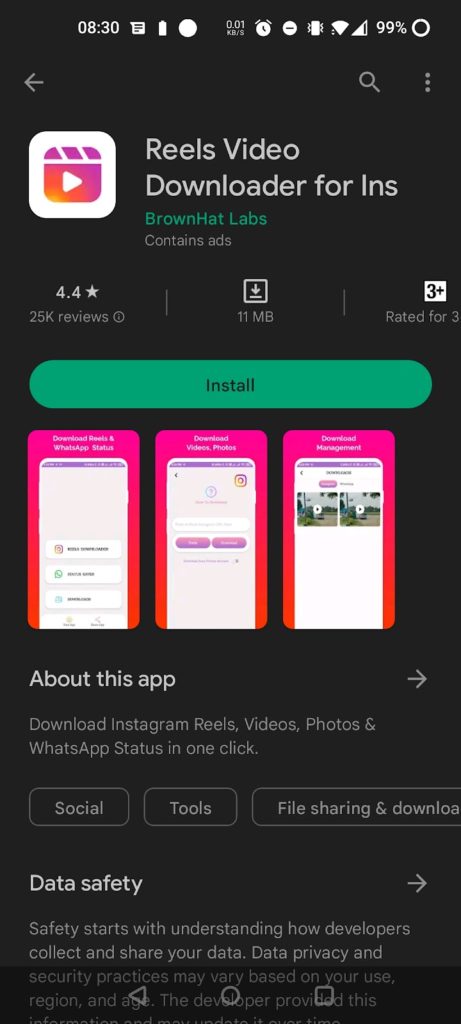 Next, launch the app on your android device and paste the link of the reel you wish to download into the search bar.
Once done, click on the "download" button to download the Instagram reel onto your phone.
Also check out :
Conclusion
---
There are tons of apps out there that let you download Instagram reels on your local device. Each app and software that we have looked into today, is amazing and unique in its own way. We've seen methods to download Instagram not just on mobile devices but also PCs. You can try out the methods and download Instagram reels with audio!