While shopping online, we are always anxious about missing the best deals, not getting the best price possible, and so on. Wouldn't we hate it if we buy something and the next day it is on sale, fifty percent cheaper than the price we bought it for?  It is nearly impossible to keep track of all the deals and offers e-commerce websites offer manually since there's a sale nearly every day. So, there's no way to know when we are missing out right? Wrong! This is where price tracker extensions come into play and work their magic.
What are Price Tracker Extensions?
---
Price Tracker Extensions keep a record of the prices of various products across multiple websites or even the prices on the same website over time. They help the user find the best possible deal and can save us serious money.
On top of tracking the prices and finding the best possible price and timing for us, some of the extensions mentioned in the article can also AutoBuy the product for you, which means that the product will be ordered at the best possible time even if you forget to be on the lookout. Another feature of some of these extensions is coupons, where they find and scan the internet for coupons and further increase our savings.
The Best Price Tracker Extensions for Chrome:
---
In this article, we will be taking a look at a list of four of the best price tracker extensions we created for you!
Flipshope
Keepa
BuyHatke
PriceTracker by IndiaDesire
1) Flipshope Price Tracker Extension:
---
Timing is crucial when purchasing discounted items online. The Flipshope Chrome extension performs a variety of functions, including Auto purchase, Price Graph, Compare, and more. They offer price graphs for Myntra, Shopclues, Snapdeal, Flipkart, and Snapdeal. Tatacliq, Nykaa, and Paytmmall. To install the Flipshope extension just follow the simple steps given below.
How to download:
Launch google chrome and then head to the chrome store
Next, search for "Flipshope", the extension should appear in the search results. Add the extension to chrome.

Test the extension out on e-commerce websites.
2) Keepa Price Tracker:
---
Keepa is a price monitor built for Amazon products. One of the most well-known price tracking extensions, it gives all Amazon sites access to price history charts and the option to receive alerts when prices change. To install the Keepa extension just follow the simple steps given below.
How to download:
Open the chrome store on Google Chrome. Once done, search for "Keepa price tracker". The extension will appear on the search results.
Next, click on "add to chrome" to add the extension.

Try out the extension on websites like Amazon.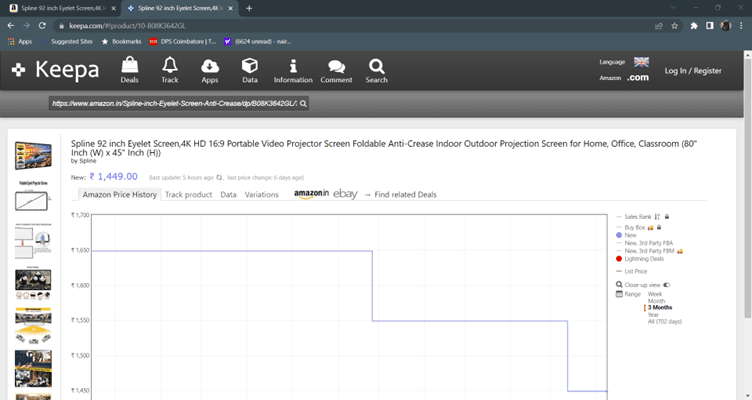 3) Buyhatke Extension:
---
By locating the best prices on e-commerce websites when you shop there, Buyhatke is another useful Chrome web extension that makes it easier for you to shop online. With the help of this extension, you can look up a product's price history going back three months. Additionally, major e-commerce websites are compatible with this extension. To use this extension and save some money, just follow these simple steps.
How to download:
First head to the Chrome store on your Google Chrome browser.
Next search for "BuyHatke", once you find it, add the extension to chrome.
Use the extension on any website you like, it is very simple to use as a small menu appears on the right side of your screen with all the possible options, making it quick to use.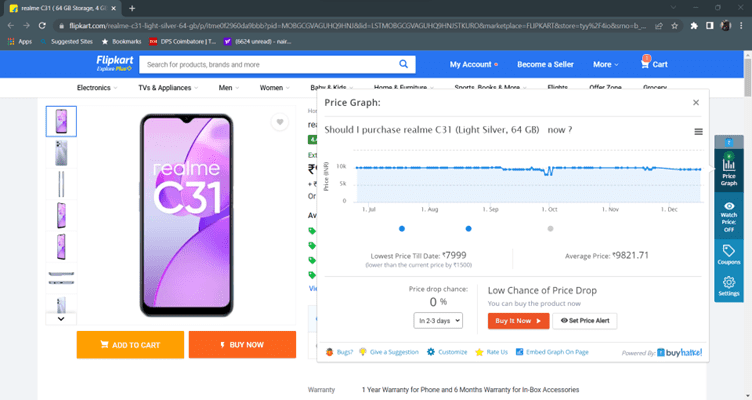 4) Price Tracker by IndiaDesire
---
It is an emerging price-tracking solution in the field of Price Tracker Extensions. The team behind IndiaDesire, which is well known for sharing loot deals, created this extension. You can use this extension to check price graph history, set price drop alerts, and auto-buy flash sales on various e-commerce sites. You cannot display the price history for Amazon products, but you can use it and all of its features on Flipkart. The steps to download this extension are given below.
How to Download:
Go to the Chrome Web Store
Add the Price Tracker by IndiaDesire to chrome, be careful to make sure that the developer of the extension you are downloading is IndiaDesire as many other price tracker extensions also go by the same name.
After downloading, you can follow the instructions given to use it for any of its functionalities.
Conclusion
---
To end this article, we want to say that these websites will help all of you save a lot of money, and in addition to that, they are free to use and also very safe. Not only will all of these websites help you find the best possible deal and the best possible time to buy the product they also have many more added functionalities. On top of this, you can also always be on the lookout for big sales. These sales are usually advertised everywhere. If the website you are browsing through isn't very popular do check whether its safe to browse through or not! With all of this in mind, hope you have a fun time shopping with these price tracker extensions!