ShotOn Watermark is a labeling trend carried out by Mobile Brand flagships to showcase their Dual Camera functionality. This is the default text watermark feature into their camera settings which can be easily turned on and off as per user requirement.
Even you might have come across such photographs at every interval, isn't it? But not on photos captured with every handset, right? This is because only a few of the Android handsets are offering this inbuilt functionality with their mobile phones.
In spite of having the best camera, queries have raised by many of the iPhone users that whether they can label such tags to their iPhone captured photographs or not. Therefore, getting your query solved we've got two fine techniques for you!
You can get either one of the mentioned applications for yourself.
iShotOn Watermark Stamper,  A specific application that adds ShotOn to iPhone Photos.
Phonto, An application that is developed to insert Text On Photos.
iShotOn (ShotOn) Watermark Stamper
One of them is iShotOn Watermark Stamper, an iOS application which makes a wish of adding shot on tags to photos within few click and ticks! The application is specially developed for iPhone users who wish to showcase their mobile photography as well as their mobile handsets among the crowd.
How to get the ShotOn tag on your Photos?
---
iShotOn is developed by keeping all your requirements to priority. Therefore, it offers you to label ShotOn to your photos in two different ways as below:
Pre-captured Gallery Photos: Have your gallery filled with great shots that you are willing to showcase among everyone? No Worries! With iShot On Watermark, you can easily choose your favorite gallery photos and start labeling as per your image enhancements.
Click Instant Pictures: No matter even if you are clicking some new set of pictures and wish to get these trio tags to your images without any hassle. All you need is to get them set up done at once and it will be added to every picture you click!
Need to get your work more precise and clear? We'll even make it done for you!
Check out the below-mentioned steps to get your iPhone Photography a kickass shot!
Get the app installed from App Store named iShot On Watermark Stamper for Free.
A default home screen of the application will appear which will include the following settings; Logo, Device Name, Capture by.
Choose Logo from the default list of categories offered to you or you can even import your own desired one as per your requirement with a (+) symbol given.
Select your desired Device Name with the list offered. In case you cannot find your device name in the default list you can also add and custom your own device name.
And set your shot by tag to grab all the credits you deserve!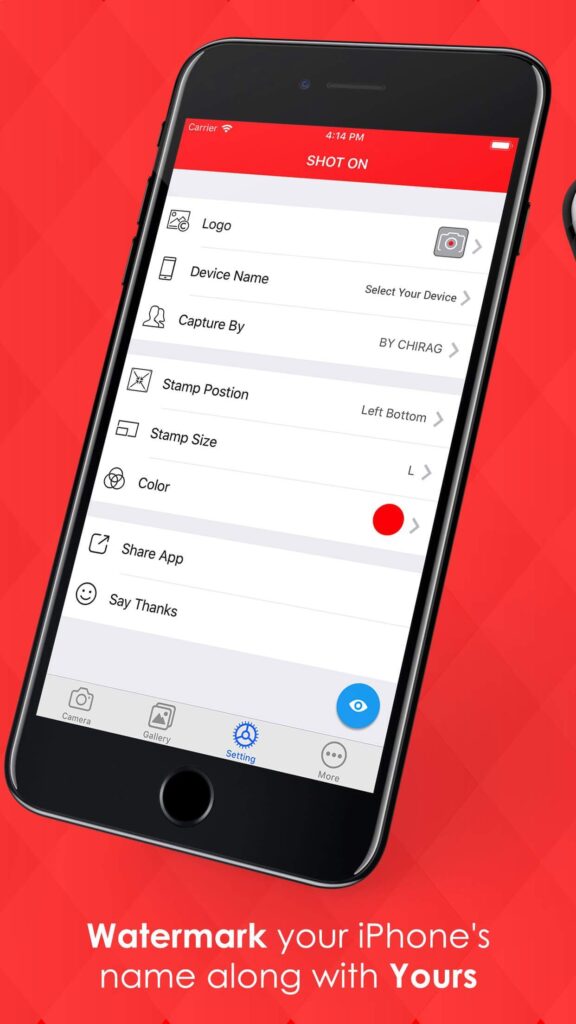 Phonto – Text on Photos
---
An amazing typography application with the help of which even you can watermark your images with ShotOn and Shot by tag.
Looking for more insights on the application? Check it out here:
More than 400 textual styles are accessible.
You can introduce different textual styles.
Text size is alterable.
Text shading is alterable.
A Text slope is variable.
Text's stroke shading, shadow shading, and experience shading is alterable.
The text is rotatable.
Text kerning is alterable.
Line dispersing is variable.
Curved content.
Perspective content.
Parts of content are erasable.
Image topic is variable.
Items (Balloon, Rectangle, Star, Heart) are accessible.
The background picture is variable.
You can utilize pictures, as well as plain pictures to compose content
How to use it?
---
All you need is to get the application installed.
Choose settings from the default menu.
Choose your text/Background.
Get your personalization done and it will be added instantly without any hassles!
The only difference between using a specific ShotOn application and Photo will be that ShotOn will even let you add logo watermark to photos while Phonto will have different typography styles!
You can choose yours as per your requirement!
Also Read:
Author's Bio
I am Disha Parchani and have a keen interest in writing about the latest Android Apps, tools, discovering new aspects of digital marketing as well. When I'm not writing you will find me exploring different restaurants. You can connect with me on Google+.