What is ChatGPT?
---
ChatGPT is a natural language processing tool based on AI technology developed by OpenAI that allows you to have human-like conversations with the chatbot and more. This language model can answer questions and help with tasks such as writing emails, essays, and code. The GPT in ChatGPT stands for GPT stands for generative pre-trained transformer, GPTs are OpenAI's family of AI language models. ChatGPT can be called the most advanced chatbot ever. It launched as a prototype on November 30, 2022, and instantly became a hit. Gaining more than a hundred million users in record time. The original release was based on GPT 3.5 but on March 14, 2023, OpenAI released GPT 4 on a paid subscription basis. If you haven't tried it out yet, you must create an account on ChatGPT today!
Why should we create an OpenAI Account?
---
An OpenAI account has many benefits, the most obvious being access to ChatGPT, we defined ChatGPT in a technical way but how will it help you, a regular user?
ChatGPT can:
Write amazing professional emails for you instantaneously.
Write Code for you based on your prompts.
Write Essays and articles for you.
Help review your own content.
With all these features available for free, not having an OpenAI account means that you are missing out on features that could help you finish work faster and in a more efficient manner.
In addition to ChatGPT, an OpenAI account also gives you access to DALL·E 2, an AI image-generating service that can generate images using natural language prompts.
It also gives you access to WHISPER to speech-to-text AI tool. WHISPER is also a free service.
Now that we know the benefits of having an openAI account let us understand how we can create an account on ChatGPT using OpenAI.
But before that, let's look at other options available to us.
ChatGPT Alternatives:
Bard (Google)
---
BARD is Google's answer to the phenomenon that is ChatGPT. It is free to use and may even be better than ChatGPT when it comes to factual information.
Bard is a conversational AI or chatbot that is trained on a massive amount of text data and can generate human-like text in response to a wide range of prompts and questions. It can provide summaries of factual topics or create stories. Bard is a powerful tool that can be used for learning new things, being creative, or simply having a conversation. Bard is still under development and is expected to improve drastically.
This makes it an excellent alternative to ChatGPT and the best part, all you need to use it is a Google account which almost everyone has.
Bing with AI Chat
---
Bing with AI Chat is a new feature that allows you to ask Bing questions, get answers, and even have conversations. The chatbot is powered by GPT-4, a large language model that has been trained on a massive dataset of text and code. This allows Bing to understand a wide variety of questions and provides you with accurate and relevant answers.
To use Bing with AI Chat, simply type your question into the search bar and click the "Chat" button. Bing will then respond to your question in a conversational way. You can ask Bing about anything, from the weather to the latest news. Bing can even help you with tasks such as finding a restaurant or making a reservation.
It is easy to use and it's always available, so you can chat with Bing anytime, anywhere.
Microsoft hopes that this could be the feature that helps them beat Google once and for all.
Now that you know what alternatives are available to you, it's time for you to create an account on ChatGPT OpenAI. We'll explain the process to you below.
How to Create an Account on ChatGPT OpenAI?
---
Open a web browser and navigate to the OpenAI website.
Click on the "Sign up" button located in the top-right corner of the page.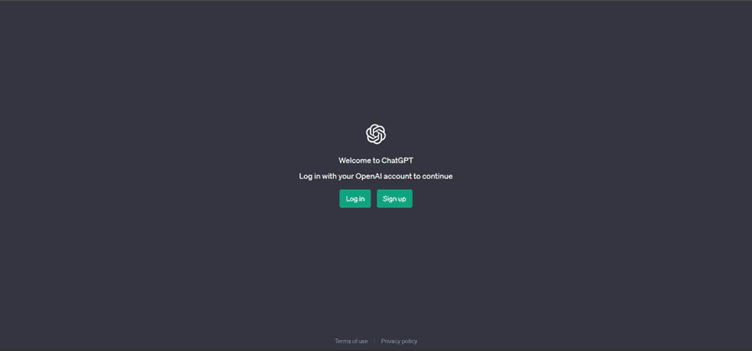 Enter your email address and click on the Continue button.
Enter a strong password and click on the Continue button. Alternatively, you can also choose to sign up using your Google or Microsoft Account.
Once done, click on the "Sign up" button to proceed.
You will receive an email from OpenAI with a link to verify your account. Click on the link in the email to verify your account.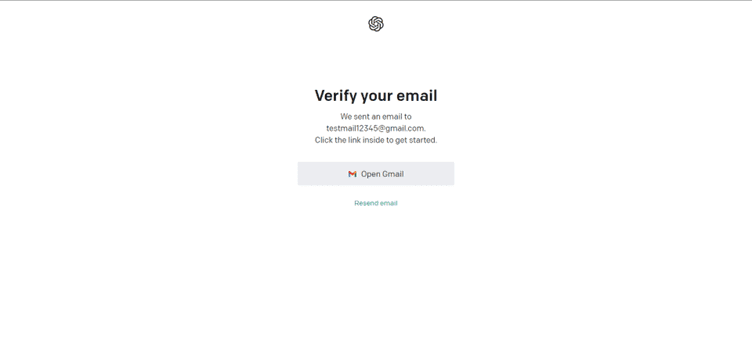 Add your phone number, You will receive an OTP code, enter the code and verify your phone number.
Once your account is verified, you will be taken to the OpenAI dashboard, where you can start exploring OpenAI's products and services like ChatGPT, DALL.E, Whisper, etc.
Now that we have created an OpenAI account, we'll take a look at their most advanced AI model yet, GPT-4.
What is GPT-4?
---
We could go into a lot of technical details about GPT-4 but that would most likely not interest the average user. What you should know about GPT-4 is that it is almost 10 times better than GPT 3.5, the version ChatGPT runs on. In addition to text prompts, it accepts image prompts too and its ability to put information together is better than ChatGPT. In summary, GPT-4 is ChatGPT on steroids.
How to Create an Account on ChatGPT-4?
---
To access GPT-4, you must upgrade your OpenAI account to a paid one to access ChatGPT Plus, the version which runs on GPT. Other ways to use GPT include APIs.
It is really easy to Upgrade to ChatGPT Plus. Simply follow the steps given below:
Go to the ChatGPT website.
Click on Upgrade to Plus.

You now have access to GPT-4.
Conclusion
---
To gain from the AI revolution. It is a service the likes of which we have never seen before. ChatGPT can help us do amazing things quickly. Not using ChatGPT is slowing down your own work. So, why wait? Create account on ChatGPT now and join the AI revolution.