YouTube is probably all of our favorite social media platforms. It quickly brings all the world's collections to the tip of our fingertips, may it be entertainment or educational videos. Likewise, we get easy access to a variety of our favorite music by the greatest artist of all time. But the fun part doesn't limit here. Many people don't know this, but YouTube allows users to create their personalized YouTube music playlist.
A YouTube playlist is a collection of your favorite music videos that you can easily find on YouTube.
Furthermore, there are also options to shuffle the videos in random order or select the playing order manually. The next video in the queue will play in your chosen fashion when one video finishes. They are much like the Amazon music or Spotify playlist, but instead, you can find way more options. You can simultaneously view the video and listen to the audio. The possibilities are endless, and these YouTube music playlists will be sure to rock your next party. 
Make a YouTube Music Playlist 
---
Open the YouTube app on your mobile, make sure you're logged in to the correct account.
Next, search for the YouTube video you want to add to your playlist.
Open the video, and look for the Save option below the screen where the video is playing. 
Click on the Save option.
Below, you will be shown a prompt titled "Save video to". Next to it will be an option for a + New playlist. Select it.
You will be asked to create the name of the playlist. Then select if you wish to keep this YouTube music playlist private, public or visible to anyone with the link. Choose per your need.
Now go to another music video and save it in the fashion. But this time, YouTube will not ask you which playlist to choose. It will, by default, save in your recent playlist. If you wish to change it, you can click on the change option—tick on whichever playlist you want to add the video to if you have more than one playlist.
Similarly, you can add as many videos as you like on your playlist, and your playlist is complete. After you are finished adding videos, you may want to edit the playlist and go to the library.
Here you will get options to shuffle the YouTube Music Playlist. It will make the videos play randomly.
You can edit the playlist by clicking on the pencil icon. Here you can change the name and add a description of the playlist.
You can sort the videos in your chosen fashion, so they will play in that order next time you use the playlist.
You can download the playlist as well, for when you go offline, you can still play the music.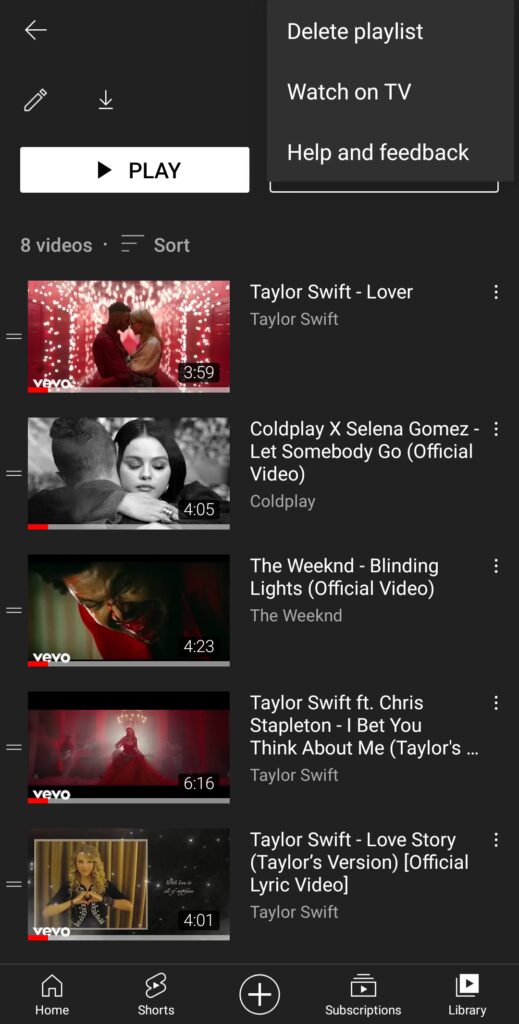 In case you decide you want to delete the YouTube Music Playlist one day, there is also an option for that. You can find three dots in line on the top right corner, select them and find the delete playlist option. 
How to Find Great Music Playlists on YouTube
---
Creating your own personal playlist is exciting, of course. But you may also want to see what's out there in other people's personal libraries. As mentioned before, when creating a playlist, users are given an option to select if they want to keep their YouTube music playlist private or public, and at this point, some people choose to keep it public to share their collection with the world. Since these playlists are public, you can also find YouTube using the following steps.
Search on the YouTube app the category of music you like; it can be an artist, genre of music, or a decade of music. 
You will be given a mixed search result. So, to make it playlist exclusive, select the three vertical dots on the top right corner. 
Here, you will see an option for filters select it.
In filters, select the playlist in the type of videos option.
Your search result will reload to only playlists of those categories available on the app. 
Now you can find various new playlists, take inspiration, and add these videos to your playlist if you want to. 
Pay attention to the black overlay on the right side of the playlist thumbnails. Because the number on these will indicate how many videos are included in a playlist.
Remember that users who create a public playlist get a section of their YouTube channel made public. This means anyone can view their playlist and play it. So if you find a public playlist of your liking, you can revisit it quickly.
By searching on chrome browser, their link URL as youtube.com/user/channelname 
Here channel name would include the name of the account that owns the playlist. This also works for your channel if you choose the option to keep your playlist visible to anyone with the link. So you can share this link with your friends (inserting your channel name) and easily make your friends access your collection of music.
Conclusion
This is how you can make a creative YouTube music playlist in your account. In addition to this, you can use this method to create a music playlist and add clips of your favorite TV shows, stand-up comedies, or your favorite short videos. Basically, It can include any videos available on YouTube and your playlist complete.