Telegram has become a user's favorite platform for messaging. Still, compared to WhatsApp, it is easy to identify how different Telegram is from a simple texting app. When a new account is created on Telegram, users are only allowed to choose their profile picture and enter their public name, which won't suffice in the long run, especially if one plans on running a business on it. A custom username on Telegram is essential, as it will help your audience find your channel or group without having to share your number or sending individual people an invite link.
Furthermore, you can create separate custom usernames on Telegram on the same account for all your channels, groups, or chatting profiles. So, continue with the post if you want to learn how to create a username on Telegram.
How to Create Custom Username on Telegram Profiles
---
Follow the step by step procedure below:
Open the Telegram.
Tap on the three horizontal parallel lines to open the menu in the top left corner. 
Tap on your Profile Picture. 
This will open your Telegram profile. Here, under the Account, you will find the username option. It will be set to None by default. 
Enter your desired username here. Make sure it is unique and contains alphabets, underscore, numbers but not any special characters. Telegram allows a minimum length of 5 characters and a maximum of 32 characters. Try keeping it in between of those lengths.
Once entered, Telegram will show you whether the username is available or not. If it is already in use, enter a different username. If available, you can tick okay on the above right corner to save the changes. 
You're done here! Your Telegram profile can be found easily by typing your assigned username, or you can access it with this link. https://t.me/your username. You can share this with friends or anyone, and it will directly open your chat window.
If you have an iOS device, these steps will be slightly different for you. The user interface of the Telegram app is different on iPhone and Android devices. For iOS,
Go to the Settings section, and on the top right corner, click on the Edit option.
Here, you will find your Telegram profile, where you can change your username following the same procedure as mentioned for Android. 
Create a Custom Username on Telegram Groups
---
Telegram groups are widely shared online among people. If you have a Telegram group that you need to communicate with hundreds of people, clearly you cannot share your phone number in this case, for a common reason. Hence, creating a personalized username for your Telegram group is the best option. 
But remember, if you want to share your Telegram group publicly, make sure it is enabled to the public in settings, or else people will not be able to find your group. Only the administrator has the power to do so. Another detail to keep in mind is public groups can be found in the Search box so anyone can join it, and their chat history will be visible to everyone. 
Here are the steps to the custom username on Telegram groups.
Open the Telegram app.
Then go to the group whose username you want to change.
Click on the group's name or its display picture. 
Select the pencil icon (for Android) or edit option (for iOS) present. This will lead to the group's setting.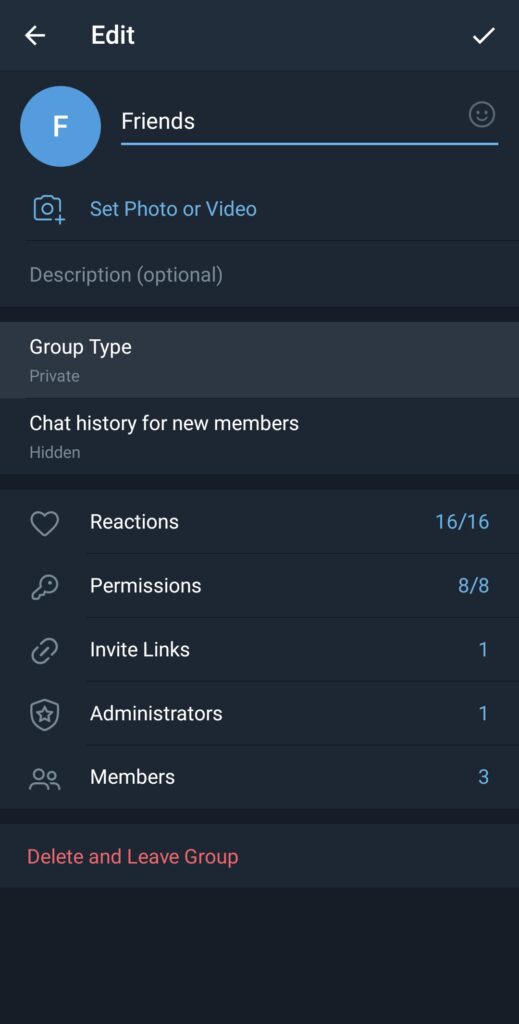 Select the Group Type option.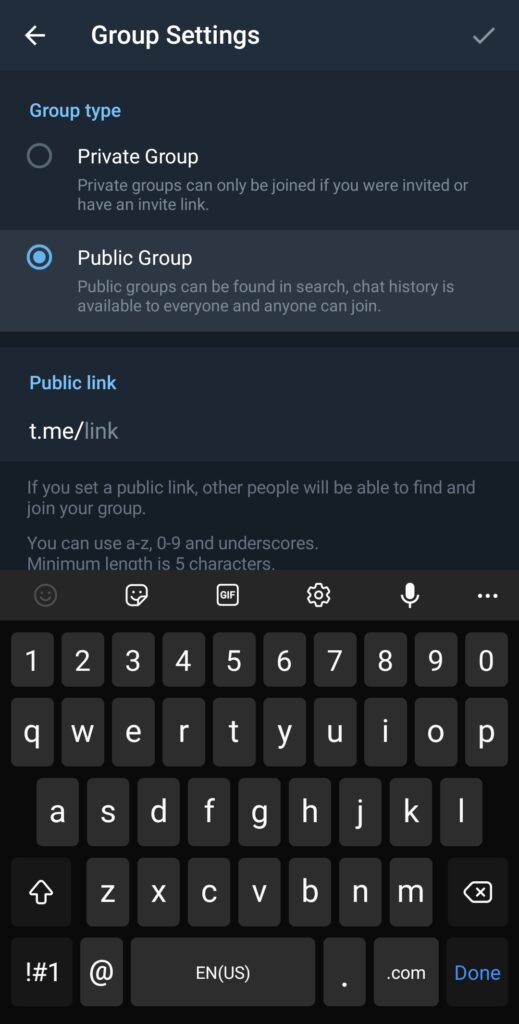 6. Here, you can change your group from private to public.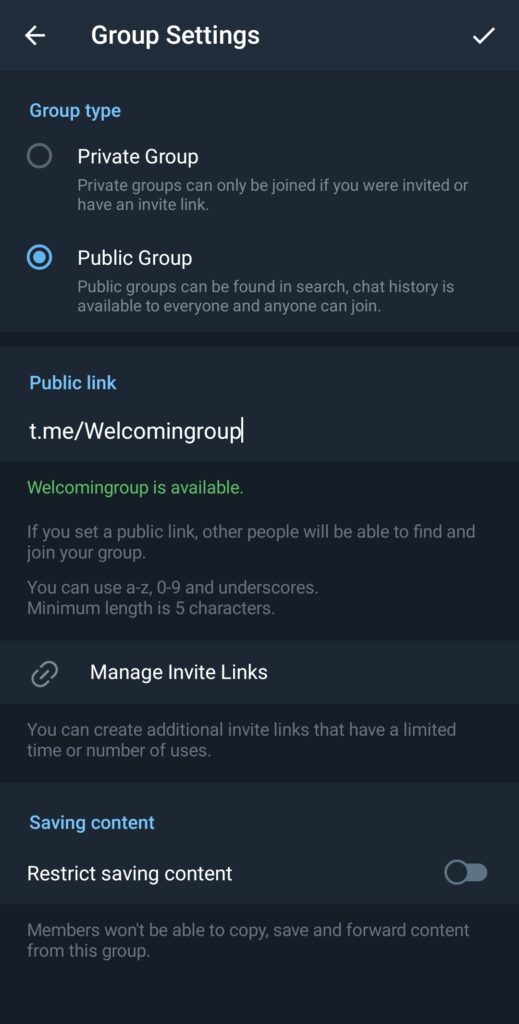 Next, you will see an option to create a public link for your group, where the change username option is present. Enter the desired username, and if it is available, click on the tick icon to save the changes. 
Create Custom Username on Telegram Channels
---
Just as in group and profile, you can easily create a custom username on Telegram channels. Channels are generally more prominent than groups, and their primary purpose is to run business advertisements. Thousands to lakhs of people can subscribe to a telegram channel. Hence, it is the best option for mass communication. Clearly, a channel should be Public to complete its sole purpose. At the same time, a unique username should also be assigned to them for better accessibility. Here's how to do it:
Open the Telegram app.
Select your channel.
Click on its name or display image. 
Next, select the edit option or pencil icon to open its settings. 
Now select the Channel Type option. Then, change the settings from private to public.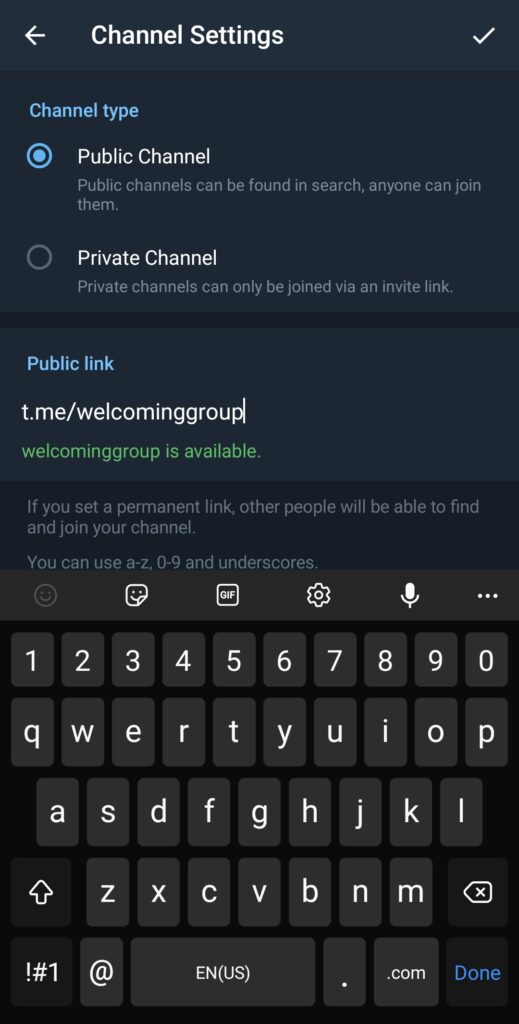 Next, type in the username you have chosen for your channel, next to t.me/link. Again make sure that it is available. Select the tick option and confirm changes. 
Again, you're done! Now you can share this link on your social media pages to publicize your channel. 
Conclusion
---
This way, you can create a custom username on Telegram. It is essential to know the difference between a user name and a display name. You can set your display names at the time of creating an account. But while using it, your phone number will remain visible to your contacts, which will be the primary search criteria to find your profile.
In such cases, usernames help a lot, as they become your public profile name once created. To find you, people will no longer have to type your phone number; instead, they can see your profile through @username. They will easily find your profile or join your group or channel without knowing your phone number. It helps create privacy around your personal information, and it will refrain you from exposing your contact information to strangers. But they can still access your services offered with no drawback. 
We hope this post helped you learn something new about Telegram. Share the trick with your friends and teach them how to create a custom username on Telegram.