Magnet links have made it a lot more accessible for people to download torrent files using major web browsers. Furthermore, if you use a magnet file, it erases the necessity to download a torrent file first in order to download your desired content. This is why many people are desperate to learn how to open a magnet link in any browser. Here, we have mentioned the exact method for three major browsers: Google Chrome, Microsoft Edge, and Firefox Browser.
Open a Magnet Link Using Chrome Browser
---
Open the Chrome Browser and tap on the three dots on the top.
In the menu, select Settings.
Go to Advanced and then select Privacy and Security.
Next, select the Content Settings and choose Handlers.
In the list of options, toggle the button to Allow sites to ask to become default handlers for protocols (recommended).
Next, go to the torrent site and from there, click on the magnet link to download the file.
Open a Magnet Link Using Microsoft Edge Browser
---
In order to open a magnet link on Microsoft edge, start by pressing Windows Key + R to open Run. Then type regedit and click OK.
Then Navigate to: \Computer\HKEY_CLASSES_ROOT\Magnet\shell\open\command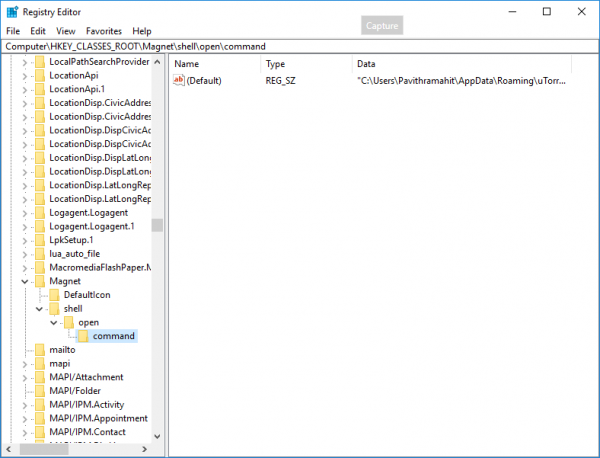 Select Default Key at the right side of the window pane and change the value to "%1" /SHELLASSOC
Press OK. 
Your browser will now be able to open magnet links with the torrent client.
Open Magnet Links Using Firefox Browser
---
Open Firefox browser and then type about:config on the address bar.
Next, type handler.expose in the search bar.
Right Click and select New from the menu.

Select Boolean from the options.
Give the preference name network.protocol-handler.expose.magnet.
Select the value to false and click OK.
Lastly, just click on the magnet link and choose Dialog in your torrent client in the Firefox launch App. And you are done.
Conclusion
The advantages of magnet links are that a website doesn't require hosting the original torrent file and instead can just give you the link. And this will remove the tedious task of downloading the torrent file to download your content. Overall, this is how you open a magnet link and if you have any queries feel free to drop them down below.