The majority of people scrolling through the internet have made at least one Facebook Account over the years. Since the social media app has ruled the platforms for over a decade. But the significant issue with Facebook is that users often find it hard to delete Facebook Messenger messages in their accounts.
Over the years, it has been common for many users to have accumulated years' worth of chats on their accounts, and some of them can be too personal to leave forever online. If you are one such individual, read on to learn how to delete Facebook Messenger messages?
The Official Method to Individually Delete Facebook Messenger Messages
---
Even though the app has provided an official procedure for deleting a message on Facebook, however, for many people, this can be a slow take on the task since they are restricted to deleting only one text at a time. And they can only use it for the recently sent messages, or else they will have to spend hours scrolling down to find the old conversation. And Regardless, this can be useful for those who want to delete only a few conversation messages.
Turn on the messenger app on your phone and log in to your account. 
Next, open the chat window where the messages reside that you want to delete.
Scroll down to the conversation and long press on one message. 
A pop-up will appear asking to react, forward, copy, reply, or remove. Select remove.
Another pop-up will ask, remove for you or un-send the message. Choose a suitable option.
Your message will be deleted accordingly. Now an important thing to remember here is that on choosing "un-send", the original recipient of the message will have the message deleted appear on their screen. However, they might not be able to see the content of the message you deleted. 
The Official Method to Completely Delete Facebook Messenger Messages
---
While the previous method did seem like an easy way to get rid of an unnecessary or private conversation on your Facebook chats, it can also be quite time-consuming. This is why many people choose to avoid texting privately on Facebook because nobody truly has the time to scroll down all the way to their old chats and delete all their messages individually. In that case, you do have an alternative also provided by Facebook.
Go to messenger account.
Long press on the desired chat window you want to delete.
Select Delete in the pop-up appearing.
That's it. Your entire chat window will be deleted, but with a drawback. Even though your chats are deleted, they are only gone temporarily. If your friend on the chat window decides to text you again, the entirety of the conversation comes back with a new message. So ultimately, the storage remains the same. Regardless, one can use this method to hide their chat from the window temporally.
Use Chrome Extension to Bulk Delete Facebook Messenger Messages
---
This is the ideal way through which people can delete all their chats throughout the years without going through the headache of deleting them separately and wasting hours on them. It's simple and quick, and anyone can do it with a PC or laptop. All you need is a chrome extension to operate.
Start by installing a chrome extension called Fast Delete Messages from the chrome store.
On downloading the extension, extract the file and activate it to access it.
A shortcut to the extension will appear on your chrome dashboard; click on that.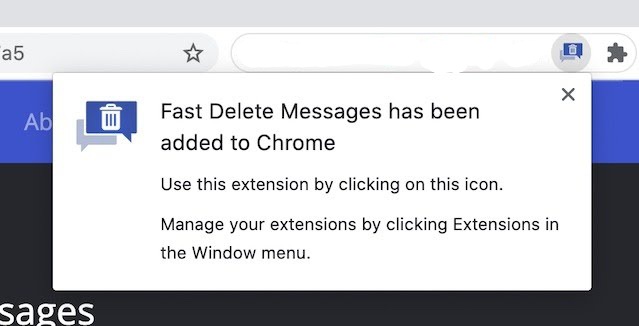 A pop-up will appear, giving two options:
Open Messages: press this if you don't have your account on Facebook Messenger open already.
Delete All Messages: Once the messenger is logged in, press this option to delete the messages in the chatbox opened.
Select the latter option once you have opened the desired chat window. Your entire chats will be deleted permanently.
Your task is finished in just a few minutes. This handy Chrome extension will help you complete the tedious task once and for all; however, one drawback is that you cannot select which messages you'd like to delete in this method. You can only use this extension to entirely delete Facebook Messenger messages sent in the chat window.
Another part of this method that can bother some users is that the extension only deletes messages on your end. This means the person on the other end in the chatroom will still have all your messages.
Conclusion
However useful the chatting service may be, it can be too risky for users to store their personal messages online in their accounts. Yet Facebook has given us only limited options to get rid of our messages. Furthermore, the messenger app is not an end-to-end encrypted platform by default (but you can enable this option from settings). This means that the records of your private chats can still be stored on Facebook servers from both accounts.
Hopefully, using these methods, you can achieve your goal of emptying your messenger storage, and next time, remember to use other encrypted platforms with a quick bulk delete option to clear your private conversations.