The number of smartphone users is growing each year tremendously. Wherein millions of users have put their faith in Android and Windows devices. In such a scenario, it is common for people to find themselves needing to Share files between android and Windows devices especially if they have a Windows PC and an Android phone, which they use on a daily basis.
While this can be considered a hectic task by a layman, there are certainly simple and quick tricks to transfer your files more efficiently. Some of these methods can be done by installing certain third-party apps, or you can use the on-board features by Window, depending on your need. Here are the best ways to share files between android and Windows devices: 
Share Files Between Android and Windows on Your Network
---
While many people often choose to use Bluetooth or USB cable to share files between Android and Windows. But, this may not be the most efficient way to complete the task. Even though these are simplified version of the process that ultimately gives the same result, they are comparatively more time-consuming. Hence, in this tutorial, you will learn how to share files over your WiFi network using two types of apps:
Your Phone App
Window devices have been coupled with the feature of Phone companions for the past few years. Although this approach could be pretty basic for some people, that still doesn't allow you full access to your phone.
But if you are looking just to manage and move a few android photos, along with reading, deleting, and sending specific messages on your phone through your Windows 10 computer, then this will trick will be enough for you.
For this, you will need an app called Your Phone Companion on your Android phone. And on your Windows PC, you'll need Your Phone app. If it is not already downloaded, you can find it on the Microsoft Store.
Once you have both the apps installed on your devices, connect them with the same network and move ahead with the instructions below: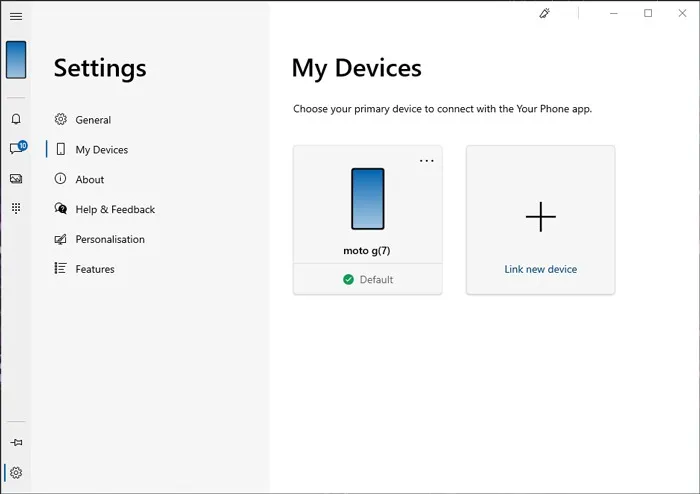 Next, follow the instructions by the app to connect the two devices.
Once the app starts running, click on the Photos (if you want to share photos) option on the left side to access the images on your phone.
From here, you can simply copy-paste or drag the images on your desktop.
Sweech App
The other App on the list is Sweech. This app is a holy grail for people looking to share files between Android and Window device and does the task within a couple of minutes.
First, start by downloading the app from the Google Play store.
On opening, you will see a large play button; press it.
The app will ask permission to access your files, and you can accept that. And later a local IP address and port will appear.
To connect your two devices, enter your IP address into the web browser on your computer. You'll see your phone's file system.
This way, you can browse your mobile data like a folder on your computer and transfer files from it onto your desktop by dragging as well as copying them to a local folder. You can also use this method to share files on your desktop to your android device.
Once you have shared the necessary files, press the stop button on the Sweech App to close the file transfer.
Remember that every time you run the Sweech App on your device, it will use the same IP address and port as before. And if you don't want to enter your Phone's IP address every time you want to transfer files, you can bookmark its page for quick access.
How to Share Windows Files with Android
---
Other than the previous method, there is one more way to share Windows files to Android on your network. But this is a relatively trickier path for which you will need to make the files or folder on your desktop access to the external devices. Here is how:
Method 1
The easiest way is to transfer or copy your files to the public folder already present on your desktop. Traditionally, this folder can be found by the "C:\Users\Public" shortcut. This is a particular folder that will automatically allow users on your network to access it. 
Method 2
Another way is to make the original file folder public without having to move the data inside it to the public folder. To do this:
Right-Click on the file or the folder with the data.
Click on its properties.
Go to the Sharing tab and then select Share.
A drop-down menu will appear, from where you need to choose Everyone.
Next, click Add and select the share option on the bottom right.
Now, to access this folder from outside, you will need your user credentials. If you don't want to go through this process every time, or perhaps you'd like to share the folder with someone who doesn't have your credentials, you can also disable this and instead select "allow guests to see your public files".
Go to Advanced Sharing in the start menu, and here you will find the option. 
Scroll down from here to All Networks (expand it if necessary).
Turn off password-protected sharing by clicking on the button.
Lastly, select Save Changes. 
Conclusion
These were all the ways through which you can share files between android and Windows devices. Hopefully, this post helped you complete your task. And if you have any queries, please drop them down below.