Telegram is a messaging app for iOS and Android that allows users to exchange messages, video broadcasts, music files, and other content anonymously worldwide. It would be highly useful to have multiple telegram accounts. Maybe one could be official and another informal. For doing so, you need to get a telegram without phone number.
However, some people are concerned about their privacy and do not want to reveal their phone numbers in any way. We can presume that this is why they want to register a Telegram account without using their phone numbers.
Fortunately, we can go around this restriction because there are a few techniques to get around it and create a Telegram account without providing a phone number.
Apps that will help you use Telegram without a Number
There are a variety of services and apps that provide you with a phone number with which you can make calls and send messages. However, the disadvantage of possessing these numbers is that they will be retrieved and given to another individual if you do not use them.
TextNow
---
TextNow is a free messaging and calling software where you can quickly get a second phone number for your Telegram account.
If you wish to keep this phone number indefinitely, you'll have to pay a premium. Nobody will be able to take this number away from you as long as you are actively using it.
Follow these instructions to learn how to use Textnow's Telegram without a phone number.
Download TextNow from the Google Play Store or the App Store for iOS.
Select your free virtual phone number after downloading and installation. The program will ask for your zip code in order to generate five different phone numbers from which you can choose.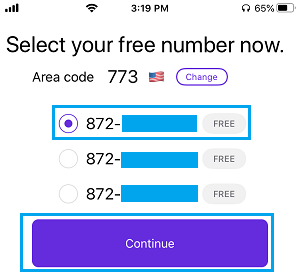 To complete the configuration, simply select a number from this list.
Now go to your phone's app store and download the Telegram app.
Select Settings> Your Profile Details> Add Account from the drop-down menu.
Input your free TextNow phone number, which you should have received shortly, and hit the Next button in the upper right corner of the screen.
Then, by text message or phone call, validate the unique code that Telegram will issue you.
Google Voice
---
Google Voice is a Google web-based telephone service that assigns users a new phone number that they can use for voice calls and text messages.
The only drawback of having a Google Voice number is that it is associated with your Google account. If your sole worry is keeping Telegram from knowing your phone number, then using Google Voice is a good choice. However, this may not be the best solution if you're looking for complete privacy.
Assuming Google Voice meets your security requirements, here's how to set up a Telegram account using Google Voice.
Go to Google and, if necessary, create a new account.
Go to Google Voice and sign up or choose a phone number.
Sign up for Telegram with that phone number and wait for the confirmation code to arrive.
Copy and paste the code from your Google Voice window into Telegram.
Please verify your account and get started using it.
Using Telegram with a Landline Number
---
Using your Landline Phone Number is the second way to verify your Telegram account without a mobile phone number. Most people believe that you must supply Telegram with a cell phone, but you may actually verify Telegram using your landline number.
To receive a Telegram Verification code, open the Telegram app, pick your country, enter your Landline Phone Number, and then hit Next.
Patiently Wait for Telegram to contact you on your landline. After 2 minutes, Telegram will call your landline number and repeat your verification code in an automated voice.
To finish the phone verification process, enter the verification code from the phone call into Telegram. To finish setting up Telegram, enter your name and upload a profile picture after Telegram has verified the number.
Conclusion
You must keep in mind that if you are inactive on these acquired numbers using the apps, the company will fetch them and give them to some new owner. Resultantly, the new owner can now simply gain access to your Telegram account. So now you know how to use Telegram without a phone number, or to put it another way, without your actual phone number.