AppLock: We all have some privacy apps and app lock for our devices. It may be Android, iPhone, or any other device. Sometimes, we need to take care of our data and apps from being stalk.
A smartphone is our very personal gadget nowadays. And we personal things stored like photos, videos, messages, and other chats.
So, here is the best AppLocker for Android devices which might be using. But you are not aware of its tips and tricks and losing up its great features. Yes, it's the AppLock for Android.
And it is because we all want to hide files and folders on our smartphones. 🙂
AppLock Tips & Trick
Today, we gonna tell you about some of the best AppLock tricks and features you might not know about.
What is AppLock?
AppLock is the most popular app locker app on the Google Play Store. And with a huge amount of downloads(100 million). It is certainly the best app locker for Android and made the users its fan. It can frequently lock apps and files on your Android device. With this, you can lock apps and various Android toggles like Wi-Fi, Bluetooth, and Mobile data, etc.
Recommended: How to Know If Someone Has Blocked You On Facebook
The great thing about this app is that it is lightweight.
Wait.
What?
Lightweight?
I mean to say, it is a very small app, nearly 3-4mb only, and can control every part of your device very smoothly. Along with app locking, the app also brings a photo and video vault, and support for plugins. The app also contains ads but you can get the pro version, either buy it(worth buying).
Also Check: 7 Best No Crop App For Instagram & WhatsApp
How to Lock Apps On Android With Password
As I said above, we all have some sensitive and private data stored on our mobile phones. We don't want others to stalk and see what's inside it. It may be your photos, videos, messages, and chats.
You can frequently prevent your Android apps from any unauthorized access via AppLock.
Many devices operating on Android OS has an inbuilt feature of screen lock with passwords like a pattern, pin, or custom password.
Unlike Xiaomi devices, other mobile phones do not have an app lock feature to lock all the apps. But we can inherit this feature using AppLock.
Features Of AppLock
There are many features and the app lock is packed full of those. Being the best and most popular app locker on Google Play, here are some of the best features of AppLock:
Lock apps with a password lock, pattern lock, or fingerprint lock.
Photo Vault, hide pictures.
Video Vault, hide videos.
• Well designed Themes.
• Customized background, select a favorite picture.
• Default profiles: Unlock all, Guest.
• Customized Profiles: set different locked app groups, change the lock quickly.
• Time Lock: auto-lock/unlock according to time.
• Location Lock: auto-lock/unlock according to location.
• Hide AppLock icon.
• Advanced Protection: prevent AppLock from being killed by a task killer.
• Random keyboard: prevent people from peeping pin code.
• Fingerprint, Force stopped cover.
• Lock switch (WiFi, Bluetooth, mobile data, sync).
• AppLock widget: enable/disable AppLock with one tap.
• Quick lock switch: Lock/unlock in the notification bar
• Can lock incoming calls.
• Also, lock system settings to prevent a mess by kids.
• Lock Google Play to prevent buy games.
• Allow a brief exit: no need for password, pattern, fingerprint again within a set time.
• Prevent uninstalling apps.
• Low memory usage.
• Power saving mode to save battery.
Recommended: How to Unfollow Non-Followers On Instagram/Twitter
Some Cons:
"Nothing Is Perfect", and this also applies here also. Unlike, it has some drawbacks, let's have a look at them:
RAM usage is high, but don't worry if your mobile has 3GB or more RAM.
Battery drains faster, but don't worry if you have 40000mah or more battery power.
Not 100% secure and reliable as "Nothing Is Perfect". But it serves best out it to the users.
Many of my friends asked me how's the app "AppLock", how to lock apps on my device? or are there any other app locks for Android?
I always suggest AppLock because of its features and among the most popular apps of all time.
Here is the step-by-step guide to lock apps on Android:
Guessing you have already installed AppLock from Google Play. Launch the app.
Once you launch the app, it will grant you to set up a lock screen pattern lock password. Do it two times to confirm.
Now, it will ask for an email to recovery, in case you might come up forgetting the password, it'll help you.
Here, you will be on the dashboard of the app. See the image, it will be similar to the image below.
To lock your apps, scroll down to the general tab and find the apps you want to lock (in my case, Gallery and 7 Cups).
Tap the lock icon to lock the apps. NOTE: If you are on Android 5.0+, it will ask permission to lock these apps. Simply grant the permission by clicking the permit option.
As I said above, you can also toggle Android settings like Wi-Fi, Bluetooth, etc. Again, tap the lock icon to prevent or lock them.
There are also some advanced settings on the bottom menu of the app. You can lock your apps according to location, time-managed lock, and much more.
 How to Change Password Of AppLock
You can anytime change the password you have set on the startup time. In case, you change your mind to change the password, follow the steps to change the password of AppLock:
Move to the Protect tab and tap the Security option to expand it. Now, tap Unlock Settings and tap Change unlock pattern.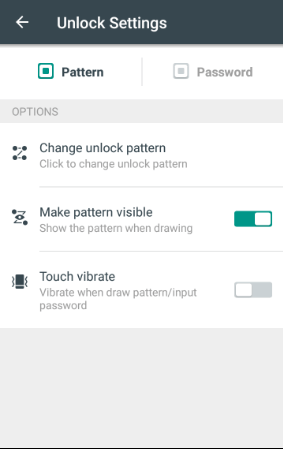 Here, there are more options like Make pattern visible and Touch vibrate. Or instead of a pattern, you can also set a password to unlock the apps.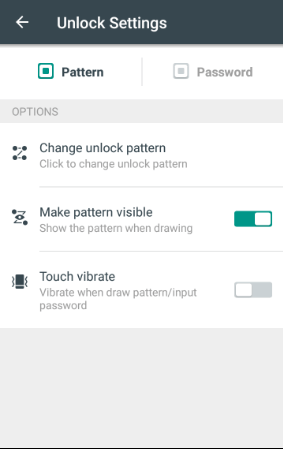 Moreover, in that tab only, you can also set security questions, change security email.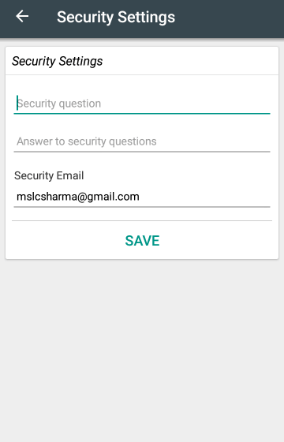 How to Hide AppLock From Your Mobile(Home Screen)
Now, we all know that to open an app, there is always an icon on the home screen or inside the app drawer to open a specific app. Like all, AppLock to have a home screen icon to open it. But to ensure privacy and security, we can hide the AppLock icon from Home.
Go to the Protect tab again.
Expand the Magic tab by tapping on it.
Here, enable the Hide AppLock option to hide the icon from the home screen.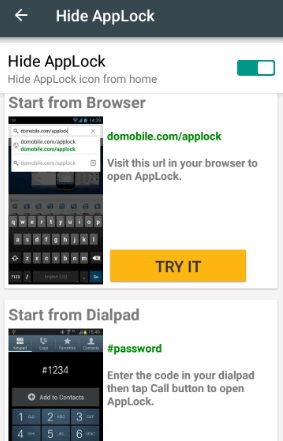 There is also an option "Advanced Protection" under the setting menu. Enable this option to add an extra layer of security and it also helps in hiding AppLock.
Isn't it great?
But, wait a minute…
How to get it back?
Don't worry. When you enable the hide from home option, it shows you two methods to open the app again. Here's the method you can unhide the AppLock.
How to Unhide AppLock
With its great features, make sure to take proper control over the app in order to keep your private data safe. Once you hide the AppLock icon from the home screen, you should also know how to unhide it and get it back.
There are two methods to unhide AppLock on your mobile:
Start from Dialpad: Open your dial pad and enter this code "*#*#12345#*#*". Once you write it on your dial pad, the app will open automatically asking you the password to open it. Or either, you can type this code if you have set a password for your apps, "#yourpassword".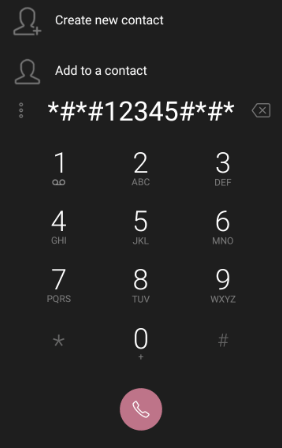 Start from Browser: You can also, open hidden AppLock using your browser. Open your browser and type in this URL "domobile.com/applock". It will take you to the link to open the app lock, tap on the link and the app will start.
NOTE: Make sure you are connected to the Internet, turn ON your mobile data first.
How to Prevent AppLock from Being Uninstall
What?
Nooo…
It's very easy to uninstall an app.
But wait, it can also be the case with AppLock which you are using to secure your private data and lock apps of your smartphone.
Now, there are some ways you can stop unauthorized access to your sensitive data. You can prevent AppLock from being uninstalled directly or from any other method. Let's check how to prevent it:
The first method in which every single person using a mobile phone will try to uninstall the app is from the home screen app icon. So, to prevent it, you can hide the AppLock icon from the home screen. I have already shown it above "How to Hide AppLock from the Home Screen".
Now, the other method is locking your setting option or locking Google Play Store on your Android phones. You just have to open the AppLock and lock Google Play Store and Settings.
NOTE: I am currently using Android N on my mobile, so some options in the image do not appear to be the same on your mobile phone.
You can also lock the Install/uninstall feature on your Android device. In my mobile, this feature is controlled by Settings and Privacy Notification, so I have locked only them.
if you do not have set these options for AppLock, the consequences may be that someone more intelligent and smart than you can bypass or unlock AppLock.
And you even don't know about it. Check out the ways to bypass/unlock AppLock without any password.
Ways to Bypass/Unlock AppLock Without Password
There are many ways a stalker can unlock it without your permission. Here are those methods which can be used to unlock the app.
Uninstalling the app from the Settings option. To prevent it make sure to lock your Settings.
Force Stopping the App/Clearing App Cache. Prevent it by locking Google Play Store, Notification Access, and Settings.
Disabling App usage Access from Device Administrators under Settings>>Advanced option.
Conclusion
Now, understanding all the AppLock tips and tricks, can you conclude something?
Yes.
The apps like it can very useful but cannot sustain 100% security. There is always a chance to bypass your high-class security and accessing your private files is easier.
But, although this app has few cons and a large number of advantages to using it. Because it gives multiple features under one app is great.
I have shown you the complete results and experiments which can be done with AppLock for Android.
The other final tips for adding an extra layer on your Android mobile phones, start using the upgraded versions of Android. Use custom ROMs by rooting your device to get amazing features in your old phones.
Or buy something new, which is trending and offers great features and advanced options making your smartphones invulnerable to security threats and stalkers.
Your Turn: If you like the tips and tricks of this amazing app locker app for Android, do share it with your friends and family. Share your experience with us! If any problem occurs in any of the steps, feel free to express and ask in the comment section.
Enjoy!