Undoubtedly, you all are using Android and Google for many past years. With Android, you might be using it for your handy works at daily routine. Android is one of the best projects of Google and we all love it. It is highly customizable and only a few of us know about its hidden secrets. Android is much more than in the case of amazing and cool features. Likewise, Google Settings are also highly customizable and makes your life easy going.
Recommended: 7 Best No Crop Apps For Instagram
In the year 2013, Google adds a major app on Android called "Google Settings". But only some of the users are aware of it and using it properly. There are a lot of features hidden inside the "Google Settings" which can be located under the "Setting" option of Android.
If you are having an updated Android version of OS like Android N, I want to ask you a question.
Do you take advantage of it?
Do you know about Android settings that are hidden inside?
Not maybe.
So, in this tutorial, I am going to show you some of the best settings of Google located in the settings menu. Basically, it is divided into two parts, Accounts and Privacy. You might have seen it once or twice but never want to look at it. There is also another option there named "Developer". Maybe some of you have this option because of the updated version of Android.
Google Settings
---
Let's take an in-depth look at all these features of Google hidden inside your Android mobiles. We will be taking all three parts one by one and discuss their abilities and features. What did they do? How to take control over it? We will be discussing all here in this article.
#1 Sign-in Security
---
Well, it's not new to us. You all know about Google sign-in. In this section, there will be several options like "Password", "2-Step Verification", etc. In case, you want to change your Gmail password there is an option for that. The 2-Step Verification is also another good option to set up as it adds an extra layer of security.
You can also set your "Recovery Phone" and "Recovery Email" here, in case you are locked out of your account. The other settings here also need to look at but never look at those, because they are general settings. And we already had set up that when we start up our new Smartphone.
#2 Personal Info & Privacy
---
Here is all the personal information you filled up in your Gmail account. From your name to the "About Me" section, it provides all your information here. You can anytime change this information if you want to change, in case.
You must have seen the "Privacy Checkup" option on the top of both the options of Google Settings. Using this setting, you can quickly check up your all private settings of your Google account. Just tap on "Get Started" and you can easily complete all the steps shown.
#3 Account Preferences
---
Here are your account preferences; you can customize them according to your requirement. If it is the language you want to change, change it. Your Google Drive storage is also shown here, like in my case. I am using only 1% of the storage of Google Drive. Well, you must use it because it's the free online storage by Google, so why not?
One tap "Delete Google Services" and "Delete Google Account" anytime if you want to.
Please, handle these Google settings very carefully, you might lose your Gmail account deleting it permanently.
Now, it time to take over to some of the best Google settings you might not be used under the "Services" tab.
#4 Control Ads
---
The ads section in the Google settings control what type of ads you see and how? Do you know that Google tracks your personal data and privacy in order to show you the best ads meeting your requirement? And the same is done on all social media networks like Facebook, Instagram, etc.
You can get rid of those annoying ads by enabling the "Opt out of Ads personalization". Google has an advertising tracking ID; you can see it below in your Google Ads settings. If you are not okay with the ads shown to you, change the targeted ads by resetting your advertising ID enabling the feature.
#5 App Preview Messages
---
You might be using a number of messaging app. But what if the same messaging apps are not used by the other person. And you want to contact that person. Google Allo is another great messaging app and Google assistant with great features.
Using this option the receiver will be able to read your messages even if it does not have that app. The API is only built for creating a better experience for its users. You can also turn off this feature if you are not in this type of situation. But keeping is always a great idea, just in case if you need it anytime.
#6 Manage Casting Devices
---
If you record videos on your mobile phone using screen recorder apps, you might be familiar with it. This option allows you to control the media of your casting device via notification. The media control will display the device on the notification panel which is using it.
The option is very useful for YouTubers who record their videos on their Android devices. When active, it will show you an icon on your notification bar with the name "Cast".
#7 Connected Apps
---
Whenever you create an account anywhere for any service, you have to use your email. And you might be using your Gmail account. All apps and services you have connected your Gmail account can be seen here. Under this Google settings, you can view all your accounts connected to Gmail.
Recommended: How To Know If Someone Has Blocked You On Facebook
This connected app module helps to command which apps keep our Google credentials. Here, you'll see a large list of all those apps and services. If you want, you can remove it easily customizing it. Nearly, the best Google setting to preview your Gmail is connected with.
#8 Data Management
---
From the data management module, you can update Google Drive-enabled app files. Whenever you get to set the connection the system uploads the files to Google Drive.
In default, it will use a Wi-Fi connection but you can also choose between Wi-Fi and Cellular Data. The function is well enough to create updates for your Android Device. Give it a try and use it!
#9 Location
---
One of the best Google settings is location. You all know about the location and its advantages. It can be used for fetching weather reports, play games, and other amazing things. Google maps also play a significant role in the location you all know.
It has three modes of location, high accuracy, battery saving, and the device only. You must be knowing about Google's Android Device Manager, if not. Read the post "Trace Cell Phone Location using Android Device Manager". You will know more about Android Device Manager here.
It also shows which applications are using the location. Almost all apps ask for location permission when setting up.
#10 Backup
---
Well, it not new to you and me. We all know what is a backup and its advantages. Google allows you to create a backup of your device completely. You might have seen that your photos do come in Google photos even you open it on another smartphone.
And with many Google settings, Google Drive is best to store your device backup online. Now, you don't have to worry about your mobile crashes. IF it bricks, you have your backup safe at Google devices.
#11 Restore Contacts
---
Your contacts might be very important to you. If you are a businessman or businesswoman, they are precise for you. Losing all your contacts makes no one happy. Because it's your contacts after all.
Google allows you to create a backup of your contacts through your Gmail account. And when you next time open your account, you have all your contacts safe. Restore your contacts from here or from dial pad menu settings.
All your contacts are imported as soon as you sign-in to your account.
#12 Set Up Nearby Device
---
Remember when you first used an Android mobile. It asks for some set up at startup, like language, SIM cards, Cellular Data, etc. It also asks for "Restore Data" and "Set Up As New Device". It's the same here.
Like a backup, you set another device as your "Other" phone. It makes your restoring of backup to another smartphone easier. Once you'll finish the steps, you will move to another device with all your backup.
You can also use the "Nearby" Google settings for setting up connections using Bluetooth.
#13 Smart Lock
---
Now, this is one of the best Google settings which I recommend you to use. Privacy is no more vulnerable to your friends and family. So ensure privacy you must protect your files using this Google smart lock feature.
It saves your passwords and with its use, you can very easily sign-in to all connected apps and websites. This smart lock feature also gives a "Never save" option to never save passwords for the connected apps of your Gmail account.
#14 Locate Your Device
---
As I mentioned above #9. You will come to know more about locating your devices in our previous post. Check that from the link given above.
Google's best-locating feature called Android Device Manager allows you to locate your Android phone anywhere in the world. If your device gets lost, you can find it using your connected Gmail account.
#15 Google Assistant
---
Now, here is the best of Google, the Google Assistant. It is only available for Android 7.0+ devices. In these Google settings, you can personalize your Android device completely according to your tasks.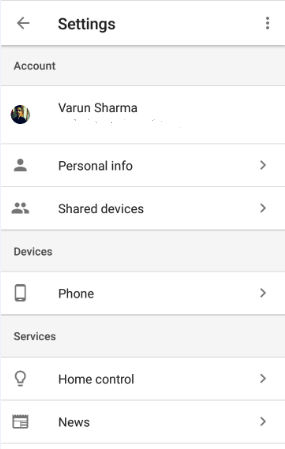 With the "Ok Google" feature and voice detection feature you can control your device with your voice.
Conclusion
---
Some are very good and useful Google settings we told here that can ultimately change the way you use your smartphone. Maybe some of them are not available for your device, but others are also good. Not so bad are other things as well.
These were some of the great and cool features which are hidden under Google Settings you might not know about. So, why waiting? Go on and use them and customize every single part of your device.
Enjoy! 🙂