Most of us have witnessed an occasional "This site can't be reached" error while using Chrome. This may be hard to understand for an average user due to its vague description, but understanding why errors like "This site can't be reached" appears will be step one to curing the problem. Unlike Error 401, Chrome often uses the "This site can't be reached" message to signify many reasons that can cause a problem. The most common ones may be connection timed out, firewall settings, or the classic failure of the internet connection to load the page. 
Often Chrome does suggest certain possible reasons for the error, as well as quick fixes to each screen. However, there is no guarantee that they will work. In addition, there are many other unknown ways to fix the troubleshooting issue, and we are here to discuss some of them to help you improve the "This site can't be reached" error. 
Try to Reconnect Your Internet Connection
---
This one is a no-brainer technique to fix any "This Site Can't Be Reached" error. Turning off your modem or router or simply trying to turn off the Wi-Fi on your device and reconnect can help you fix this issue.
Wait for a full minute before restarting. If you use mobile data, try turning on the Airplane mode for a couple of minutes and then turning it off to connect to your Data again. If the issue were due to a bad internet connection, it would resolve once you reload the page. 
Fix the "This Site Can't Be Reached" Error By Clearing Your Browser Cache
---
If you habitually browse a lot on the internet, the chrome app may have filled the local cache. Cache mainly consists of files and data from the sites you visited, and storing these enables the browser to open those sites again without reloading them on your next visit.
However, when the cache is full, the browser may show errors like "This site can't be reached. To solve this problem, try clearing it once every often.
For the Chrome browser, clear your cache using the following instructions: 
Go to Chrome Settings.
Next, select Privacy and Security.
Then click Clear Browsing Data.
Go to Advanced Settings to click on the Cached Images and Files, and change the time range to All time.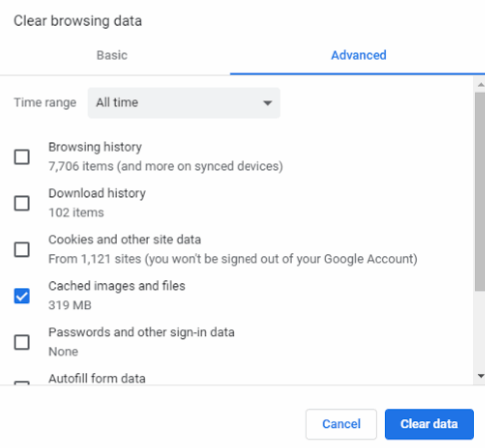 Click on clear data and your stored files and data in the cache will be removed.
Try reloading the website; if the problem sustains, move on to the next step.
Fix the "This Site Can't Be Reached" Error by Disabling Your Firewall and Antivirus
---
This may come as a surprise to some, but sometimes, the built-in firewall of your device's Operating System stops your PC from forming a connection to specific web pages, leading to them getting blocked from access. Although it is rare, it can occur if the site is hazardous.
If you want to test out this theory, try browsing the same webpage from a different device to see if it loads without the "this site can't be reached" error. Or you can temporarily disable the built-in firewall and antivirus software on your device to access the site.
Reinstall Chrome
---
Despite all your efforts, you still see the "This site can't be reached" message flashing on your screen. Then it's time to uninstall your chrome browser. This will ultimately remove any corrupted files and data associated with the app and could be causing problems.
After this, you can reinstall it from the Google Website or Play store. Remember, this method will result in losing all your chrome data, including bookmarks, extensions, and browsing history. So only try this as your final solution.
Of course, if you don't want to lose the data to access one site, you can switch browsers and try to load the site. Some of the recommended browsers are Mozilla Firefox or Microsoft Edge.
Check the Website's Status
---
Before heading on to trickier solutions to cure the "This site can't be reached" error on your browser, why not check if the site is available in the first place?
It is often that a website goes down due to some internal issues, which nothing has to do with your end of the browser. Hence, to check if the website is off, try visiting a website called DownDetector or IsItDownRightNow.
You can copy and paste the URL of the site you wish to visit to check its status here. And they will tell you if the problem is limited to a specific ISP or region.
If it shows that the website you are visiting is currently down or offline, there is, unfortunately, nothing you can do. Just wait until it comes back online. However, if the site is up and running, you should move on to the next step.
Clear your DNS cache to fix the "This Site Can't Be Reached" Error
---
Not to confuse it with your browser cache, which we dealt with early on. DNS cache works in a similar way, however, but it only stores a different kind of Data. Your OS saves a lot of files and data, in addition to IP addresses, to the websites you visit, which is known as the DNS cache. This is to prevent the DNS server from searching the same IP address on a frequent visit to the website. 
It is indeed a helpful feature created to save users time, but with outdated information, it can also cause errors in loading. Therefore, to fix this issue, one should try to flush their DNS cache at frequent intervals.
To clear DNS cache on the chrome browser:
Type in the mentioned address in your chrome browser's address bar: chrome://net-internals/#dns 
Click on the Clear host cache button. 
Just remember, the DNS cache of Google Chrome is different from the cache stored by your device's Operating System. If you use Google Chrome as your default browser, clearing its DNS cache is just as important as removing the DNS cache of your Operating System. However, the process for clearing DNS is specific to different operating systems.
The website can reload almost immediately after you clear your DNS cache; however, you may also need to restart your computer to adjust to the changes. If the website doesn't load despite clearing the DNS cache, you may need to change your DNS server altogether.
Conclusion
We understand how annoying the "This site can't be reached" error can be, especially when you are in a state of haste. However, in most cases, the troubleshooting disappears eventually over time. If you happen to be visiting a popular site during heavy traffic, chances are the site crashed due to failure to handle too many access requests. We suggest you wait for a while and try again. If the issue sustains, seeking help from an expert or your hosting provider is your best bet.