CapCut was once a shining star in the world of video editing applications, attracting social media influencers and short video producers with its plethora of capabilities. However, the program was banned in India owing to geopolitical tensions and security concerns, leaving many users yearning for its powers. In this post, we'll look at alternatives to deploy and download CapCut on Android and iPhone devices.
Download CapCut in India (Android and iPhone)
---
The Ban and the Space It Created
---
India banned many Chinese applications around a year ago, in response to rising border disputes and security concerns. Among these applications was CapCut, a popular video editing software among influencers and content makers. Many people's creative toolkits were left bare as a result of the prohibition, prompting them to seek new alternatives.
How does the CapCut app work?
---
CapCut was more than just an app for many; it was a creative partner that enabled users to shape their films with subtlety and professional flair. Its user-friendly interface and a slew of complex effects made it a valuable asset for content creators looking to wow their audience with professional films. Users began looking for methods to save this vital utility when it was removed from app stores.
How to Download CapCut in India for Android
---
When it came to accessing CapCut, the Android user community, accustomed to the freedom of side-loading software through APK files, found itself at an edge.
Download CapCut APK for Android
---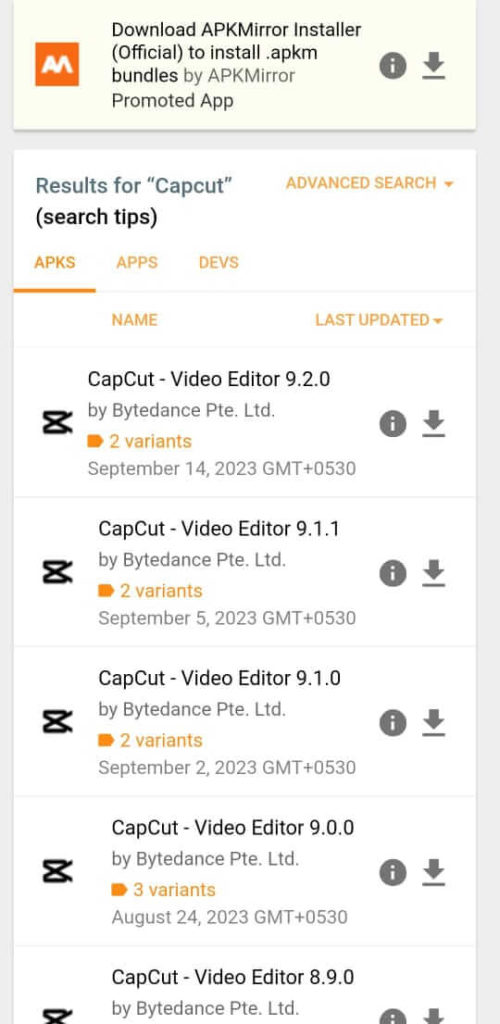 APK files allow Android users to install programs directly on their devices rather than going through app stores. Although CapCut is no longer accessible on the Play Store owing to the prohibition, you may still get it by downloading APK files from trusted sites such as APKMirror. To reinstall CapCut on your Android smartphone, follow these steps:
On your Android device, launch any online browser, such as Chrome.
Go to the APKMirror website.
Find the CapCut app using the search box. Look for different versions of the software.
Tap the download icon next to your selected version, which is usually the most recent.
Locate the relevant variation of the CapCut app depending on your device characteristics on the next page and touch the download icon.
Scroll to the bottom and click "DOWNLOAD APK." Examine the version information and then click "Download anyway."
When the download is finished, open the APK file and select "INSTALL."
Enable app installation from unknown sources if requested by going to Settings > applications > Special access > Install unknown applications > Chrome > Allow from this source.
Once installed, open the app, accept the Terms of Service and Privacy Policy, and you're set!
Using CapCut on Android in India
---
While you have successfully acquired and download CapCut, there is one more step before you may experience its full variety of effects and capabilities. While utilising CapCut, use a VPN provider to circumvent the ban's limitations. There are several free VPN applications accessible on the Play Store; select one and keep it active while editing your text.
How to Download CapCut in India for iPhone
---
Due to Apple's strict restriction over software installation sources, the procedure of restoring access to CapCut for iPhone users is significantly more complicated.
Changing Your App Store Region
---
Unlike Android, iPhones only allow you to install apps from the App Store. To download CapCut, you must first change your software Store location to one where the software is not prohibited. Here's how it's done:
On your iPhone or iPad, go to the App Store.
Select your profile icon.
To authenticate your identity, click on your Apple ID and enter your password or use Face ID.
Choose "Country/Region" and then "Change Country or Region."
Choose a nation where CapCut is not prohibited, such as the United States, United Kingdom, or Australia.
Accept the terms and conditions, then provide a billing address (which does not have to be authentic).
Once the address information has been input, hit "Done."
CapCut may be found on the App Store by searching for it.
Using CapCut on iPhone in India
---
As with Android, using CapCut with a VPN provider gives you access to all of its capabilities. Select a VPN software from the software Store and keep it running while using CapCut.
Conclusion: A Rekindled Creative Flame
---
While the ban on CapCut in India was a blow for many content makers, the creative spirit triumphed. Users have been able to resuscitate their beloved video editing companion by utilizing the power of APK files and App Store region adjustments. CapCut's reappearance, albeit by other ways, demonstrates the resilience of creators who refuse to accept restrictions. So, go ahead and edit your images, movies, and short films with newfound fervor, and let your creativity bloom once again.
Frequently Asked Questions
---
1. Why is CapCut not available in India?
CapCut, developed by Chinese company ByteDance, was among several apps banned in India due to security concerns and geopolitical tensions.
2. How can I download CapCut on my Android device?
To download CapCut on your Android device, open the Google Play Store, search for "CapCut," select the app from the search results, and then tap the "Install" button. Once the installation is complete, you can open the app and start using it.
3. Is CapCut available for iPhone?
Yes, CapCut is available for iPhone. You can download it from the Apple App Store. Simply open the App Store, search for "CapCut," and tap the "Get" button to download and install the app on your iPhone.
4. Is CapCut a free app to download?
Yes, CapCut is a free app to download and use. It offers a range of video editing features at no cost. However, there may be in-app purchases available for additional features or content.
5. What are the system requirements for downloading CapCut on Android and iPhone?
CapCut is compatible with Android devices running Android 5.0 and later. For iPhone users, it requires iOS 10.0 or later. Ensure that your device meets these operating system requirements to download and use the app.
6. Can I download CapCut on my iPad or tablet?
CapCut is primarily designed for smartphones, but it can also be downloaded and used on tablets, including iPads and Android tablets. Simply search for "CapCut" in the respective app stores for your tablet's platform, and you should be able to download and install the app.