Google knows everything about you, how you use your Google account, where you used and all. Google Account tracks all your data associated with the user. My Activity is a tool which collects or track information of your Google accounts.
Your Google account is associated with Google services like Gmail, YouTube, Maps, etc. It collects every piece of information to enhance the user experience.
In earlier days, Google doesn't allow the user to view your activity (My Activity) but now it enables the users to view, edit and delete Google Accounts activity.
As I said above, Google tracks the user account data to create a better user experience. You might have noticed when going to the office every day, Google Maps show you the matrices like Time, Traffic, etc.
It tells by tracking your data as you go to the office daily. And here, collecting the information enhances the user experience.
Related:
View, Delete, and Turn Off "My Activity" in Google Account
Whenever you use any Google service, you log into your Google account, it also logs into the My Activity account associated with that Google account. And when you perform any activity on those accounts (maybe Google Maps, Gmail, Chrome, etc) it collects all the information in Google My Activity.
Now, let me show you exactly how to view, delete, and Turn Off this feature.
View and Edit My Activity in Google Account
---
Search for Google My Activity or directly go to the page directly from here.
It'll ask you to log into your Google Account (if not already).
Once you've logged in, you'll see the dashboard.
Now, you can see all your activity, your searches, YouTube, Play Store, etc.
It shows all the web results you have searched for Today, or at earlier days. Under the Today tab, you can see the Items you searched for. You can select any of the options and view your activity.
You can check your recent or old history from the menu on the left side of the screen. You can either use the Bundle View or Item View. To check the older search results, you can the search box or filters to make it easy.
Deleting My Activity in Google Account
---
You can delete your activity anytime you want. When you logged into your account in Google Activity, you can see all the search results for all the Google services you have used. You can delete those search results and activities from your account very easily.
Select Bundle or Item View from the menu on the left.
Find the entry or item you want to delete.
Click on the three vertical dots from the right side of the item or entry and click Delete.
For the first time, it'll show a "Before You Delete" pop-up, simply click OK.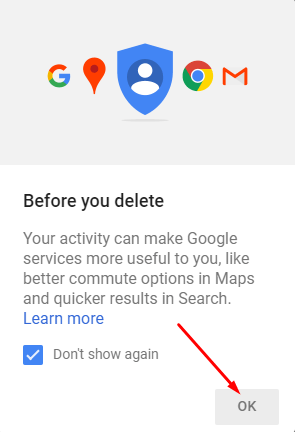 Again, it'll ask you to confirm, click Delete to delete the item.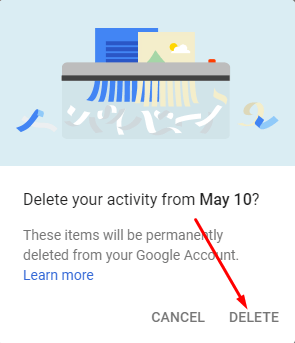 You can do so for each entry or item you wish to delete. But, deleting all the items one by one is time-taking. You can delete a range of items from Google Activity to make it even simpler.
Select the "Delete activity by" option from the menu on the left.
Here, you'll see the "Delete by date" option. From here, you can filter up to the dates as per your wish to delete all items at once.
To delete all total searches and activity, select All Time and All Products.
It will delete all the Google Activity it had collected until today.
Disable or Turn Off
---
This tool helps the user as well as Google to create a better user experience and users to track their interest depending on the searches made. But, if you have privacy issues, you can permanently disable or turn Off this feature.
Select "Activity Controls" from the left menu.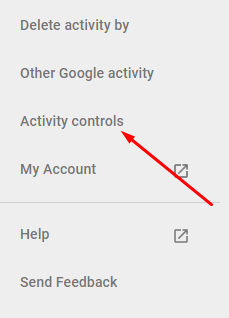 Here, you will see the different activities associated with your Google account.
Turn Off all the activities (pause) by disabling the blue toggle.
It will ask for confirmation, click Pause to disable the activity.
Now, Google Account will no more collect your data as you paused the My Activity feature from Google Account.
Also Read: