Private browsing allows us to browse the Internet anonymously (not totally). But, yes, it does not track the browser history or browser cache. Today, almost all web browsers have a "Private Browser" option which we generally call "Private Mode" or "Incognito Mode".
Private Browsing is useful when you are browsing or using your account from outside (not from your device).
And why not?
You don't want anyone to look for your hidden passwords or data. Also, it helps you cover or hide the data and information collected by your ISP (using your IP Address), websites you visit, etc.
Every web browser has its own private mode.
For example, Google Chrome has its Incognito Mode and though Firefox and Internet Explorer. The names can change but they all work the same covering your tracks around the web.
What is Private Browsing?
Whenever you visit any website, they store the information like the URLs, media files, etc in a small text file called "cookies".
And when you revisit that website again, the site loads faster as it fetches the information from that file to load the web page even faster than before.
Now, every web browser comes with its own private mode and those websites can no more store your data into the cookies.
And you can browse the Internet (websites, social media, etc) without any problems.
Private Browsing can be pretty helpful when you open accounts from other devices and you don't have to worry about your credentials anymore.
In a nutshell, Private Browsing helps you:
Quick Tip: Always use "Incognito Mode" when searching for any product online. The retailer store information and your behavior about the product you wish to buy and increases its price. It can be found on any e-commerce website.
Now, let's see how you can enable the private browser mode on any web browser.
Read Related: 
Private Browsing on Google Chrome
---
Google Chrome is one of the widely used browsers and it has its private mode known as "Incognito Mode". You can use Chrome's Incognito mode to browse privately and activate it within a few clicks.
Open the Google Chrome.
Click on the three vertical dots from the upper-right corner.
From the menu, click on the "New Incognito Window". Or simply press Ctrl+Shift+N.
Now, you can start browsing in Chrome's private mode.
To open private mode on Mac, follow the same steps above.
Or open directly pressing Cmd+Shift+N. 
When you see a black hat man on the upper-left corner of the screen, you are in Incognito mode. It is available in almost all Chrome versions but I recommend you to update Chrome to the latest version.
Related:
While in Incognito mode, you can bookmark sites, download files, and use browser extensions and add-ons if they are allowed to work in this mode.

On Android and iOS
---
For Android and iOS users, you can also use this Incognito mode on your Android and iOS devices.
The steps are the same for the Google Chrome app. Simply open the app, tap on the three vertical dots and select "New Incognito Tab".
Once you show the same black hat man saying "You've gone incognito", you are in Incognito mode of Chrome app.
Quick Tip: To quit the Incognito mode, simply close the opened tab or exit the Google Chrome application.
Private Browsing on Mozilla Firefox
---
Mozilla Firefox is the top-notch alternative to Google Chrome. Firefox calls their private mode "Private Browsing". Just like Google Chrome, it is easy and simple to open private mode in Firefox.
Open Firefox
Click on the three horizontal lines from the upper-right corner of the screen.
Select the option which says "New Private Window"
Once you hit that option, it'll open a new private window and there you can start browsing as usual.
To exit the private mode, close the tab(s) or exit the Firefox browser completely.
Quick Tip: You can use keyboard shortcuts in Firefox to open it directly. Press Ctrl+Shift+N on Windows and Cmd+Shift+N on Mac.
On Android and iOS
---
Just like the Google Chrome app for Android and iOS, you can also use the Firefox app.
In this app also, there is a Private window option accessible from the settings menu. But, the app is pretty heavy for the small device which is not powerful enough.
The best alternative to use a Private Browser on Android and iOS devices is Firefox Focus.
It does not have many features just like the ordinary Firefox app but it is a light version of Firefox.
Firefox Focus comes with automatic private browsing which is a must-use application if you really want to go for any private browser.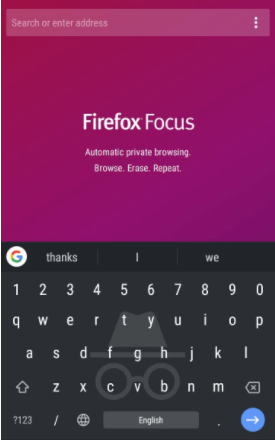 It says "Browse. Erase. Repeat" and it can automatically delete browser history once you exit the app. And one of the reasons to use it is small size and just browsing, the main goal of web browsers.
Private Browsing on Microsoft Edge
---
Edge is the default web browser that comes with Windows 8, 8.1, and 10 just like IE (Internet Explorer).
Just like Internet Explorer, Edge has retained their InPrivate Browsing which is the same as the Incognito and Private modes of Chrome and Firefox.
Open Microsoft Edge
Click on the upper-right horizontal dots on the screen.
Choose "New InPrivate Window" to open a private browser tab(s).
Once you are in private mode, you can start browsing the Internet. You'll see the InPrivate logo on the upper-left screen of the browser just like Chrome (Black Hat Man).

Quick Tip: Press shortcut key Ctrl+Shift+P and Cmd+Shift+P in Windows and Mac respectively.
On Android and iOS
---
Well, all the browsers are available for Android and iOS. You can use the Microsoft Edge app on your devices also. It also has the InPrivate browsing feature for Android and iOS.
But, I recommend you to go for Firefox Focus again as it is lightweight and easy to use.
Private Browsing on Internet Explorer and Safari
---
Here, I'll not tell you the steps to activate (open) the private browsing mode for Internet Explorer and Safari.
The interface may change but the process remains the same. Internet Explorer says it "InPrivate Browsing" again and located under the security option (Ctrl+Shift+P).
Safari calls it simple private mode located under the File menu as "New Private Window" (Shift+Cmd+N).
And you can use them on your Android and iOS devices too. To exit the private mode in Safari on iPhone, iPad, tap on Done.
 Conclusion
---
Every single web browser has its own Private Browsing mode which can be accessed by any user.
The process is the same and works the same way (do not track you).
It not only protects you but also helps you account for several other benefits and features.  All the browsers are good, no one is worse or better, it is just the perspective of a user how he/she uses it.
And you want further security, use a good VPN. You can get a 50% discount on PureVPN from here.
Share your browsing experience with us, tell us what type of work you usually do with these Incognito, InPrivate modes. And don't forget to share it with your friends!
Recommended Reading: