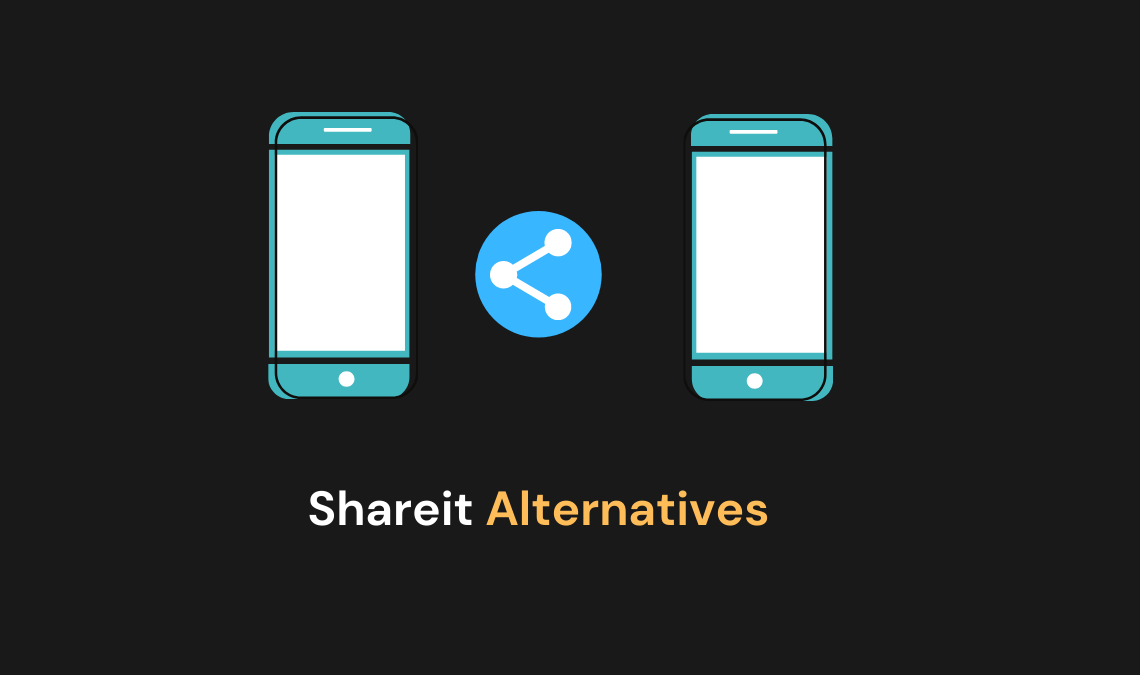 The file transfer operation from your Android phones to different sources is a common thing. There are various file transfer apps for Android are available in Google Play Store which can make this task easier. In this particular article, we listed the top 5 file transfer (Shareit alternatives) apps based upon their popularity and features.
These file transfer apps for Android-based Smartphones use the Wi-Fi medium along with the web browser to perform their task. So let's go through the list of top 5 file transfer apps for Android.
You might be using SHAREit for this purpose or maybe Xander but what if you don't have these available. These will work as the alternative to SHAREit and Xander.
These file transfer apps for Android-based Smartphones use the Wi-Fi medium along with the web browser to perform their task. So let's go through the list of top 5 file transfer apps for Android.
Recommended: What Song Is This? Identify Songs With Web & Apps Online
Top 5 File Transfer Apps for Android
Wi-Fi File Transfer
---
The Wi-Fi File Transfer is an immense file transfer app for Android that permits you to transfer your files from your Android Smartphone or tablet with Wi-Fi and your web browser.
It is the easiest technology that lets you transfer your files over Wi-Fi between your phone and computer. The speed here is much faster than the Bluetooth or USB cable.
The app uses Wi-Fi Tethering for establishing a connection between the devices, however, does not require the Internet. Owing to its high speed, this skill is in particular suggested for sending big files.
Features:
Up to the 20x speed of Bluetooth.
Simple to set up.
The receiver is device-independent.
No requirement for a common Wi-Fi connection.
No data usage for file transfer (Just for advertisements).
The receiver does not have to have the app installed.
Send single or multiple files.
Displays QR codes for faster receiving.
[Download]
Bump
---
We have made it still simpler to use Bump by filling out more of your card from your profile thus you are not required to.
Now Bump runs with computers too. Simply go to http://bu.mp on your computer's web browser. Then Share files on your device with a single bump.
Use Bum to share contact information, photos, videos, and files by just bumping two phones jointly. Now open Bump, hold your phones, and gently bump your hands together — Bump will magically do all the rest.
Features:
SYNC WITH YOUR COMPUTER: Visit http://bu.mp on your computer and bump your space bar to transfer photos, videos, and files.
SHARE CONTACTS: Share your contact info; connect on Facebook, Twitter, and LinkedIn.
SHARE PHOTOS: Share photos and videos with friends and family.
SHARE FILES: Share files or documents stored on your device.
SYNC DEVICES: Move contacts, photos, and files between your devices.
SHARE APPS: Share app recommendations.
UPDATE: This app is no longer in production, you can use Xender instead.
[Download]
Send Anywhere (File Transfer)
---
This is also the best software for transferring files. Share your photo, video, contacts, apps, or any files, any folders simply and speedily. You are able to send files between your phone and other Android/iPhone/iPad or Web Site at http://www.send-web.com. No user account required here, just enter a one-time-key to receive files.
Features:
Select File
Photo, Audio, and Video: Multimedia files in the library.
Contacts: Contact list in the address book.
Apps: Installed apps on your device.
File/Folder: Any files or folder including the above file type.
Options 1: Wait for the receiver
Generate QR Code for scanning.
Share a key for receiving files using SMS or messenger.
Scan for devices waiting in around.
Options 2: Upload to Server
Multiple users are available for download in a given period of time.
Receive File (One of the following)
Enter a one-time-key code.
Scan QR code on your device.
Make your device discoverable.
Go to http://www.send-web.com in your computer's web browser.
[Download]
Bluetooth
---
Most of the users know about this type of file transfer. Use your Smartphone to browse, explore and direct files of any Bluetooth equipped device, with File Transfer Profile (FTP) and Object Push Profile (OPP): you can also receive files and send contacts.
Features:
Custom security manager for incoming BT connections: simply certified devices are able to connect if you agree to. If you refuse, no access is settled on your servers: personal data files and privacy are secure against a hacker, drip, nerd, and guru (enhanced Bluetooth server safety is disabled by default).
3rd party applications are able to open (or pick) files from an SD card using this wrap up such as attachment, music, pictures, or any multimedia file (no external intents are sustained for presentation point).
Hold up for Legacy 2.0 and AES (128, 192, and 256 bit) encryption (equally pack and unpack) of Zip files (like WinZIP or WinRAR) – keep private document secure using a long pass to protect it
Improved all-in-one app with the fastest file browser forever seen (you be able to confirm by yourself, test it now).
Professional, clean, and quick UI where you can customize any feature of the file viewer. Customizable user interfaces so as to best fit your desires (specialist only).
[Download]
SuperBeam
---
It is the easiest and best way to share large files among Android devices using Wi-Fi direct. You might pair your devices with QR codes (with the integrated QR code scanner) or NFC if your devices hold up.
No additional clicks and physical approvals for connections. SuperBeam makes file sharing as convenient and speedy as it should have been since it is by now 2013!
Xperia U and P users: The QR code scanner doesn't work well on these phones in portrait mode; a fix is being processed right now. In the meantime, please use the scanner in landscape mode.
Features:
Share files among devices using NFC or QR code scanning.
Blazing quick transfer speeds using WiFi direct.
Switches to hotspot mode routinely for devices that do not hold up WiFi direct.
Can make use of existing WiFi network connection among devices in case WiFi direct fails.
Share single or multiple files of any type (photos, videos, zip files, APK's… You name it!).
Works with all 3rd party file managers and photo galleries.
Light and dark color themes.
[Download]
Now, using these file transfer apps, you can easily share your files like songs, movies, etc. But by far the most trending and most used sharing apps is SHAREit and available for Android, Windows, and Mac(iOS).
Also Check: 7 Best No Crop Apps For Instagram & WhatsApp
Zapya is also another file-sharing app and may be used up when you don't have SHAREit or all the above apps.