We don't pay so much attention to the keyboard apps we have installed or pre-installed on our devices. Almost all Android users use the default keyboard app which is pre-installed by the mobile company. But, as we are rich in texting our friends, family, and communication via slang is a new trend.
I like my own default keyboard app on my Xiaomi device. Sometimes, you might also feel that what's the need for another keyboard app? Just like we have a default music player, why we need another music player for Android.
Yes, there's no need. Many users want their keyboard to be designed the way they want. Or they need to customize in the sense of color, features, etc.
There are plenty of keyboard apps on Google Play Store and which one to use is just confusing. You can trust any unknown third-party app to spy on you. Because there can be keyloggers which can track you or steal your credentials. So, it makes an important decision which keyboard app for your Android device to use?
Recommended: Best 5 Free Music Downloader (Android, iOS, PC)
Best Android Keyboard Apps
In this article, I'll be showing you the 5 Best Keyboard Apps for Android which is freely available on Play Store. I have listed the best keyboard apps but they are not in any particular order. You can choose any one or give a try to all the apps. Because all these keyboard apps have their own features and typing experience will be different.
1. Gboard
---
This is the best keyboard I have used in my life. A keyboard app designed by Google. This keyboard app is pre-installed on my device. And the day I started using an Android device, I am using Gboard. It comes with some great features which Google offers – like Glide Typing, Voice Typing, and Google search without leaving your present work. You can search anything no matter what you are using. Gboard is a fast and reliable keyboard app which has amazing features:
Gesture typing
Voice typing
Handwriting (in 100 languages)
Search and share
Multilingual typing
Google translate
Download Gboard Android Keyboard App
2. SwiftKey
---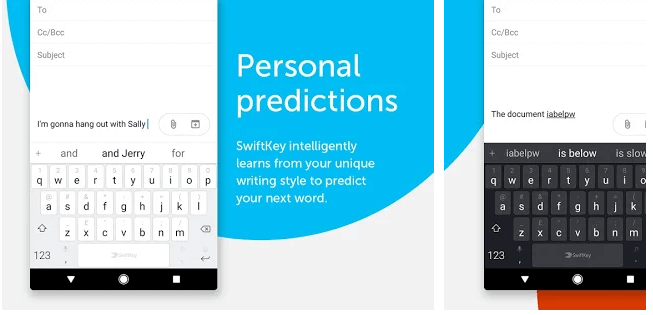 SwiftKey Android Keyboard apps are developed by Microsoft and best for native use. It is an AI-based keyboard app just like Gboard which learns your writing style and helps in faster typing. It has its own privacy policy that it does not learn anything like your password and does not remember your debit/credit card numbers, etc. So, you can use it without any worries for your credentials. It also got some amazing features which we need in our daily texting life:
Text keyboard with spelling checking
GIFs, Emojis, and Smileys
Keyboard customization
Multilingual keyboard
Download SwiftKey Android Keyboard App
3. Grammarly
---
Grammarly is one of the newest keyboard apps for Android and iOS in this list. It is an online tool which helps you write in a more professional way by checking your spelling mistakes and your Grammar. I have been using it from last 2 years for my blogging on my website. It helped me a lot. And now they have come with a keyboard app for Android as well as for iOS. If you are a student who writes a lot of emails or makes notes while searching on Google, you must use this app.
Mistake-free writing
Advanced punctuation correction
Vocabulary enhancements
Works on every app
Improve your communication skills
Download Grammarly Android Keyboard App
4. TouchPal
---
TouchPal is an awesome award winning (GSMA Global Mobile Awards) keyboard app used by over 500m users worldwide. With fun emoji, auto-correct, predictive text, and glide typing, it makes typing fast single-handedly. Besides, it also has the T9 or T+ layout which would be a good choice for those who don't use gesture typing or swipe typing to type faster. TouchPal is highly customizable and one of the cutest keyboard apps which you must use once.
Cute Emojis, Stickers, GIFs, and Smileys
Text predictions
Highly Customizable
Multilingual
Download TouchPal Android Keyboard App
5. Fleksy
---
Fleksy is a simple but fastest keyboard apps for Android. It is the most PRIVATE, customizable keyboard to search, share and type, and officially the fastest keyboard in the world. Fleksy uses Killer text prediction that works with even the sloppiest of writing. It is also recorded in the Guinness Book of Records for its fastest typing speed. If you want a simple keyboard app, go for Fleksy.
Natural Gestures
Private typing
Powerful customization
Different Sizes
Most accurate and fastest
Download Fleksy Android Keyboard App
So, these were the 5 best Keyboard Apps for your Android device. These keyboard apps also available for iOS devices, you can search them on App Store.
There is no point to get a new keyboard app if you are doing great with your default app. It is just a matter of perspective. But if you use social media for texting or chat a lot with your friends, you might have to take a look at these Android keyboard apps.
Which app you use and what you like the most, tell us in the comment section below. And don't forget to share it with your friends.
Related: