Google Domains, one of the best places to buy amazing and fully domains. Recently Google Domains come live with some top-notch TLDs.
The domain registration service is not available in all countries (including India) but now Google Domains goes live in India also.
If you are new to the web world, here is what is a domain?
UPDATE: Google Domains is now out of beta!
What is a Domain?
Basically, a domain is an area or territory controlled by a group of people or organization. But we are not talking about a domain, instead of a Domain Name.
A Domain Name is an identification name or authority that tells (nearly) about what is the website or thing used to represent it all about controlled by within the Internet.
These are formed by using the rules of the Domain Name System (DNS).
Domain Names are available in various TLDs (Top-Level Domains) like ".com" (famous & recommended), ".org", ".edu", etc.
For example, our domain name is "intelbuddies.com".
You can read more about domain name from here.
According to Google Services, Google Domains is strictly a domain registrar and not any sell any other complementary services like web hosting.
Here, you can buy new domain names, transfer your existing domains from another registrar service to Google service. The service is not officially announced but still in its beta phase.
There are many other domain registrar services like GoDaddy, NameCheap (to name a few). But In my experience, Google Domain Service is the best place to buy domain names.
Google Domains Review
At first looking, buying domains may be authoritative but is it more reliable or better than any other services?
Except for complementary services like Hosting Google gives options for professional email (email@domainname).
Also, some handful integrations like custom email, creating a website with free website builders like Blogger, Squarespace, etc.
Yes, it is, but nothing is perfect.
Here are some pros and cons of Google Domains which you can consider before buying domain names from Google.
Easy to Use Interface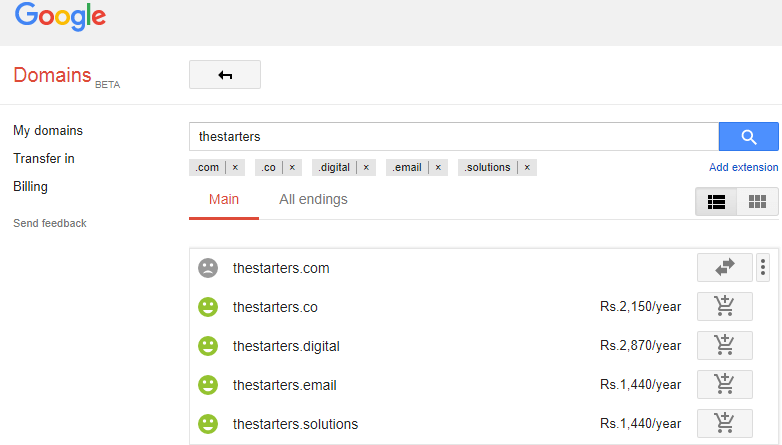 Yeah, the interface is pretty simple and a non-technical person can operate it very well.
Just like the evergreen theme of Google; white background with black font and their trademarks with simple and useful links.
When you search for a domain name, it does not simply show the available domains but Google Domains include an intelligent and powerful search system.
It also shows the results from exact match keywords as well as related keyword domains.
Amazing New TLDs
TLDs stands for Top-Level Domains like ".com", ".org". Google Domain brings amazing new TLDs that can be further used to precisely describe someone's business.
If someone has bought a domain name with TLD ".photos", it means the website or business is all about photos.
You can see all the TLDs available for that domain name by searching the domain and shifting to the "All endings" tab.
But it does not support country-based TLDs and this is one of its cons when registering a domain name for your own country (.in, .us, etc).
It is not that it will not be available, Google Domain is in the beta phase and once it is officially announced, I am sure, there will no problem like that.
When a TLD is not available, it is generally Google Domain is not available in your country.
Add-ons & Simplicity
As I said above, they do not offer other services but they had partnered with some website builders.
Google Domains offers a personal custom email (you@yourdomain).
Also, there are some website builders like Wix, Squarespace, Blogger, etc.
These add-ons further help you get your business online building your own website with professional emails.
The features and working are very simple, you can set up email, DNS, storage, etc.
Although, the best feature is that you'll only need your Google account to start. It also synchronizes with Google Apps which can help you as well as Google Domain to ensure a better experience.
…and the only con of Google Domains.
Google Domains Pricing
The pricing of Google Domain Registration is comparably high with other registrars like GoDaddy, NameCheap.
The basic ".com" costs $12 for 1 year and an additional ICANN fee.
But one good thing is that they don't charge additional money for keeping your WHOIS public information private.
On the other hand, other registrar services charge extra money for your information to be private.
Additionally, you can share your domain with other users just like google docs. And it will help you instead & any external user (assigned by you) can manage your domain.
Conclusion
Although Google Domains is in the beta phase, it supports all necessary details and integrations which you'll need to run a business online with Google Domain.
The support system for the domain may not be instant or as fast as others have. Once Google Domain service comes out officially, it will be the best place to buy domain names.
Yes, the pricing is high but additional resources are also provided which can further cost more if using any other domain registration service. Everything existing in this world has pros and cons, some may be good or bad but yeah in some aspects, it is best for someone.