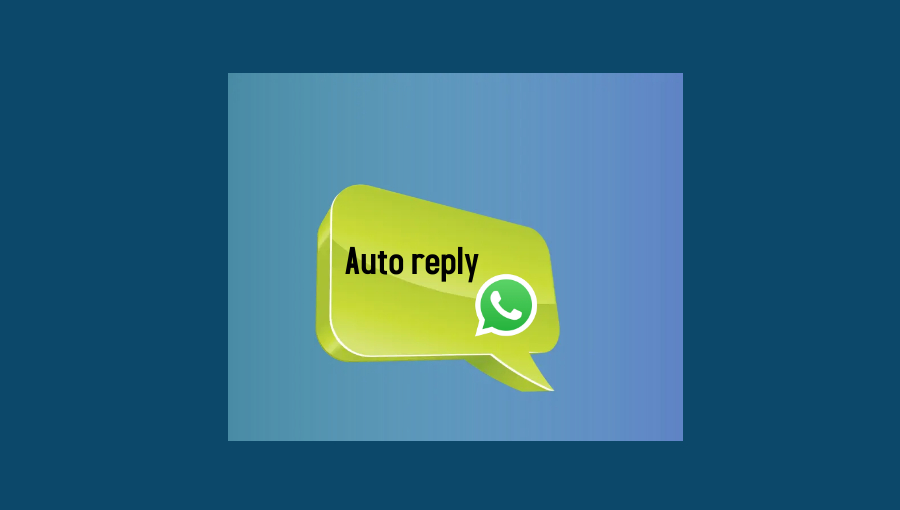 How to enable auto-reply on WhatsApp
External apps for WhatsApp auto-reply feature
Auto-reply messages are pre-programmed responses that companies employ to interact with customers in various situations, providing short updates on what's going on and what to expect next.
Without automation, converting customers is an arduous task for a large organization that produces a variety of materials, such as Vox Media.
To get your subscribers to pay attention, you need to figure out what they want and then give it to them. Consider how much time it would take Vox Media to send each client an email from each of their 23 different lists by hand, rather than using data, customization, and automation to send relevant messages.
How does Auto Reply on WhatsApp Help Businesses?
---
According to Venture Beat, personalization strategies have increased the efficacy of 70 percent to 94 percent of marketers. If your messages are more relevant, your chances of increasing sales are improved. Customers feel unique when they receive personalized service.
As previously said, 73 percent of customers prefer to do business with firms that personalize, and 86 percent of customers say personalization influences their purchasing decisions. Consumers pay more money with brands that personalize email marketing communications.
You may build a business profile using the WhatsApp Business app and share information about your items, your business's address, and your website. If you own a company with set working hours, such as 9-5, it may not be possible for you to reply to clients at any other time, causing you to lose customers.
However, you are in for a way to avoid this. Keeping this in mind, the WhatsApp Business app allows business owners to set up automated replies to WhatsApp messages. This article will guide you through how to do just that!
How to Enable Auto Reply Chatbot
---
Given that you've already signed up for WhatsApp Business, follow these steps to enable auto-reply for WhatsApp Business:
Open WhatsApp Business and tap the three dots in the upper right corner of the Chat window to get to Settings. Select Settings > Business Settings > Away message from the drop-down menu.
Select 'Send Away Message.'
Next, toggle on 'Send away message.'
Edit Your Away Message.
Click on the message and type in the message you wish to send to your clients, then tap 'Ok.'
Configure Your Away Message.
You can customize your away message's schedule.
Select recipients, the WhatsApp Business app allows you to select the people you want to deliver your 'away' message.
A Few Configurations for Away Messages
---
Always include: If you will be unavailable for an extended period of time, such as when on vacation, choose this option.
Custom Schedule: Select this option if you only want to send the automated message at a specified time of day.
Outside of Business Hours: This option is helpful since it allows you to send automated messages exclusively outside work hours.
Configurations while selecting Recipients
---
Everyone: To send an automated message to anybody who texts you after hours.
Those who aren't in the address book: You can use it to send an automatic message to numbers that aren't in your contact list.
Everyone except: Some of your contacts can be excluded from receiving an auto-reply.
Send just to: You can consider this option to send messages to a particular list of contacts according to your preferences.
With this simple approach, you may set up an auto-reply for WhatsApp Business App.
We've only looked at using the auto-reply feature on WhatsApp Business so far, largely since the normal WhatsApp app (which most of us use) doesn't have one. However, a few notable third-party WhatsApp apps allow you to tailor auto-replies for your own use.
External Auto Reply Apps for WhatsApp
---
Away
If you use WhatsApp for business, Away offers a few of additional WhatsApp-specific capabilities. For example, it makes sending messages to someone who isn't in your WhatsApp contacts simple. Away also offers the option to automatically store everyone's WhatsApp Status posts if you require it for whatever reason. The program provides a few pro options for setting up automatic responses that IM Auto Reply doesn't have. You may set a schedule for when the app should go live using Away. So, suppose you go offline or enter a meeting on a regular basis. In that case, you can set Away to activate automatically during that time.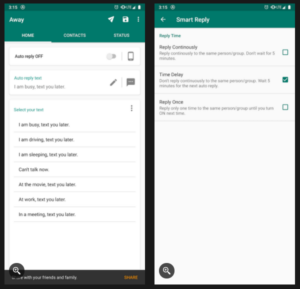 AutoResponder
AutoResponder for WhatsApp is a low-cost and easy-to-use alternative to the costly WhatsApp Business API. Everything is achievable with just one app. It is the first successful WhatsApp auto reply assistant on Google Play, having been introduced in 2015. You can establish rules that specify which messages the bot should respond to automatically with a specific response. For this purpose, you have a variety of possibilities.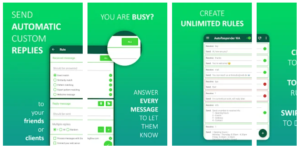 Trengo
WhatsApp introduced the WhatsApp Business API for larger enterprises that wish to manage their WhatsApp conversations with a team. Because the API lacks an interface, you must link it to a customer service platform like Trengo in order to use it. You can set auto-replies in Trengo for the following situations: During normal working hours, outside of normal working hours, on certain days (only on the weekend, for example). Because Trengo also allows you to manage all of your other communication channels, you can choose to use the same auto-reply for different channels, such as Facebook Messenger or live chat.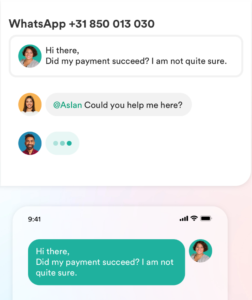 Conclusion
We have seen the way and sources through which you may send auto-replies in various occasions. With these simple ways, you can send auto replies on WhatsApp and give a boost to your conversion rates!