The ability to bookmark pages digitally on Chrome enables users to store their favourite pages online, which they can revisit anytime. This removes the risk of losing these web pages as they will remain stored on that device's web browser forever. However, knowing how to export Chrome bookmarks can be handy if you're planning on switching to a new device or browser.
Google Chrome bookmarks make life easier for everyday users to trace back important information they collected, but knowing you can even export these saved bookmarks to a new device, makes browsing even more efficient. In this post, we provide a complete guide on how to conveniently export chrome bookmarks from an old device to a new one.
How to Export Chrome Bookmarks on Desktop
---
To export bookmarks saved on Chrome, turn on your Desktop and launch the app, and follow the below steps:
First, click on the three vertical dots icon on the right corner of the Chrome screen.
Hover the mouse over the Bookmarks button from the displayed list of options.
A new pop-up menu will appear; here, select the Bookmark manager. Clicking on this option will open a new tab. 
On the new page, go to the bookmarks search bar, and select the three-dot icon next to it. 
Click on the export bookmarks option on the drop-down list. This will open up the file explorer if you are using a Windows computer or the Finder app if you are on a MacBook.
Finally, enter the file's name and destination, and click Save.
If you want to store your Chrome bookmarks on a different device, you can do that by transferring the HTML file to a pen drive or an external hard drive. Or you can export Chrome bookmarks on the Desktop and email them to yourself as an attachment. This trick will help you access these bookmarks from any device by opening your email.
Once you successfully export the Chrome bookmarks, you can import them to a new device.
How to Export Chrome Bookmarks on an Android Phone
---
There is not such a straightforward process to export Chrome bookmarks using an Android device, mainly because there is no export bookmarks option available on the mobile app. However, there is a round-abound alternative solution that may help you achieve results similar to exporting bookmarks.
This section will discuss how to export Android Chrome bookmarks and access them on a different device by syncing them to your Google Account.
First, start by opening the Chrome app on your Android phone.
Then, tap on the three horizontal dots (menu) icon on the top right side of the screen. 
From the list of options, select Settings. 
Then, choose Sync and Google services option on the next page. If you're signed in, turn on the Synch toggle, and then manually select the chrome features you want to save on your Google account (make sure to tick Bookmarks). If you wish, you can choose to sync all. 
If you're not logged in with your Google account, tap on Sign in to Chrome in settings.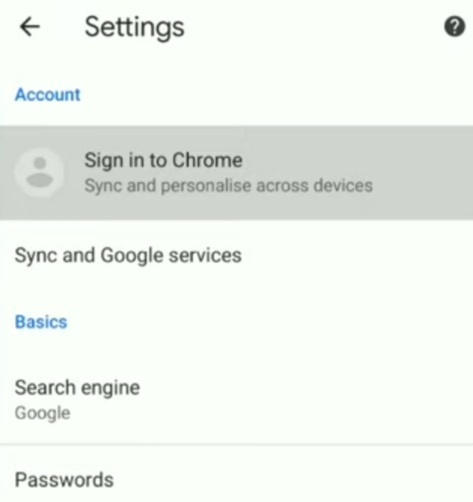 Following that, you can manage sync settings as mentioned above.
Your Chrome app will be synced with your Google account, making it easier to export Chrome bookmarks. Now you can access all the saved bookmarks and other features of Chrome on any new device every time you log in to your Google account on its Chrome app.
This has various benefits to the users, as they access their saved passwords, favorite pages, payment methods, history, reading list, open tabs and other Chrome data on a different device just from their Google account. However, make sure you don't log in to your Google account on someone else's device, or else your private data synced to the account can be preached. 
How to Export Bookmarks from the Chrome App on iPhone
---
In iPhones, there is no direct option to export Chrome bookmarks besides syncing them to your Google Accounts. However, one can attempt this task using tools like TouchCopy.
TouchCopy is a software which enables iOS users to transfer data from iPhone to Mac OS or PC. This includes exporting Chrome or Safari bookmarks to a computer, and this method won't require you to sync data to your Google account. Here is how to do this:
Install the TouchCopy app on the Mac or Windows PC on which you plan to import the bookmarks from your iPhone. 
Next, connect your iPhone to this computer via a USB cable. 
Go to the Internet and select the Bookmarks you need to export.
Click the Save Shortcut option to save the bookmarks on the Desktop, or select Save to CVS to store them in HTML or spreadsheet format.
If you saved the bookmarks as shortcuts, then clicking them will directly launch the Bookmark page on your most used web browser on the PC.
If you saved the bookmarks as CSV, then clicking on it will generate an HTML document of your saved bookmarks. The spreadsheet file will have a table containing the list of all the exported bookmarks and other details, such as their title, URL, and browser type (Chrome or Safari). 
If you get an option to save to Mac, instead, click on that.
You can export Chrome bookmarks from your iPhone to a new computer in any format you like. And continue reading your favorite pages online. 
Also Check:
Conclusion
Now you know how you can effectively export Chrome bookmarks hassle-free from a Desktop, Android phone, and iPhone without having to remember them all or manually copying their URL from one device to another. Thanks for reading; we hope you found this tutorial useful.