There are plenty of reasons why someone would choose to block a specific number on their iPhone. Whether you want to evade attending spam calls or you're looking for a way to prevent an unwanted caller from contacting you, blocking their number is the way to go. But what if you accidentally block the wrong number? In this case, learn how to unblock a number from iPhone. 
Luckily for us, unblocking a number is a relatively easy task and particularly helpful if you change your mind. In this post, we will discuss how to unblock a number from an iPhone device if you make the mistake of blocking it.
How to Unblock a Recent Number on iPhone
---
This is the method by which you can unblock a number that was not saved in your contacts but was on your recent calls. Blocking numbers in the current section is a common notion for people to perform to avoid spam calls. But if you forget which calls were spam, you can accidentally block the wrong number. Thus, here is what you should do to undo the steps in this case:
Go to the Recent Tab on your phone app and locate the number you have accidentally blocked. 
Then click on the "i" icon highlighted in blue on the right side of the number. 
On the next screen, scroll down to locate the option to unblock this Caller. And tap on it. 
That's it. You will successfully unblock an unsaved number from your iPhone.
Unblock a Number From iPhone Contacts
---
If you want to unblock a number from iPhone that was saved in your contacts, follow the below instructions.
For this, directly open the phone app on your iPhone. 
Then navigate to the contacts column. 
In here, search for the saved contact you previously blocked, and now wish to unblock this number from your iPhone. 
Once you locate the contact, click on it for more details and then scroll down and tap on the option to "Unblock this Caller" there.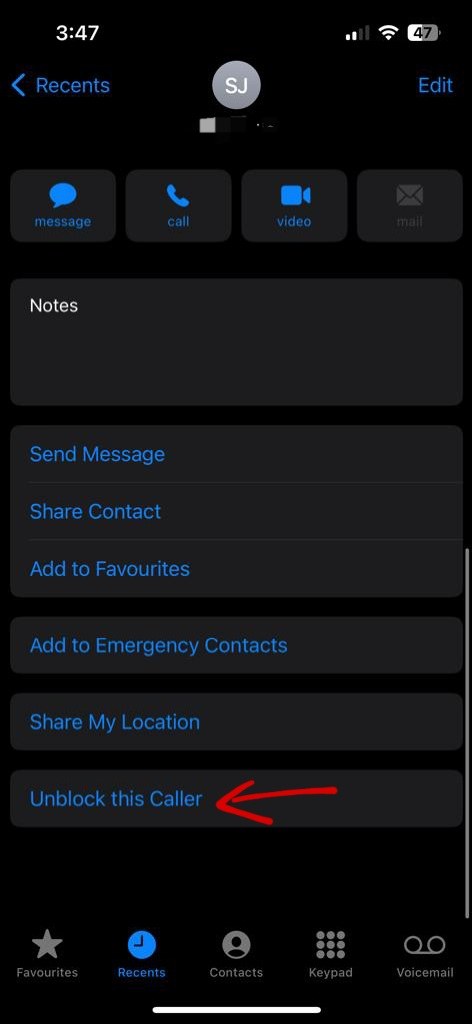 Unblock Number From Blocked Contacts List
---
Suppose you have previously blocked contact or an unknown number on your iPhone. However, since it's been a long time, you are unable to locate it on your Recent tab, then this is the suitable method for you to unblock that number on your iPhone.
Go to the Settings app on your iOS device.
Then click on the Phone option.
Then tap on settings and go to the blocked contacts option. (If you have an older iOS version, it'll be Call Blocking & Identification).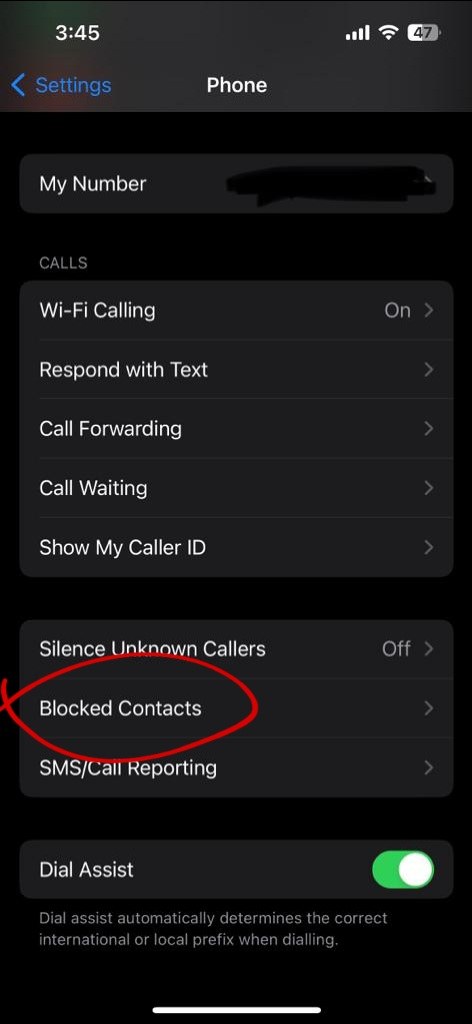 Once you're here, a list of blocked contacts will appear on your screen. To unlock their number from iPhone, swipe right to the left across it and select Unblock.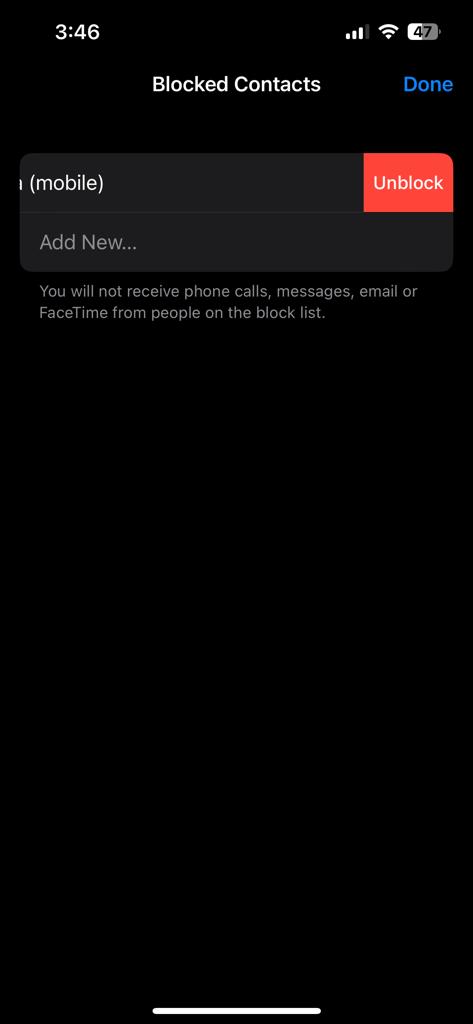 This trick is ideal if you want to locate all the blocked numbers on your phone in one place. So you can review them frequently and decide to unblock a number from your iPhone at any time.
How to Unblock Contacts on Messages
---
If you previously blocked a number on messages to prevent them from texting you, you now want to undo the blocking. Then you can also do that by going to the messages section. For this:
Open the Settings app.
Then tap on Messages.
Scroll down on the screen and click on the blocked contacts option. (Or a blocked option for older iOS versions)
Swipe from right to left on the number you want to unblock, and tap on the Unblock button.  
Now, you can see that the number will be able to text you like usual without hassle.
How to Unblock a Number From Your Phone Company
---
Another method for iPhone users to get a number blocked is with the help of the phone company, which provides cell-blocking services for a fee (sometimes for free) to block a number from contacting on your sim number.
In this case, since the device's built-in features weren't used, it is evident that one won't be able to unblock the number from iPhone using the above-described methods.
Therefore, if you have also blocked a number this way, the plausible path to attempt unblocking is by contacting your phone company or trying their online customer services platform. Once you explain your issue, they will likely unblock the number for you.
Can a Blocked Number Still Reach You on iPhones?
---
A contact blocked on your iPhone device will be unable to call you, nor can they attempt FaceTime or Text you. However, it doesn't entail they will not be able to reach you in any way.
A blocked contact will be able to send you a voicemail. As a matter of fact, the iPhone is set up to route phone calls from blocked numbers directly to voicemail, of which you won't be notified. Thus, if you want to check or delete such voicemails, you'll have to manually head to the voicemail messages on your phone and remove them from there.
Related Posts:
Conclusion
It is common for people to make mistakes, but in this case, the mistake can be reverted almost immediately if you know how to unlock a number on iPhone. Hence, you do not need to break a sweat if you blocked the wrong contact or if you want to undo the step. Follow the instructions mentioned in this post, and you will be good to go.