---
The worst part of exploring the internet these days is being bombarded with so many ads that you can't even see the content you were looking for. In addition to the annoying ads, there are trackers and cookies amongst other things that keep an eye on your online activity. The best way to solve all of these issues is by adding extensions or downloading ad-blocking extensions. They do a great job at handling these issues and making your internet experience much better. Today lets dive deep in and check out different ways of ad-blocking on iPhone
In this guide, we'll be telling you about the various ways you can block as on your iOS devices (iPhone or iPad) for free! Since there are hundreds of adblocking apps on the App Store, it is extremely difficult for iPhone users to find free adblocking services which do a good job. So, we have done the hard work for you and compiled a list of the best ways for ad blocking on iPhone
1) All Round Solution to Ad Blocking on iPhone: Total Adblock
---
Total AdBlock provides a highly efficient and secure Safari extension for all iOS devices. An ad blocker for beginners that is very easy to install and use, after which it removes all kinds of online ads, including banners, pop-ups, notifications, etc. This ad blocker works for Chrome, Microsoft Edge, Firefox, Opera, etc. Works well on all other devices with plugins for all major browsers.
Total Adblock blocks persistent ads across the web, but that's not the only benefit. We also process third-party trackers and cookies, making it less likely that your data will be collected and misused by advertisers. Plus, without ads and cookies, your entire online experience will be faster and safer. There is a premium version available too.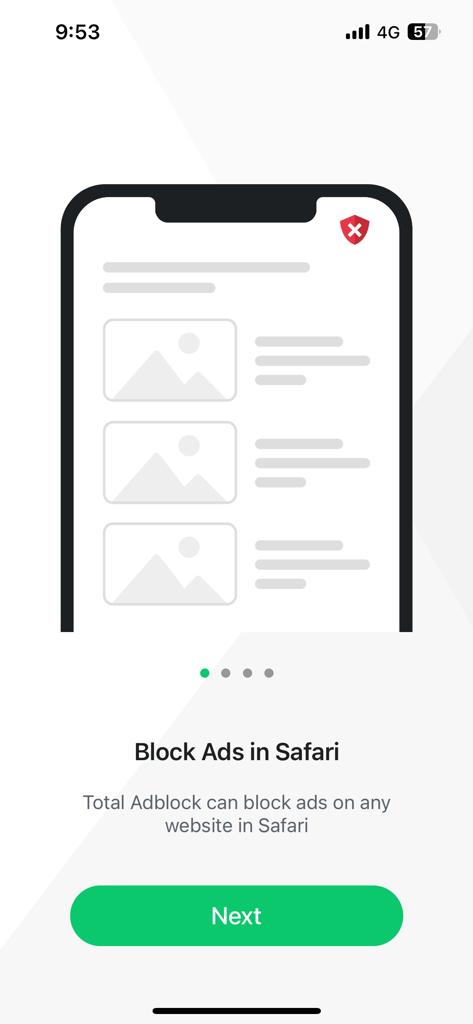 Pros:
Effectively blocks most online ads and trackers.
Works on all major browsers.
TotalAV is included with the premium plan.
Beginner-friendly service.
Blocks YouTube ads too.
Cons:
Upgrade pop-ups can be annoying (with the free version).
Only one subscription plan is available.
2) A Freemium Ad Blocking App: 1Blocker
---
1Blocker is very easy to use. Block ads and trackers with the flick of a few switches. The app automatically receives cloud updates for built-in filters in the background, so you don't have to do anything. It's as easy as setting it and forgetting it.
1Blocker is a fully native app designed to be a natural extension of Safari. It's lightweight and won't drain your device's resources and drain your battery. The blocking itself is very fast as Safari does the blocking itself. The app doesn't modify the website in any way, it just provides filters to Safari. Safari knows in advance what to block, which makes it much more efficient. So, with 1Blocker, websites load 2-5 times faster on average.
Pros:
43,000 blocking rules, 13,000 anti-trackers.
1 subscription = all iOS and macOS devices.
Multiple configuration options.
Regular updates.
Cons:
Only 1 option in Free: block ads, trackers, widgets, adult content.
Synchronization issues in Safari.
3) Firefox Focus, an All in One Browser for Ad Blocking on iPhone
---
Firefox Focus is an open-source browser from Mozilla, makers of the popular regular Firefox browser. Designed from the ground up to enhance privacy, a key element of it is content blocking. Its main concern is tracking protection, not ad blocking, but ensuring that it blocks all ads that track you. It means that ads are blocked.
Firefox Focus is great for privacy, but it has its limitations as an everyday browser. Most notably, website login details are not saved between sessions. Another reason is that iOS doesn't support tabbed browsing (the Android version does).
Pros:
Banishes any trackers you encounter.
Users can customize what gets blocked and what doesn't.
Forgets your browsing session with one tap.
Can be used alongside Safari (or as a replacement).
Toggle stealth mode on/off.
Cons:
Can be a little sluggish.
As a browser, isn't fully featured as Safari.
Applying multiple settings may lead to overly aggressive blocking.
Does not prevent redirects.
4) AdLock
---
AdLock is a reliable ad blocker available for iOS, Android, Windows, macOS, Chrome, and Safari. The iOS version can block ads on both websites and apps and can be configured to prevent unwanted scripts such as pop-up chat boxes from loading. It is a free iPhone adblocker with a premium version available.
Tests show it blocks ads on torrent sites, streaming sites, social media sites, and YouTube. This makes it a great all-rounder. We also liked that it worked without breaking the content of pages like automatically loading videos on news sites. However, promotional videos during gameplay are always prevented, allowing the app to run more smoothly and uninterrupted. It's also good at blocking flashing banners, auto-playing ads, timed popups, and unwanted redirects.
Pros:
Covers websites as well as apps.
Intuitive customization options.
A great budget option.
5 simultaneous connections.
Blocks all types of Ads.
Cons:
Can be battery-draining.
Installation can be tricky.
5) BlockBear!
---
Just like all the other Adblocks mentioned in the article, it is good at blocking ads. It supports Safari browsing and has many additional features like whitelisting your favorite websites.
But the feature that separates it from other adblockers is its extremely easy-to-use and aesthetic interface which is unlike any other adblocker in this article.
This is also a free iPhone ad blocker.
Pros:
Unconventional interface.
Simple in configuration and use.
Blocks cookies, scripts, beacons, banners.
Saves bandwidth and time.
More bears than other blockers.
Cons:
No Pause on the current page option.
Lack of user settings compared to other ad blockers for iPhone.
Before using any of the apps mentioned in the article, please do remember one thing: to enable content blocker apps in your iPhone settings.
To do this: Go to Settings -> Safari -> General -> Content blockers and toggle yours on.
Also check out:
Conclusion
---
Using these apps mentioned in our article, you can easily block ads and other unwanted clutter on your iPhone for free. These apps have been chosen carefully and have extremely high ratings on the App Store indicating that user experience for these apps has been usually very positive. Not only do these apps make your internet experience less annoying but also speed up your connections. So, go install any of the apps mentioned here and have a more enjoyable and smoother internet experience. Happy Browsing!