iPhone users are well aware of the high-tech security provided by the iOS service to prevent the preaching of their private data. However, no matter how much care they put into their smartphone, eventually, there comes a time when having to wipe an iPhone entirely becomes necessary.
Whether it is a case of reselling the old version to upgrade to a new model, good security, or the phone has been stolen, simple privacy tells us to erase the device altogether to prevent the misuse of our data. Similarly, to do it correctly, one must be aware of the proper procedure of how to wipe an iPhone or factory reset it when needed. Now there are various ways to reset an iPhone, and therefore we present to you a thorough rundown of this procedure with details.
Back Up Your iPhone to iCloud
---
Connect your iPhone to a Wi-Fi source before proceeding with the backup.
Open the Settings app
Tap on your name at the front.
Then select your Apple ID.
Click on the iCloud button.
Lastly, tap on the toggle button next to the "Backup this iPhone". It will then turn green.
To start the backup immediately, click on the backup now option.
Unpair Apple Watch
---
If you are planning on trading your iPhone for a newer model and you also keep an apple watch with it. It is prudent to unpair your device's watch before you switch.
Put your Apple watch and iPhone close to each other.
Open the Apple watch app on your device.
Select my watch tab in the app.
Next, choose the apple watch you'd like to unpair and click on the information icon (i) next to it.
It will lead you to the information page, wherein you can select the option to unpair the apple watch.
Tap once again to confirm your decision.
Then lastly, enter your Apple ID to turn off the activation lock.
Deactivate Services and Log Out Manually
---
Before you wipe an iPhone, it is highly suggested to deactivate manually and log out of iPhone-related services on your phone, including iCloud, iTunes, Find my iPhone etc. Because while a complete erase does get rid of most of the private data on your phone, there are a few cases where the devices were still linked to the iCloud account of the previous owner even after having it restored. Whatever the truth may be in these reports, however, being too cautious could never hurt.
How to Turn Off Find My iPhone
---
Open the phone's Settings app.
Click on your highlighted name on the top.
Scroll down to find iCloud.
Again, scroll downwards in iCloud until you locate the "find my iPhone" button under apps using iCloud. Click on that.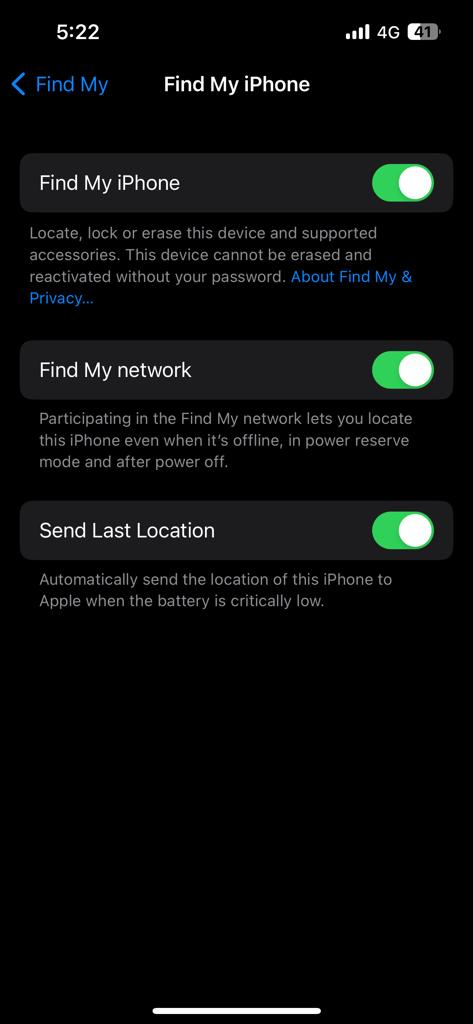 Next, turn off the toggle next to find my iPhone, which must have been green before. 
Enter your Apple ID password and confirm the turn-off.
And that's all it takes to turn off Find My iPhone switch.
How to Sign Out of Your Apple ID
---
For preventive purposes, sign out of your apple ID as well before you get rid of your phone to prevent unwanted access to your personal data.
Go to your phone's Settings app, and click on your name on top of the screen; it will open the apple ID profile feed. 
Then scroll down to the bottom.
You will find here the option to sign out. Tap on it.
Before signing out, the app will ask you to enter your Apple ID password to confirm your identity. Kindly enter it.
Confirm your choice by tapping the turn-off button.
Then the app will ask you to choose which kind of data you would like to keep a copy of in your iOS device: Keychain or Safari. Turn on the toggle next to whichever option you choose. And then, press the sign-out button in the top right corner.
Confirm your choice to sign out again. And that's it.
Your phone will load, and the next thing you'll see is the settings app front page, but instead of your name on top, there will be an option to Sign in. You can click on that to sign in with a new or old apple ID once the phone is wiped.
How to Wipe an iPhone (Reset iPhone)
---
Once you have backed up your device and logged off iPhone-related services and accounts, you can safely wipe the entire data from your iPhone. Given below are the steps on how to wipe an iPhone.
Go to Settings.
Under which you will find general settings. Tap it.
Scroll down to locate the transfer or reset iPhone.
Here you will get the option to a) Reset or b) Erase all content and settings. We recommend you select Erase all content and settings and wait to reset it.
Next, your device will ask you to back up the data to iCloud. However, you can skip this step if you have already done that.
Once you move forward with the erase option, you will get an overall summary of what will get erased. If you wish to proceed, click continue, or if you want to go back, click not now.
When you click continue, the phone will begin to wipe its data. After which, it will restart a couple of times. The time it takes will depend upon how much data you have stored on your device and how fast your Wi-Fi is. But on average, the device takes approximately 15 minutes to wipe an iPhone.
Wipe Your iPhone Remotely Using the Find My App
---
If your phone gets stolen or you have lost it somewhere and don't want to take any chance with your private data getting impeached, use the Find my app to erase your device without having it physically.
The user must have the Find My app activated on this device for this method to work, along with another apple device to log in to their Apple ID. Alternatively, you can also use a desktop to log in to iCloud.
Firstly, log in to the Find my app or iCloud using Apple ID.
Then click on your iPhone's name.
Tap on the (i) logo for information, and look for the option to erase this device in the pop-up that will appear on the screen.
When you find it, please tap on the button; your device will get wiped wherever it is.
Remember that you can't perform a backup while remotely issuing the erase command. However, you may get lucky and get most of your data saved with your recent backup if your device was already set to daily backups.
Wipe an iPhone Without the Password Using iTunes
---
In the traditional way of erasing iPhones, you will need to have your password. However, you can still erase your device using iTunes even if you don't remember the password. But for this trick, your Find my phone must be turned off.
Connect your iPhone to a desktop with iTunes.
Then open iTunes on the computer and click on the tiny phone icon on the left corner of the screen.
Next, click on the summary.
And here, you will find the restore iPhone option. Click on that.
iTunes will ask you next to perform a backup on your iPhone device before continuing the restoration process. Back up if you'd like, or you can skip this step by clicking don't back up if your device is already backed up to the date.
Lastly, Select Restore and update next to confirm the choice.
That is it; iTunes will erase your device without asking for the password.
Ensure the iPhone is Wiped
---
Once you have successfully restored your iPhone, which may take some time, you can check to ensure whether your device is restored to its original factory settings or not.
When you restart the device, you will see the iOS setup assistant on the front screen only if the phone was restored successfully. You can then restore your data from the backup or continue setting up the device in a new way.
What Happens When You Wipe an iPhone?
---
All private data stored in your phone, such as music, videos, pictures, emails, signed-in accounts, saved passwords etc., will be deleted.
Installed apps and cookies will be wiped.
All network settings, such as mobile network settings, VPNs, iOS beta profiles, Wi-Fi etc., will be restored to default settings.
Your phone will turn into its original condition before you make any personalised changes in its settings. Needless to say, if you want to revisit your data at some other time, make sure to get an iCloud backup. All the backed-up data will be permanently deleted from your current iPhone but will stay safe in your iCloud account, which you can restore using any other iOS device.
Conclusion
These were all the tricks you could use to factory reset or wipe an iPhone completely. One can use multiple ways to attempt the task depending on the reason behind the decision. We hope this article helped you understand how you can also wipe an iPhone; if you have any queries, please leave a comment below.