Trace IP Address: Gmail is so much popular that almost every person has a Gmail account.
I think you all are using Google's mailing service called Gmail.
Great!
How many emails are you getting per day?
I think more than 10.
In the messages you have received, do know which emails are quality mails? The answer is 3-5 only.
Then what about others? They are categorized as "SPAM". The SPAM means receiving a note without legal activities from Unknown persons.
The example SPAM messages are monitored as "You have Won Lottery", "Free Mobile phone Recharges", "Free Credit cards" and many more.
Okay, How can you avoid this from Frauds?
Don't worry. For every question, there will be an Answer. If you are using a Gmail service, I have a solution to track this SPAM.
If you are using other mailing services, I will post it after got the SPAM solution. But according to a global survey, more than 85% of Internet users spend their time mailing on Google's Gmail.
So, I found a solution that can easily trace the IP Address and location of the sender in Gmail.
What do you want to do is? Just follow the below steps. Here you go.
How to Trace IP address in Gmail?
Login to your Gmail account with your Username and Password.
Open the mail that you have received to check the email IP address.
Now just Click on the Inverted image showing with a small down arrow which is present on the screen.
Click on the Show Original in the drop-down list available.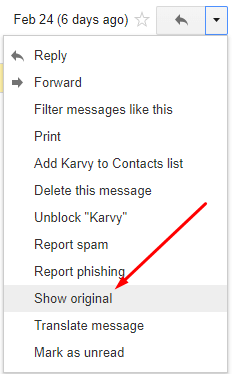 Now you will be able to see information about your mail received on the screen.
Press Ctrl+F on your keyboard to open the search bar on your screen.
Search for "Received: from" on the screen search bar.
Now you will see Received: from which is highlighted font. In that line, you can see the IP address of the sender.
Then What? Nothing Great! You have traced your sender IP easily.
Related:
Further, if you want to find the location of that person, simply search on the web for an IP location finder. Enter the IP Address and you'll get the location.
For example, the location from where I received the email shown you above.
This way you can easily trace IP Address of the sender in Gmail. Also, finding its location will not be so difficult.
If you learned something from today's tutorial, share it with your friends.
Recommended Reading: