An online alarm clock is a versatile tool that can be used to set reminders, change alarm tunes, and more. Unlike physical clocks or phone alarms, online clocks offer a range of customization options and are easily accessible with an active internet connection.
They are particularly useful for people who travel frequently as they can be accessed from anywhere in the world. Traditional alarms can become repetitive and fail to wake us up if we become accustomed to them, making online clocks a useful alternative. Whether it's for waking up in the morning or setting reminders throughout the day, an online alarm clock is a reliable and flexible tool for managing your time.
1) KuKuKlok
---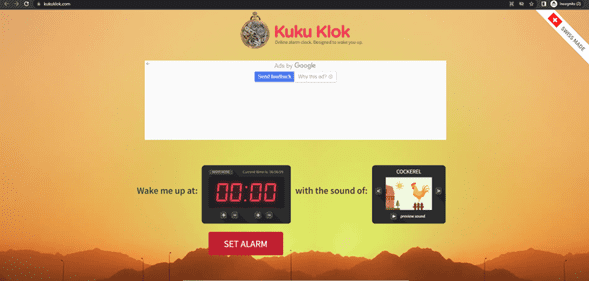 KuKu Klok is a website that wakes people up at set timings and with a predetermined sound. Customers have the option of selecting from a variety of sounds, including a typical rooster howl, a traditional clock sound, an electronic beep (which is really obnoxious), a rock song, and a military trumpet. It is really simple to utilize this online clock website.
It's interesting to note that KuKu Klok continues to work after an alert has been set, even if the internet connection has been lost.
2) Onlive Clock
---
For a super simple, ad-free, and pleasantly personalized wake-up experience from the desktop, Onlive Clock is our number one online alarm clock. You can personalize this service to your needs.
To set your alarm, use the drop-down menus that are located below the time. To change your basic settings, like color, background, and others, select the gear icon at the bottom of the screen. For the sound you can choose between one of the four pre-installed sounds, a pre-installed radio station, or a YouTube video of your choice are all options. The service works amazingly for mobile too.
The absence of a snooze button and the inability to set numerous alarms are the two significant limitations.
3) MetaClock
---
Meta Clock is an online alarm clock that offers a range of features and details to help users manage their time efficiently. One of the main features of Meta Clock is its customizable interface, allowing users to choose from a range of different clock styles and colors to suit their preferences. The clock can also be set to different time zones, making it useful for individuals who need to manage their schedules across different regions.
Additionally, Meta Clock offers a range of alarm options, including custom sounds and the ability to set multiple alarms at different times. With its easy-to-use interface and wide range of features, Meta Clock is an ideal tool for individuals looking to optimize their time management skills.
4) TimeMe Alarm Clock
---
TimeMe is a great alternative. It keeps things straightforward while incorporating a number of practical functions into its alarm clock. It is one of the few applications that allow you to set multiple alarms. The app can keep up to 25 alarms at once.
You may modify a lot of settings and see large, blue numbers underneath the clock. You may give the clock a title, and alter the color, size, and font of the numbers, among other things, in addition to moving the hands back and forth. By selecting the Alarms link under the clock, you can set up many alarms.
The only issue with TimeMe would be that we cannot customize the background.
5) Online Alarm Kur
---
Online Alarm Kur is a straightforward alarm clock that displays the time in digital format on a black background, along with the date and settings for the alarm, below. You can customize the sound of your alarm by selecting 11 different sounds. The snooze duration is also customizable. Under the current time, an automatic countdown will appear.
Despite the fact that it works flawlessly, it does not have many features. Moreover, the app does not offer many customization options and also has several advertisements. The app only allows you to set one alarm at a time.
6) vClock
---
vClock is a versatile online clock service that provides a variety of clock utilities. The app comes with an online alarm clock, countdown timers, stopwatches, and world clocks. The interface is clean and straightforward, with night mode options and easy-to-use controls.
Users can customize the clock with five default colors. Moreover, the app also allows you to configure the time and date elements.
One of vClock's standout features is the lack of intrusive ads that often overload other clock services. This is a great option for those who want a distraction-free watch and a reliable experience.
7) My Alarm Clock
---
My Alarm Clock is a minimalistic online alarm clock, with a very easy-to-understand UI. It is available in English, Spanish, and Portuguese. Additional features include dark and light modes. The ability to switch between and 12 and 24-hour clocks and most importantly, the power to switch colors. The Alarm clock service is easy to set up, just set the alarm, and voila.
However, you can set only one alarm at a time. In addition to an online alarm clock, the website offers various other services like timers, scorecards, etc. Overall, the app offers a very smooth experience coupled with very few ads, making it very less invasive. This is recommended for anyone who doesn't need too much.
Conclusion
---
An online alarm clock provides a convenient and reliable way to start your day on time. With so many options available, it's important to choose an alarm clock that fits your specific needs and preferences. Whether you prefer a simple, no-frills design or a feature-rich tool with tons of customization options, the options in this article can easily match your expectations.
By factoring in factors like ease of use, extra features, and personalization options, you'll find an online alarm clock that fits your lifestyle and helps you reach your daily goals. So, choose the best way to start your day with the perfect online alarm clock.