Setting up iPhone's ringtone on Android, I guess you don't have an iPhone 🙂 or you can't afford it. Ringtones are the best way to express your class of music to listen to. There are plenty of ringtones available for Android as well as iPhone. Nowadays, smartphones come with many system ringtones which we generally use. But, if you are not happy or want some amazing or your own ringtone, read this tutorial. In this article, I'll show you how to create your own ringtones with the best ringtone maker apps available for Android.
Have you ever thought of making your own ringtone? No! It's complicated. But, with these apps, you can create and customize your own ringtone in minutes. It is free and very easy and the process doesn't take much time.
There are times when I listened to some music and want to know what song is this? I want to make it my ringtone. YouTube is famous and I search on it for some cool ringtones, downloading YouTube videos and later convert to MP3.
Best Ringtone Maker Apps for Android
Here are the best ringtone maker apps for Android which we gonna use to create ringtones. First, let's take a look at these apps, and later I'll show you how to customize them on your Android devices.
Ringtone Maker
---
Ringtone Maker a free Android app that is freely available on Google Play Store which can create ringtones in many supported formats like MP3, FLAC, OGG, WAV, and MP4.
It is basically an audio editor which allows you to edit audio files and customize them as per your wish and make ringtones of them. You can also record your own audio using the inbuilt audio recorder.
[Download]
Ringdroid
---
Ringdroid is another great ringtone maker app that lets to create your own ringtone.
The best thing about this app is that it is open-source, first published in 2008, and downloaded by millions of users.
It allows you to create ringtones for calls, alarms, and notification sounds. Ringdroid is open source, so it does not contain any ads (no annoying ads).
The output formats are not so many and have fewer features and need to update.
[Download]
Ringtone Slicer FX
---
Ringtone Slicer FX is a ringtone creator and audio editor app for Android. It can also be used to create alarm and notification sounds along with ringtones.
It is free but ad-supported and comes with an inbuilt file explorer which makes editing easier.
The UI is soothing and plenty of theme options available for the audio editor. It only supports MP3, WAV, and AMR format.
Also, while editing you can zoom in and out for more accuracy to edit the ringtones.
[Download]
Ringtone Cutter
---
Ringtone Cutter is yet another MP3 cutter or music cutter which allows you to edit music files and create ringtones. It supports more formats than Ringtone Slicer FX; MP3, AAC, MP4, WAV, 3GPP, AMR. Pretty simple interface, simply select existing audio, cut the audio, and set it as a ringtone.
So, these were some of the best ringtone maker apps for Android. Now, you can use any of it to create and customize the ringtone.
[Download]
Related:
Create Ringtones on Android
Once you have chosen the app which you gonna use for creating the ringtone, let's dive into the tutorial. Here, I'll use Ringdroid as it is ad-free, lightweight, and has less hassle to show you quickly.
First of all, open the Ringdroid ringtone maker app.
You'll see some pre-built ringtones (phone's ringtones) which you can use on your Android device.
You can see that the ringtone is for alarm, notification, or for calls.
Now, there are two options; edit the pre-built ringtones or add your own audio and edit that file.
Ringdroid automatically lists all the audio files on your device. But, if you can't find your desired audio, tap on the three vertical dots from the upper-right corner and tap "Show All Audio".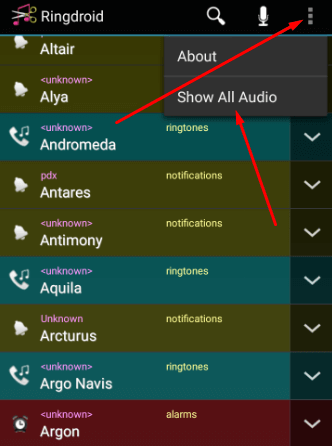 To start creating a ringtone, choose your desired track by tapping the little down-arrow.
Tap on the edit option.
Now, it'll start loading the audio file according to the file size.
To start the customization, set up a start and endpoint. Listen to the song to set these points.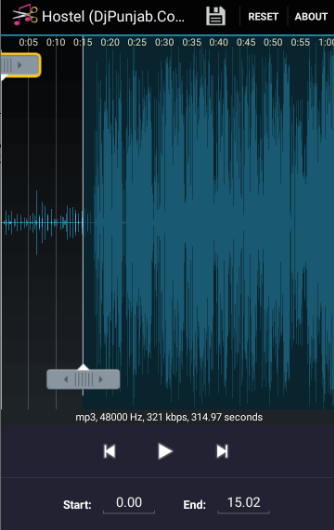 You can either put the start and end time or simply use the sliders.

Once you are done, tap on the save icon from the upper-right side of the screen.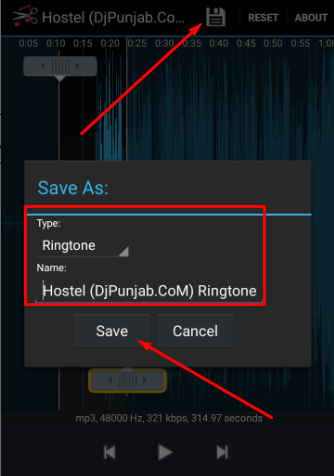 Now, choose the type and name of the ringtone you want to save.
Here are some other options available for Ringdroid you can use.
Search: There is a search option available you find out your track if you can't find it scrolling down the list.
Record Audio: Tap on the mic icon from the upper-right icon to start recording the audio.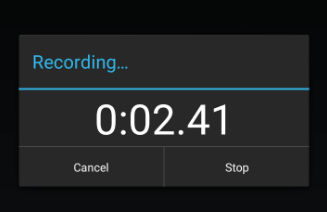 Set as Default: Tapping the down arrow and selecting the "Set as Default" option will set the ringtone as your default ringtone, alarm, and notification.

You can use any of the Ringtone maker app from the list above or use your own app. I used Ringdroid because of some reasons I stated above. You can use any of the ringtone maker app as the interface may change but the process remains the same.
Do tell us what ringtone maker app you used and share it with your friends and let them also create their own favorite ringtones.
Also Read: