It's been a great time for videos to get viral on social media like Facebook & Instagram. Videos are the best means of providing information online or offline. Just like the songs you listened to once and want to identify the songs you've just heard, the videos also make the same impact on us. It is not difficult to download Instagram videos just like upload and download photos from Instagram.
I already had written tutorials showing how to download Facebook videos, the best ways to download YouTube videos, and other similar articles.
But, it is high time now and you can download any type of content from the Internet.
How to Download Instagram Videos
In today's world, almost everything is possible you wanna do on the Internet and social media. Converting YouTube videos to MP3, downloading files from torrent sites like Piratebay, and much more.
Instagram does not allow you to save photos or videos offline on your devices. Either it is yours or another video, you can't download it from Instagram.
So, the question arises, How to Download Instagram Videos? Is there any Instagram Video Downloader?
The answer is,
Yes!
In this tutorial, I am gonna share some of the best and quick ways to download Instagram videos.
Quick Tips: It is not recommended to download other's videos, you can only use them personally but not commercially.
Also Read: Best 5 Free Music Downloader (Android, iOS & PC)
Download Instagram Videos using a PC
---
The first way to download video from Instagram is using your computer (laptop/PC). Instagram is not web-supported but you can browse using your PC.
And the same way you can download videos from Instagram very quickly.
Follow the instructions below to do it quickly:
First of all, find the Instagram video you wish to download.
Open it to full screen by clicking on it.
Right-click and select "Inspect" or press Ctrl+Shift+I (for Chrome).
Press Ctrl+F and search for "mp4". You'll get the link to the video in MP4 format.
Now, copy and paste the link into a new tab and save the video.
If you use any download manager (IDM for example), it will pop up with the download box.
Quick Tips: You can also use Page Source to get this link, just press Ctrl+U in Google Chrome (or right-click anywhere on the page and click "Page Source". Here, press Ctrl+F and search for "mp4".
Using Instagram Video Downloader (Online Services)
---
There are many online services (websites) which allow you to download video from Instagram. We will be covering other websites too, but this is really quick.
First of all, go to this Instagram Video Downloader from here.
Here, paste the video URL (simply Instagram post URL).
Once you paste it and press "Download MP4", it will start downloading your video.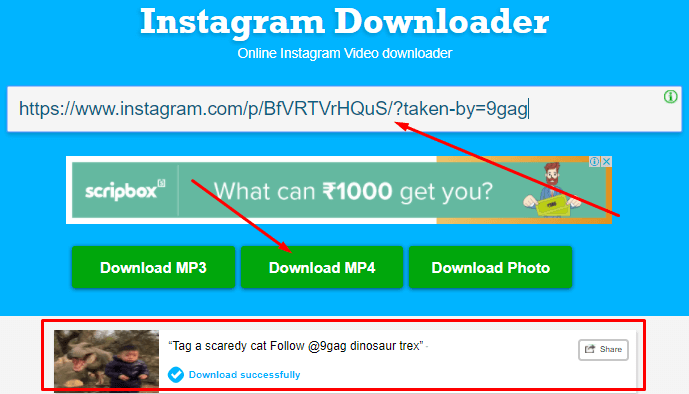 You can also convert it into MP3 and download it, also you can download the post (photo) of an Instagram post.
Using PostGraber
---
PostGraber is yet another web-based Instagram Video Downloader tool but works differently. All other online tools only download a particular post photo or video but it captures all the photos and videos associated with that post.
You just have to go to this amazing website. Once you are there, copy and paste the post URL and click Go.
It will show you all the photos and videos attached to that post and download them all.
This online tool only works with public Instagram posts.
Using DreDown Instagram Video Downloader
---
Just like the above web-based Instagram tools, DreDown is the best overall. It not only provides the feature to download video from Instagram but also other services from YouTube, Twitter, Facebook, etc.
It holds the first position on Google with the query "Download Instagram Videos" and growing stronger.
Just like PostGraber, DreDown also needs the video URL (or any Instagram post) to download the video.
Copy and paste the Instagram video URL there and press "DreDown". As soon you press it, your browser will start downloading the video in MP4 format.
Also Read: Listen to YouTube – Play YouTube Video in Background
Using IDM (Internet Download Manager)
---
IDM is the best and popular downloader manager which is a one-man army to download any type of content online.
Using IDM, you can download any video from the Internet in the format it is available (uploaded).
It is very simple to download an Instagram video using IDM. Just open the video which you wish to download.
A pop-up will appear on the upper-right screen of the video. Hit the "Download this video" button to download the video.
Also Read: How to Download Spotify Web Player for Android (Free+Latest)
Download Instagram Videos on Android
---
Android is a great platform and best of all the smartphone devices.
When watching videos on Instagram on Android, the videos are automatically downloaded. You just need to locate the video on your device.
These videos are saved in the cache memory of the Instagram app.
If you are like me and clear the cache of your apps weekly, you'll get nothing. But, not like me, you will surely get those videos stored on your Android device.
You can use your default file manager or ES File Explorer.
Go to Android>data>com.instagram.android>cache>video.
Here, you'll see various files.
These all are downloaded videos from Instagram you have watched.
Tap on any of the files (latest if you want to download just watched video).
Open it as a Video and it'll start playing.
You can move or copy it to another location so that you can watch it later.
So, how's this? I am sure you don't know about it. But, now you know the trick and you can show it to your friends!
Using Third-Party Apps
---
If you don't want these types of procedures to follow and want all videos in one place, use third-party apps. There are many apps that can download Instagram videos for you.
But, I recommend you to download only a reliable app to download as it requires your credentials. You need to log in using your account first to access these types of apps.
Video Download for Instagram is one such app which you can download from here available on Google Play Store. This app is quite popular and has 10 million+ downloads.
To download a video from Instagram, right-click on the three vertical dots of the video and copy the link to that video. Now, paste it into the third-party app you've just downloaded.
Quick Tips: To avoid all these hustles, use Instagram Plus or OG Instagram which adds more features including the photo, video download. You can also zoom over any post and profile pictures of any user either public or private.
Related: Top 5 Free Android Smartphone Apps to Download Videos
Download Instagram Videos on iPhone
---
Due to the sources of Apple (iPhone), things come limited to iOS devices. But, the developers still find a way to the problem. You can download videos from Instagram on iPhones also with the help of the Regrammer app.
If your friend how has an iPhone ask "how to download Instagram videos on iPhone", tell him about the Regrammer app available on iTunes.
It is a free app (contains ads) that allow you to download videos from Instagram to iOS devices. It works in the same way as other Instagram video downloaders.
Just copy and paste the URL of the video in this app and download the video.
Conclusion
---
So, there we come to the end of today's tutorial guiding to teach how to download Instagram videos on Android, iPhone, and PC.
You can go any way which suits you better as all methods are free and fastest.
In my recommendation, using a third-party app is pretty easy and the best way as things remain assembled and organized.
If you learned something from today's tutorial, SUBSCRIBE to our newsletter to get the latest tech tips and tricks and such types of tutorials.
Don't forget to share it with your friends!